F&B player Katrina Group, building on its brand equity and presence in Singapore, aims to focus on diversification to grow its market share.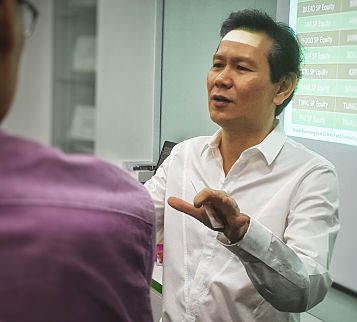 Alan Goh, CEO of Katrina Group.
NextInsight file photo.To expand its current umbrella of nine brands, including Bali Thai, Katrina has signed a non-binding term sheet to acquire a 100% interest in Tomo Izakaya Pte. Ltd..

Tomo Izakaya, incorporated in Singapore in 2008, currently operates two Japanese cuisine outlets at Clarke Quay and in Esplanade Mall.

In its first foray outside of the F&B sector, Katrina has also signed a non-binding term sheet to acquire a 100% interest in Straits Organization Pte. Ltd.

The latter is in the business of providing affordable diverse accommodation solutions, such as serviced residences and co-living hotels, which are targeted at millennial travellers, corporate expats, and new upcoming market segments such as technopreneurs.


Stock price

21.5 c

52-week range

15 – 25 c

PE (ttm)

51

Market cap

S$51 m

Shares outstanding

231.5 m

Dividend
yield (ttm)

1.2%

Source: Yahoo!
Straits Organization currently operates 81 apartments in Singapore with a pipeline of three co-living projects in Singapore, one in Hong Kong and plans to expand into Japan.

The acquisition will help transform the Group into an F&B and hospitality player and open avenues for synergistic growth between the two businesses.


"We are approaching a critical mass in terms of our outlets under our existing brands in the local market, and strengthening our bottom-line, online sales, as well as customer satisfaction will be key to our future success in capturing more of the market. Our aim continues to be sustainable growth and we are seeing good progress in the PRC with our second restaurant having been opened in Guangzhou and the third in the works. With growth in mind, we continue to seek viable opportunities locally and regionally, be it in new brands or businesses."
-- Alan Goh,
Founder, CEO and Executive Chairman,
Katrina Group.
Overseas, Katrina and Hong Kong-listed Ajisen Group opened one outlet under the "So-Pho" brand in Shanghai in FY2017 and another in Guangzhou in HY2018.

An additional outlet is expected to be opened in Shanghai by end-2018 at New Raffles City, Ma Dang Road.

Separately, the Group has also accepted a letter of offer to open its maiden outlet in Indonesia, in Plaza Senayan, Central Jakarta under the "So Pho" brand name.

The outlet will have a total area of approximately 138 square metres and looks to begin operations in early 2019.

Depending on the success of this venture, Katrina will look to open more outlets in Indonesia over the next two years.

Sustainable growth continues to be a priority for the Group and it will continue to explore suitable brands and businesses whether internally, through collaborations or acquisitions to add value to its operations both locally and overseas.


The F&B industry in Singapore, and the restaurant sector in particular, continued to see fatigue in 2018, faced with low entry barriers, rising operating cost and intense competition. The redeeming spark of the industry continues to be online food delivery sales, as consumers trend towards convenience and flexibility of choice.

As at end-July 2018, the total number of outlets for the Group stood at 39 in Singapore, with four new outlets opened and three non-performing outlets closed in 1H2018.

The Group has four more new outlets in the pipeline and one more non-performing outlet to be closed in the next 12 months. The Group remained steadfast in growing its business, as well as actively managing costs.

As the Group is still in its expansion phase, it will take time for new outlets to improve profitability.

The Group targets to be more selective in the locations of new outlets and to maximize sales from its online food ordering and delivery services, in tandem with the changing consumer trends.