Lotustpsll, who contributed this article to NextInsight, worked 32 years with a global banking group before he retired. He is vested in Tawana Resources and Sayona Mining.


Previous articles on Tawana Resources and Alliance Minerals (on Baldhill Project) on NextInsight have explained clearly the merits of investing in lithium mining operations and the positive industry dynamics of lithium.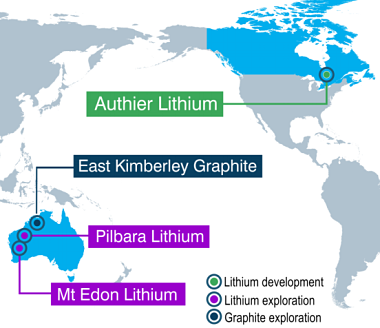 Sayona owns lithium projects in Canada and Australia, and a graphite project in Australia. In addition to Tawana, I am invested in Sayona Mining which is listed in ASX (ticker : SYA).

Its recent price was AUD 4.3 cents, up sharply from AUD 1.6 cents in early Nov 2017.

SYA is currently focused mainly on developing its Authier Lithium Project in Quebec, Canada. Authier is a hard rock project.
Why am I invested in SYA? Here are 10 reasons:


Stock price

A$0.043

52-week range

A$0.011 -- $0.06

PE

--

Market cap

A$63 m

Shares outstanding

1.47 billion

Dividend
yield

--

Source: Bloomberg

The Authier project is located in a safe country -- an important consideration for investors.


Near-term producer. Construction is projected to start in 2H2018.


Preliminary Feasibility Study (PFS), completed in Feb 2017, confirmed project viability. Life of Mine (LOM) is over 10 years.

An optimised PFS, whose results were released this week (11 Dec), upped the estimate of the LOM to 17 years.


Strong projected returns – NPV C$221 million, pre-tax IRR of 56% and payback within 2.5 years. These projections are much higher than the Feb 2017 figures.


Key assumption in the PFS back then was lithium price at US$ 515 per metric tonne based on 5.75% lithium oxide concentrate. Now, the PFS uses US$614 for 6% lithium oxide, which is still lower than the offtake pricing for the Baldhill project of Alliance and Tawana of US$ 880 per metric tonne.

In view of the strong tailwinds for lithium demand, consensus views are that lithium price should rise further in 2018.



Key PFS financial and operating highlights

Description

AUD

Average Spodumene Price

831

Initial Development Capital Costs

65

Total Life of Mine Capital Costs

113

Total Net Revenue (real terms)

1,361

Total Project EBITDA (real terms)

642

Average Life of Mine Cash Costs
(Mine-gate)

381

Average Life of Mine Cash Costs (Montreal Port FOB basis)

442

Net Present Value (real terms @ 8% discount rate)

227

Pre-Tax Internal Rate of Return (%)

56

Project Payback Period (years)

2.5

Source: Sayona, 11 Dec 2017




SYA is currently conducting a Definitive Feasibility Study (DFS) and this exercise should be completed by 1Q18. We should expect better feasibility numbers, higher reserves and longer LOM.


Project locality has good infrastructure facilities – low-cost energy, water and roads.


SYA recently signed a MOU with leading China-based battery manufacturer, Huan Changyuan Lico Co Ltd. This is a subsidiary of a Fortune 500 Company, China Minmetals Group.

This alliance is to explore marketing, technical and financial development options for the Authier Lithium Project.


SYA has 2 other lithium projects in Australia with good potential.


Experienced management team. 3 directors of SYA are also directors of Altura Mining Limited (expected to start producing lithium in 2Q18).

Altura's current market capitalisation (price at A$ 36 cents) is about A$ 603 million on a 188% year-to-date gain. As a comparison, SYA's market capitalisation is only A$ 63 million.


Positive News Flow Expected by 1H18


- Completion of DFS by 1Q18 and this should yield much stronger project feasibility metrics.
- Progression of MOU into more defined strategic partnerships, such as offtake agreements and equity investment in SYA (as was the case for Tawana Resources and Alliance Mineral).

Note that projected base case NPV of C$221 million (A$227 million) is equivalent to NPV per share at 15.4 Aussie cents. That's nearly 4X the current share price of 4.3 cents.



I consider Authier a derisked project that could yield significant returns to its shareholders.
For more info, see SYA's investor presentation material here.