CIMB

OCBC

City Developments

Raises offer price for M&C

■ CIT has revised its offer price for M&C to £6.20/share.

■ The deal could cost £681.9m, to be funded through internal cash and borrowings; we expect CIT's gearing to increase to a still-low 0.31x.

■ The proposed exercise could create a more nimble and efficient platform in a competitive operating environment.

■ There is a potential 5% uplift to our RNAV if the deal is successfully completed.

■ Maintain Add call with a TP of S$13.15.

First REIT: Still relatively undervalued


Siloam registered a healthy set of top-line and operational results in 3Q17, as reported at end-Oct 2017. Gross operating revenue grew 21% YoY to Rp 1.53 trillion in 3Q17, and 12% YoY to Rp 4.3 trillion in 9M17. These set of figures augur well for First REIT's (FREIT) top-line, as the rent from its Indonesian assets has a variable component pegged to gross revenue growth. Also, we continue to expect positive base rental revisions for FREIT's Indonesian assets, as they are pegged to two times Singapore's CPI (which came in at 0.6% YoY for Jan-Oct 17), subject to a floor of 0% and cap of 2%. FREIT currently trades at a FY17F P/B ratio of 1.38x, lower than Parkway Life REIT's (PLREIT) 1.66x (based on Bloomberg's consensus). As mentioned in our last report, PLREIT typically trades at a premium of 14.6% over a 5-year period, and there still is a considerable gap of 20.3% at this juncture. Maintain BUY with a S$1.44 FV estimate.

PHILLIP SECURITIES

DBS

ComfortDelGro Corp Ltd

From competitors to partners

SINGAPORE | TRANSPORT SERVICES | UPDATE

 Entering into a JV by acquiring 51% stake in LCR from Uber

 Sale consideration of S$295mn based on NAV of 12,450 vehicles

 No changes to our forecast, pending more details and conclusion of the deal

 Maintain Buy; unchanged target price of $2.69

ESR-REIT

Returning to the growth path

Upgrade to BUY, TP S$0.62 maintained.

After its recent announced portfolio reconstitution exercise and an infusion of new capital through perpetual securities, we believe that ESRREIT is back on the growth path. Planned acquisitions will drive earnings higher, complemented by a stable operational outlook as the industrial supply risk dissipates. Estimated DPU CAGR of 5% over FY18-19 will be the first reversal in a number of years. Upgrade to BUY on the back of rising yields of 7.1%-7.5%.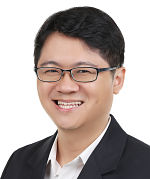 Check out our compilation of Target Prices