Coal prices maintained their strength throughout 1Q2017, hovering above US$40 a tonne for the type of coal produced by several coal-miners listed on SGX.

Thus, they are expected to report significant profitability in their upcoming 1Q results.


Company

Share
price

Market cap (S$)

Golden Energy & Resources

44 c

$1.0 b

Geo Energy Resources

33.5 c

$406 m

Blackgold Natural Resources

14.2 c

$112 m

Resources Prima Group

2.6 c

$48 m

Source: Bloomberg
One of them is Golden Energy & Resources, which is the largest coal play on the SGX with a market cap of S$1 billion.

Golden Energy's key mine is in South Kalimantan, which NextInsight, The Business Times and Shares Investment are among those headed for today (19 Apr).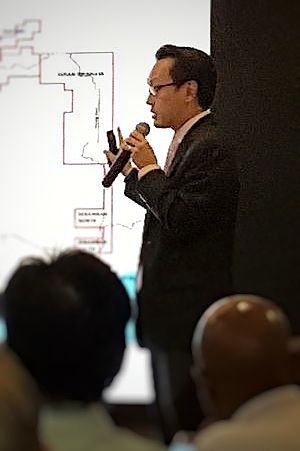 Mark Zhou, head of investments, Golden Energy & Resources. NextInsight file photo Also on the trip (Singapore - Jakarta - Banjarmasin) are several analysts and investors, and Golden Energy's head of investments, Mark Zhou.

We will visit the PT Borneo Indobara ("BIB") concession site and the nearby Bunati Port.

BIB is the key mine among four which Golden Energy has an interest in.

o BIB holds a second generation CCoW (Coal Contract of Work) of 24,100 ha with a tenure of up till 2036;
Golden Energy & Resources

Share price:
44 c

Target: 96 c
Source: KGI
o BIB is estimated to hold >650 million tonnes of reserves of thermal coal with calorific value of 4,000-4,200kcal/kg (GAR);

o The Bunati Port is wholly-owned by BIB and will be able to support BIB's production growth from 7.5 million to 12 million tonnes of coal in 2017.


Golden Energy targets to raise its production by 47% this year -- ie, 14 million tonnes versus 9.5 million last year.

Back-of-the-envelope estimates suggest a gross profit of US$280 million, assuming an average selling price of US$40 per tonne (ie 14 million tonnes x US$20).

The estimated US$20 gross profit per tonne is the difference between the price of coal of the grade that Golden Energy produces and its cash cost of production.

For more, see: GOLDEN ENERGY & RESOURCES: 2016 profit of US$21.8 m to be surpassed this year?