Excerpts from Lim & Tan Securities' initiation report


It is also the property development arm of Hatten Group, which is a leading brand in Malaysia with core businesses in property development, property investment, hospitality, retail and education.

The current development portfolio comprises three integrated mixed use development and one retail mall in Malacca, Malaysia.

Hatten Land Limited is a reverse-take-over (RTO) via VGO Corporation. The Company operates as a property developer in Malaysia and focuses on residential, hotel, and commercial developments.
Hatten Land

RTO price:
28 c

34% discount to RNAV
They are: 1.) Hatten City Phase 1 (incorporating Elements Mall, SilverScape Residences, Hatten Suites, and a tower block that has been taken up by Double Tree by Hilton); 2.) Hatten City Phase 2 (incorporating Imperio Mall and Imperio Residence); 3.) Harbour City (incorporating a mall, a theme park and three hotels);and 4.) Vedro by the River (a retail mall).
A Beneficiary of China Mega Investments into Malacca
In November 2016, the China and Malaysia governments commenced construction of a new S$14 billion off-shore trading port in Malacca. Called the Melaka Gateway, the trading port is part of a slew of trading agreements including a S$17.8 billion East Coast railway line. The new trading port will be a joint venture by state-funded companies Malaysia's KAJ Developments and China's PowerChina International.

Construction of Melaka Gateway will involve the land reclamation of three off-shore islands off the Malaysia's coast and is scheduled to be completed by 2025. According to projections, 100,000 shipping vessels will dock at the port, without having to stop by the monopoly route held by Singapore over past few centuries.

Hatten Land, being the largest property developer in Malacca will stand to benefit in many areas. Firstly, Melaka Gateway is of close proximity to Hatten's flagship project, Harbour City due for completion in 2020. Secondly, Hatten Land has on 10 Feb'17 announced a non-binding MOU to exercise a call option granted to the Company to acquire:

i. 2.05 acres leasehold land slated to be developed into an integrated mixed development that will comprise a hotel block and a serviced apartment block ("Thea Wellness Project");

ii. 9.34 acres leasehold land slated to be developed into an integrated mixed development that will comprise a shopping mall, cineplex, convention hall and auditorium, meeting rooms, a hotel block and a serviced apartment block ("MICC Project");

iii. 66.0 acres leasehold land known as Plot E, F, G, H, I, J & K;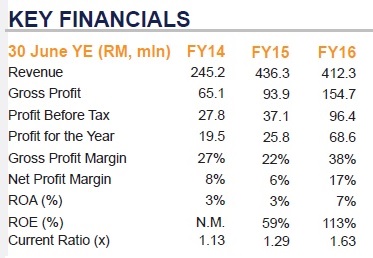 iv. 8.86 acres of leasehold land slated to be developed into an integrated mixed development that will comprise a mix of retail, residential and hospitality units (the "Movie-Town Project");

v. The entire issued and paid up share capital of Admiral Merger Sdn. Bhd. Company ("AMSB"). AMSB owns the development rights to develop the 25.55 acres freehold land slated to be developed across three phases into an integrated mixed development that will comprise retail, commercial (offices), residential, and hospitality units and a hospital (the "Cyberjaya Project").

The above suggests a potential pipeline of cheap assets is ready and available to be injected into Hatten Land over the next few years.


♦ Potential collaboration with China partners and investors: We understand that Hatten Land has been approached by several PRC investors and companies in the past 12 months. PRC state-owned enterprises (SOEs) have been investing heavily in Malaysia recently, thanks to the China government's directives and it comes as no surprise to us that Hatten Land is sought after, given its huge land banks in the Malacca market.

The Tan family still holds majority stakes (85%) in the Company post RTO and we believe strategic PRC investors may tempt them to dilute their stakes to improve liquidity.


Valuation: The Revalued Net Asset Value (RNAV) of the Target Group (as at 30 June 2016) is S$506.4 million. The book value is S$462.0 million. At listing, Hatten Land's market cap of S$333.0 million represents a discount of 34% and 28% to the RNAV and NAV of the Group.
♦ Financial position will be strengthened: Hatten City Phase One was completed in 2016 and the success of this project has brought in more sales and customers for subsequent projects. Hatten City Phase Two and Vedro by the River will be completed in this financial year and would further strengthen its operating cashflows.

The Company has indicated that there will be no major project capital expenditure in 2017 and we are likely to see improved cashflows as the projects reach TOP.