SINGAPORE'S LEADING jewellery retail chain, Soo Kee Group ("the Group"), is joining forces with Thailand's largest gold ornament and jewellery retail chain, Aurora, to introduce the Group's bespoke bridal jewellery brand into Thailand's nascent contemporary bridal jewellery market.

The Group entered an MOU on 9 February (Thursday) with Aurora Design Co., Ltd to form a joint venture to develop and operate the business of selling gold and diamond products under its Love & Co. trademarks, trade or brand name in Thailand.

The plan is for the joint venture company to have an initial paid-up capital of about S$1.2 million (THB 30 million) with a 40% ownership by the Group. The Group will license and supply intellectual property rights, products and support while Aurora will provide staff training and drive operational expansion.
If we do it well, even a small annual growth in the Thai jewellery market amounts to huge potential for our joint venture.

- Daniel Lim
CEO
Soo Kee Group
(Photo: Company)
"We intend to open no less than twenty Love & Co. retail points in key Thai cities over the next 5 years.

"I am confident the joint venture will turn cash positive after one year," said Soo Kee Group CEO Daniel Lim at the MOU signing ceremony held at its headquarters in Singapore on Thursday.

Soo Kee Group has over 60 jewellery retail showrooms in Singapore and Malaysia. Thailand, with a population of 68 million, has a market that is double the size of the Group's current market reach.

Its joint venture partner, Aurora Group, has over 170 stores retailing gold ornaments and fine jewellery in Thailand.



Diamond retail vacuum
"Thailand's diamond market is underdeveloped, like Singapore's twenty to thirty years ago when consumers traditionally bought gold jewellery. Its huge market for gold jewellery is a gauge of the market potential for Love & Co.

"We have yet to see competition from a strong business concept for diamond retail. We and our partner believe there is market opportunity for introducing a strong contemporary jewellery brand into Thailand.

"Love & Co. will appeal to Thailand's growing population of discerning consumers from the younger generation," said Daniel Lim.

♦ Dr Peter Lim: Why JV is a significant milestone
Singapore design preferred to European

"Consumers in ASEAN countries like Thailand and Vietnam prefer our designs to those of European brands for several reasons. Firstly, because Singapore is considered a leading nation in ASEAN, our products are readily accepted as luxury goods. Secondly, our branding concepts are adapted to ASEAN cultural tastes. Furthermore, our designs are more flattering on people with Asian body proportions than European designs.


This foray into Thailand is a significant milestone for us.

- Dr Peter Lim
Non-Executive Chairman
Soo Kee Group
(Photo: Company)
Customisation Advantage

"Every wedding is deeply personal for the bride and groom. That's why there is high demand for customised bridal products and services.

"Design customisation is our strength. Aurora's clients who were shown Love & Co.'s jewellery designs responded very positively.

"Our Singapore HQ will be the design and brand management hub where the joint venture's products will be produced.



Customer oriented service culture



"We face a labor shortage problem in Singapore. Thai workers, in the other hand, are culturally predisposed to excellent customer care. Day-to-day operations will be staffed by locals. We will station a team from Singapore for hands-on management to ensure Love & Co.'s retail concept is successfully adopted.

Ability to secure good store locations

"Store location is key to success in jewellery retail. Aurora's established relationships with developers and landlords of retail malls will help us.

"Aurora's extensive network of over 170 stores is evidence of its capabilities in operations and expansion. They are also familiar with the local legal framework. This partnership is a significant milestone for us."



De Beers Partnership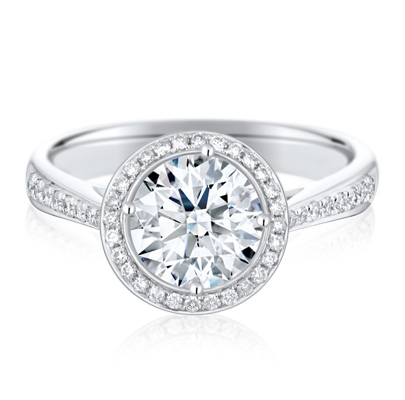 Love & Co.'s Lovemarque diamond
The MOU signing was timed with the launch of bespoke diamond grading reports through Love & Co.'s proprietary Lovemarque diamond collection.

The diamonds are graded by The International Institute of Diamond Grading & Research ("IIDGR"), part of the De Beers Group of Companies, the world's leading player in diamond exploration, diamond mining, diamond retail, diamond trading and industrial diamond manufacturing sectors.

Each Lovemarque diamond will bear the inscription of both Love and Co.'s rose hallmark and IIDGR's unique identification number. The Lovemarque diamond is responsibly sourced, stringently selected and crafted to receive the highest cut grade (Excellent) by IIDGR.

Upon assessment, each Lovemarque diamond will be paired with a certificate issued by IIDGR and will carry the independent approval of the Société Générale de Surveillance which ensures compliance with the most stringent international diamond grading standards.

Soo Kee Group is IIDGR's first Asian partner.

More opportunities ahead in Thailand

The foray into Thailand opens doors for other opportunities there. Aurora's gold bullion trading operations includes a full suite of services from brokerage to the import-export of gold bullion from and to foreign countries.
Stock price

13.9c

52-week range

12.2c - 16.9c

Market cap

S$89.4m

Price Earnings

9.35x

Dividend yield
3.36%

Source: Company / Bloomberg
"Once we are familiar with the local operating environment, we may enter the Thai gold bullion trading market. Thailand is the largest gold bullion market in ASEAN," said Dr Lim.

More so than in western countries, gold jewellery is prized in Thailand for its well-established cultural role of bestowing status. Gifts of gold are an expression of respect and an important part of marriage dowries and other important occasions.

Gold is also widely accepted as a form of savings and investment, having its reach even among less sophisticated investors. It is easy to find a traditional gold retail shop along the streets in Thailand's key cities. The market is well developed with rates set by the Thai Gold Traders Association for standardized gold products.

For Soo Kee Group's 3QFY2016 financial results for the 9 months ended 30 September 2016, click here.