GOLDEN ENERGY & RESOURCES





•

Business:

Coal mining and trading; Owning forestry concessions



•

Placement Share:

67c
• Total no. of shares post-placement: 2,353,100,380 Shares



•

Market cap post-placement

: S$1.577 billion

•

Majority owner:

PT Dian Swastatika Sentosa Tbk



•

Resumption of trading:

Monday, 12 Dec 2016
After being on a downtrend for a few years, coal prices made a roaring comeback in the 2H of this year, presenting investors with opportunities to invest profitably in coal stocks.

It is expected that on Monday (Dec 12), another name will appear in this space -- Golden Energy and Resources (GEAR).

Trading of the stock on SGX resumes after being suspended since April 2015 for GEAR to complete a compliance placement of its shares.

The placement was required because the public float fell to just 3.4% after United Fibre System did a reverse takeover of 69.9998% of PT Golden Energy Mines Tbk (GEMS).

(GEMS is listed on the Jakarta Stock Exchange. The vendor is PT Dian Swastatika Sentosa Tbk (DSS), which is also listed on the same Jakarta exchange.)

United Fibre System has since been renamed GEAR.


GEAR stock could do well because, among other reasons, it has:


a) the largest market cap among three coal stocks on SGX




b) one of the largest reserves in Indonesia


c) a big discount in market cap per tonne of reserves to its peers
d) a most recognisable name as its majority owner


e)

a low cash cost for production at US$19 per tonne (compared to recent selling prices of US$40+).

a) Large market cap: GEAR now has 2.35 billion shares, translating into a market cap of S$1.575 billion (based on the share placement price of 67 cents).

This places it way ahead of the other two coal plays on the SGX -- Geo Energy Resources (market cap S$291 m) and Resources Prima Group ($64 million).

Given its market cap, GEAR has stronger attraction power to a wide swathe of funds.

Its market cap is supported by the assessed market value of GEAR's 66.9998% interest in GEMS being US$2.076 billion (S$2.95 billion) as at 31 Aug 2016.

Compare that with the S$1.575-billion market cap of GEAR, post-compliance placement.


b) Large reserves: GEAR owns the right to mine more than 2 billion tonnes of thermal coal resources, with coal reserves of 711 million tonnes from two concessions -- Borneo Indobara (BIB) in South Kalimantan and Kuansing Inti Makmur (KIM) in Jambi, Sumatra.

To put the size of the reserves in perspective:

♦ GEAR's coal reserves is among the top 5 largest in Indonesia.

♦ It targets to mine 14 million tonnes next year (while Geo Energy, 10 million tonnes). At that rate, it would take 51 years to fully mine the 711 million tonnes of reserves.

Their average calorific value range is between 3,900 kcal/kg (arb) to 6,600 kcal/kg (arb).

GEAR's reserves will surge if it acquires Asia Resource Minerals Plc. On April 15, 2015, GEAR had entered into a Memorandum of Understanding for a "potential investment" in the company.

On its balance sheet, GEAR has a low gearing of 0.45x. At GEMS, it is 0.20x.

c) Discount to peers: Huge discount of 56.5% in terms of market capitalisation per tonne vis-à-vis peers, as shown in the table below:
Country of listing

Market cap (US$'m)1
Reserves (million tonnes)2

Market cap per tonne of reserve (US$)

Discount of GEAR per tonne (%)

Adaro Energy

IDX

3,903

1,318

2.96

(38.5)

Bayan Resources

IDX

3,275

834.5

3.92

(53.6)

Bukit Asam

IDX

2,276

1,990

1.14

59.6

Indo Tambangraya

IDX

1,292

223.3

5.78

(68.5)

ABM Investama

IDX

486

221

2.19

(16.9)

Geo Energy

SGX

168.1

42

4.00

(54.5)

Average

3.33

(56.5)

Golden Energy & Resources

SGX

1,131

780

1.45

1

As at 27 October, 2016
2 As of FY2015 *(As at 31 Aug 2016 including PT EMS)

d) Backed by Sinar Mas Group: This is one of the largest conglomerates in Indonesia. GEAR currently supplies coal to Sinar Mas-related companies such as PT Indah Kiat Pulp and Paper Tbk and PT Pabrik Kertas Tjiwi Kimia Tbk.

GEAR could also supply coal to its majority shareholder, PT Dian Swastatika Sentosa Tbk, also a Sinar Mas-linked entity, as it plans to develop, construct and operate power plants in Indonesia.

GEAR has signed a MOU with PT DSSE Energi Mas Utama -- another Sinar Mas company -- for the supply of coal to its 2 x 50 MW power plant and its future power plants.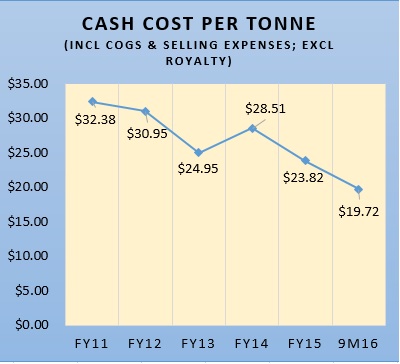 e) Very low cash cost: The cash cost is low thanks to, among other things:

i) GEAR owning the forestry concessions above the mining areas.

ii) GEAR owning the roads leading from the South Kalimantan concession to its jetty by the Java Sea. The BIB mine is relatively close -- at an average of 25 km away -- to the jetty.

iii) Low average life-of-mine stripping ratio at the BIB concession areas of 1:3 to 1:6.

Compare GEAR's cash cost of production to the ICI4 index, which reflects the market price for the majority of GEAR's coal quality.

The index stood at US$36.89 in September 2016, rising to US$42.40 in early Dec, up from US$27.96 and US$26.64 in June 2016 and March 2016, respectively.

GEAR's coal average selling price was about US$32 a tonne in 3Q 2016. It achieved net profit of US$11.6 million on higher sales volume compared to 3Q2015 (see announcement).