Excerpts from analyst's report
UOB Kay Hian analyst: Nicholas Leow
INNOVALUES (IP SP) 1Q16: Results Within Expectations; Focus On M&A VALUATION

• Maintain BUY with a DCF based target price of S$1.06 but potential M&A could see a target price in excess of S$1.20 based on the comparable IPE Group transaction.

FINANCIAL HIGHLIGHTS
• Innovalues recorded net profit after tax of S$3.8m for 1QFY16, a decline of 31.1% compared with S$5.5m in 1QFY15, due to an exceptionally strong 1QFY15 performance as orders from key customers saw an unexpected pick-up.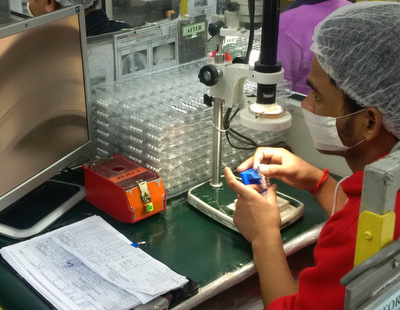 Quality control: Visual inspection of all products to ensure they are in accordance with customers' requirements.
NextInsight file pictureThe first quarter results are typically weak having formed just 16.4% of full year net profit in FY14. Excluding the forex impact, net profit would have come in at S$4.8m. Meanwhile, management expects a stronger 2H16.

• Gross profit margins for 1QFY16 came in slightly higher than expected at 31.1% vs our 30% forecast driven by the group's continuous focus on operational efficiencies and cost management.

• Net cash per share improved to 9.4 S cents per share vs S cents 8.2 per share for FY15. This is a testament to the strong free cash flow generating capabilities of the company and prudent balance sheet practices.

• Automotive segment continues to drive the business. The automotive (AU) segment accounted for 83% or S$22.6m of total revenue for 1QFY16 while the office automation (OA) segment accounted for about 17% or S$4.6m of total revenue as the segment faced a decline in customer orders. Given the stricter government regulations toward safety, energy consumption and environmental protection, we view the AU segment as the primary growth driver going forward.

OUR VIEW


"

Management has guided for a stronger showing in 2H16, given that 1Q is typically the weakest quarter for the company as some plants close for the festive period and also because momentum appears to be picking up.

"



-- Nicholas Leow
• Stripping out forex impact. If we were to strip out the forex loss of S$1.0m, net profit after tax would be S$4.8m for 1QFY16. On the other hand, the group recorded a forex gain of S$0.4m for 1QFY15. Stripping out the exchange gain, net profit after tax for 1QFY15 would have come in at S$5.1m. The exclusion of forex impact would imply a 7.2% yoy drop in net profit.

• Focus on M&A. We believe that M&A interest should not come as a surprise given the free cash flow generating capabilities and strong balance sheet of the company. Even though our target price only implies some 6% upside to the stock, we may see significant upside to our target price in the event of an M&A.

Note that IPE Group in Hong Kong was acquired at a trailing PE of 17.4x, implying a fair value north of S$1.20. We believe that recent potential m&a interest to underpin the share price of Innovalues will continue to act as a support to the share price.

Full report here.