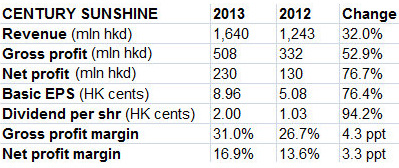 Century Sunshine nearly doubled its dividend for a yield of about 2% after a robust 2013.CENTURY SUNSHINE Group Holdings Ltd (HK: 509) saw its 2013 revenue shoot up 32% to 1.64 billion hkd, leading to a nearly 77% bottom line surge to 230 million.

The solid performance grew from the firm's two-pronged product strategy, executives told investors in Hong Kong last week.

The Hong Kong listco, which focuses on both eco-friendly fertilizers and magnesium-based new materials, has been on the receiving end of supportive government policies and strong market demand given its green product line.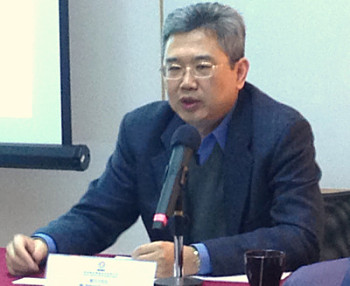 George Yang, executive director of Century Sunshine, at last week's briefing on the company's 2013 results.
Photo: Terence Wong/Aries Consulting"In 2013, we placed emphasis on balanced growth, and our overall turnover and net profit for the year reached new heights.

"Going forward, we plan to boost production capacity of our highest-margin products and continue with our two-tiered product strategy," said Century Sunshine Executive Director Mr. George Yang at an Aries Consulting-organized briefing.

Rare Earth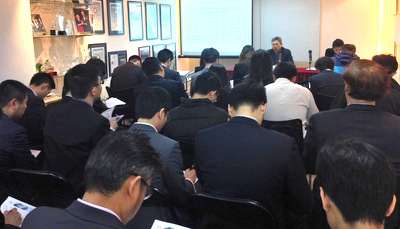 Photo by Terence Wong/Aries Consulting.Magnesium products revenue in 2013 rose 44.1% to 547.4 million hkd, representing one third of the group's total top line.

Rare earth magnesium alloys and basic magnesium products accounted for 65.6% and 30.4% of the segment's revenue last year, respectively.

Management believes China's high-flying auto sector – already the world's largest when measured by the number of cars rolling out of factories -- will dominate major consumption/application of magnesium alloys down the road.

After all, magnesium is the lightest (industrial use) metal (1/3 lighter than aluminum), which has become more commonly used in areas such as autos, medicine, aerospace, consumer electronics, etc.

Around a 6-8% improvement in fuel economy is seen in vehicles for every 330 lbs reduction in weight, and a major 2020 global strategic goal is to substitute 340 lbs of magnesium components for 630 lbs of current ferrous and aluminum parts, bringing total average vehicle magnesium content to 350 lbs.

The current usage is around 10-12 lbs of magnesium for the average US automaker.

Magnesium demand is expected to reach 17 million tonnes by 2020, according to global demand estimates of 107 million vehicles by then.

"Magnesium is a major focus for us with strong growth potential due to its environmentally-friendly qualities."

Given advanced technological requirements and superb performance in various applications, rare earth magnesium alloy pricing and margins are substantially higher than for basic magnesium products.

Century's cross profit margins for rare earth magnesium alloys reached 40.0% in 2013 compared to 16.8% for basic magnesium products.
Century has already obtained 21 patents for technologies for production of high-performance rare earth magnesium alloys which ensures its leading position in this space.

In June 2013, a subsidiary of the Changchun Institute of Applied Chemistry under the Chinese Academy of Sciences -- one of the most respected and authoritative institutions engaged in researching rare earth magnesium alloys -- was introduced as a strategic shareholder of Century Sunshine.

"The move has further bolstered our R&D capabilities and technical strengths," Mr. Yang said.



Fertilizers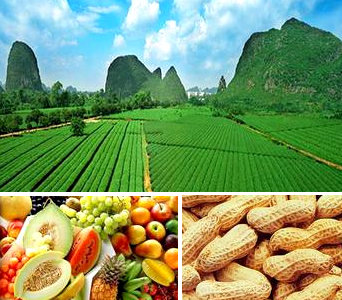 Century Sunshine's green fertilizers help tea, fruit and peanut farmers come harvest time.
Photos: e-chinatea, pconline, ymt360The firm's magnesium supply not only finds its way into new materials for use in lighter auto parts and faster-spinning wind power facilities, but also for more traditional applications on farms.

"There is a major transformation underway in China's agricultural regions.

"As farmers move into cities amid the country's ongoing urbanization, less agricultural labor is available on the farms and therefore fertilizers need to produce much higher yields," Mr. Yang said.

Both sales and gross margins for Century's fertilizer business hit record highs in 2013.

Last year, fertilizer segment revenue rose 28.1% 1.03 billion hkd, accounting for 62.7% of the group's total top line.

Two product categories – compound and organic fertilizers -- accounted for 72.9% and 26.8% of the 2013 segment revenue, respectively.
"Substantial growth of silicon magnesium fertilizers resulted in notable growth in revenue and gross profit for this segment," Mr. Yang said.

Compound fertilizers' gross profit margin increased from to 22% in 2013 from 17.9% the previous year.

"The sizeable jump was a result of production upgrades and efficiency improvements following ongoing technological innovation and enhancement.

"Although launched in March 2012, compound silicon magnesium fertilizers continued to drive remarkable growth in revenue and gross profit for the overall fertilizer business during the year," Mr. Yang said.

Margin improvement was also achieved by fine-tuning product mix and improving production efficiency.

Century owns dolomite and serpentine mines for production of both magnesium products and Si-Mg fertilizers. Its extensive sales channels cover 20 provinces for its fertilizer business.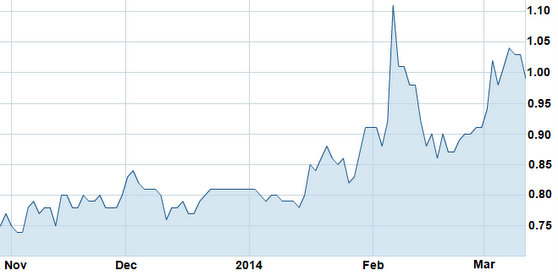 Century Sunshine, with a market cap of 2.7 billion hkd, has seen its Hong Kong shares move within a 52-week range of 0.67 - 1.13 hkd with a trailing P/E of 11.1x. Chart: Yahoo

Looking ahead, Century Chairman and CEO Mr. Chi Wen Fu said: "Our dual-business portfolio is gradually entering a growth stage, with both businesses aligning alongside objectives of PRC economic reforms.
"It is clearly evident that we will benefit from favorable national policy over the long term."

Century has big production plans. A new fertilizer production base with annual capacity of 300,000 tonnes is expected to commence production in the third quarter of this year.

In comparison, its total annual capacity currently is 500,000 tons for both organic and compound fertilisers.

The IFC, a member of the World Bank Group, has shown just how strongly it believes in Century Sunshine's growth potential.

On January 28, 2014, the IFC agreed to subscribe for 155,077,000 shares at 0.75 hkd per share, representing approximately 5.96% of the issued share capital of Century Sunshine at the date of the announcement.

The gross proceeds and net proceeds from the Subscription are estimated to be approximately 116 million hkd and 114 million, respectively.


See also:
CENTURY SUNSHINE Sees Fertile Profit Potential In China