PR FIRM BlueFocus, Longi Silicon and telecom tower play Miteno all rose by triple digits in 2013, while fellow China shares BYD Auto, Huace Film and Aier Eye Hospital came close. Will these half dozen A-shares representing six unrelated sectors maintain their bullish charge into 2014, the Year of the Horse?



BlueFocus (SZA: 300058) up 140% in 2013; Dec. 31 price: 51.80 yuan; most recent results

BlueFocus Communication Group (SZA: 300058) provides PR services by using media and on-site activities, primarily in the PRC.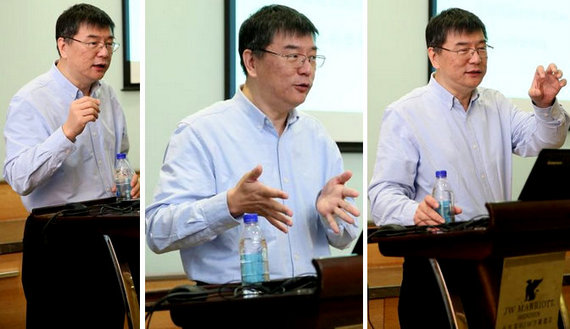 BlueFocus Executive Director Mr. Xu Zhiping in Shenzhen last year explaining the firm's growth. Aries Consulting file photos

On December 6, Goldman Sachs had a "Buy" recommendation on BlueFocus with a 12-month target of 78.22 hkd, with Asia's top PR firm on its Conviction List.

Goldman Sachs' positive view on BlueFocus is underpinned in part by its agreeing earlier this year to purchase the remaining 89% of Bojie Advertising.

"We believe the deal represents another step in BlueFocus' transformation into a comprehensive marketing services group. China's advertising and marketing industry totals 300 billion yuan, and is entering a phase of increasing consolidation, in our view."

The Shenzhen-listed firm has enjoyed the highest average sales growth -- nearly 40% -- over the past few years among the world's leading 20 PR firms, and has retained its leading market position in the fast-growing Asia Pacific PR sector.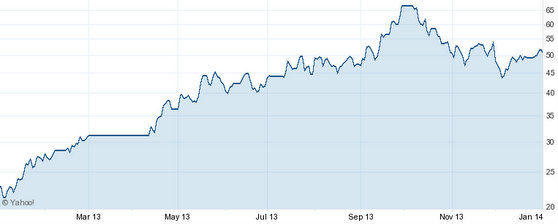 BlueFocus, China's largest PR firm, saw its A-shares surge 140% last year.
Source: Yahoo Finance

At the Forbes Asia "Best Under A Billion" Award Ceremony held in Singapore on October 29, BlueFocus was honored as the "Highest Growth Potential Company," becoming the first PRC-based nominee to receive the distinction.

In April, BlueFocus made a significant foray into the global arena by investing £36.5 million for a 19.8% stake in UK-based PR firm Huntsworth plc.

"BlueFocus' PR business is growing rapidly and it has acquired many leading advertising companies in fast-growing niche markets," Goldman Sachs said in an earlier research report.

Excluding future acquisitions, the research house believes BlueFocus could maintain an organic growth of 25%-30% annually until around 2015.

"However, this does not mean the firm will slow its pace of acquisitions, which is part of its development strategy. BlueFocus' string of M&As since its IPO in 2010 indicates strong execution and we believe earnings may continue to outpace market expectations."

BlueFocous states on its website that it is growing at a faster rate than any other major marketing services group in the world, with 72% revenue growth in its most recent financial year.

"BlueFocus has the stated ambition of growing revenue 10 times over in the next 10 years," the company said.


---

Longyi ingots. The Shanghai-listed firm is the world's top maker of monocrystalline silicon products. Photos: LongiLongi Silicon (SZA: 601012) up 127% in 2013; Dec. 31 price: 15.41 yuan; most recent results

Xi'an Longi Silicon, the world's No.1 maker of monocrystalline silicon ingots and wafers, expects to report 10-15% gross margins for the just-concluded calendar year, significantly higher than the 3.8% GM seen in the fourth quarter 2012.

That's good news for the A-share listed firm after it reported a 2012 full-year bottom line loss of 54.7 million yuan in part due to major client Suntech's woes and anti-dumping action abroad.

Galaxy Securities recently said that solar-related A-shares will see upside in 2014 from continued strong policy support from Beijing.

Longi, which listed in Shanghai in April 2012, produces and sells monocrystalline ingots and wafers in China, with core products including 6", 6.5" and 8" ingots and wafers.

The North China-based firm was confident that things were looking brighter for the solar sector play going forward.

"We are confident that our reliance on cost-efficient manufacturing and a strong capital position will help realize better growth down the road, and we remain committed to quality excellence and cutting-edge R&D to help ensure a positive outcome," said Mr. Warren Wang, Longi's Secretary to the Board Chairman, at an investor conference in mid-2013.


---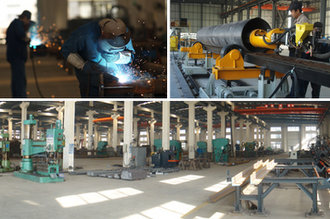 Beijing Miteno makes the towers that keep us in touch. Photos: Miteno Beijing Miteno (SZA: 300038) up 115% in 2013; Dec. 31 price: 15.92 yuan; most recent results

Beijing Miteno Communication Tech is a designer and manufacturer of telecom towers used in signal radiation, reception and transmission.

For the April-September 2013 period, revenue rose 10.8% y-o-y to 349 million yuan while net profit was 11.9% higher at 253 million.

Miteno adheres to both an organic and M&A-based expansion strategy with a goal of becoming the leading equipment supplying conglomerate in the mobile telecom age.

On the organic growth front, there is growing demand for 4G telecom towers to help expand service for the protocol, and Miteno expects orders for this technology to be a major sales driver going forward.

Beginning in 2012, Miteno has been aggressively expanding its market reach across China into the high growth-potential telecommunications construction sectors, with recent investments including Beijing Dingyuan, Juntong Communication and tower play Jinzhilu.

The Shenzhen-listed firm plans to seize opportunities building a 4G network to upgrade itself into an application services provider for Internet of Things and mobile internet technology.


---
BYD (SZA: 002594) up 94% in 2013; Dec. 31 price: 37.68 yuan; most recent results

BYD Co Ltd, which has attracted serious attention from Warren Buffett, saw first half 2012 revenue up 13.3% to 24.2 billion yuan, while net profit surged 2,524% from a low base to 427 million.



BYD's A-shares nearly doubled last year.       Source: Yahoo Finance

New models continued to see impressive sales, with H1 auto sales up 24.72% to around 250 thousand units.

January-June handset components and assembly business recorded sales revenue of around 9.02 billion yuan, and BYD successfully signed on mobile intelligent terminal manufacturers as new customers.

The Shenzhen-based firm's rechargeable battery and new energy business maintained a steady growth, with sales revenue of approximately 2.46 billion yuan.


---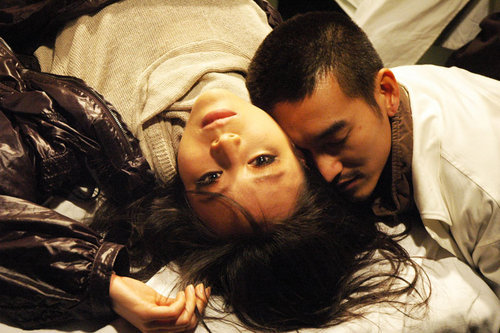 Double Life is a brainchild of Zhejiang Golden Globe Pictures, a wholly-owned unit of Zhejiang Huace. Photo: HuaceHuace Film and TV (SZA: 300133) up 90% in 2013; Dec. 31 price: 31.9 yuan; most recent results

Zhejiang Huace Film and TV is one of the first listed firms in China to specialize in film and TV production, while also being involved in new media, advertising, artist management and online games.

The company has been given the "National Key Enterprise for Culture Export" award for three consecutive years, and topped the media industry in the Forbes List 2013 of China's Highest Potential Enterprises Top 100.

Founded in 2005, Huace Film & TV saw April-September 2013 revenue rise 42.5% to 691 million yuan, with net profit up 30.6% at 209 million.

Memoirs in China, Love in a Fallen City, Snow Leopard, A Million Brides, Magic Blade and other classic Huace shows continue to mesmerize TV audiences.

Huace is also committed to exploring overseas markets and actively aims to promote Chinese culture worldwide, with currently over 8,000 hours of broadcast programming privileges in 91 countries and regions.

In order to allow domestic shows to be seen by overseas Chinese and even make it to foreign mainstream media, Huace plans to invest in a programming platform that will allow regular broadcast of Chinese-language shows in over 30 countries, which will help foreigners better understand Chinese culture.

In early December, Huace agreed to buy a 20% stake in Beijing-based Herun Media for around 104 million yuan, giving it exclusive broadcasting rights to Herun Media – a brand-building media expert.


---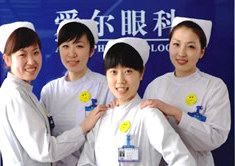 Eyes on the Prize: Aier plans to have 150-200 hospitals under its umbrella by 2020.    Photo: Aier Eye HospitalAier Eye Hospital (SZA: 300015) up 84% in 2013; Dec. 31 price: 31.21 yuan; most recent results

Aier Eye Hospital, headquartered in Changsha, Hunan Province, is the first listed medical institution in China as well as the largest private eye care network in the country, currently operating nationwide via 49 specialized ophthalmological hospitals.

Aier has proven its ability to make use of benchmark, cutting-edge equipment along with global-benchmark management practices to continually strive for ever-higher standards of professionalism and excellence while always putting technological supremacy at its core.

For the April-September 2013 period, revenue rose 23.6% to 1.51 billion yuan, with net profit up 22.9% at 182 million.

Aier Eye Hospital Group operates under the model "National Presence, Regional Concentration."

This allows the Group to be present across the country, but to maintain its focus on key metropolitan areas.

The firm is prudently yet steadily expanding the reach and depth of its services to become an even more established national player with a broader geographical footprint.

By 2020, Aier plans to have 150-200 hospitals under its umbrella.


---


See also:

BLUEFOCUS A 'Buy'

LONGI SILICON: 10-15% Gross Margin Expected in 2013

BYD Wins Official Approval

ZHEJIANG HUACE: Award Winning Firm