Excerpts from analyst's report


DBS Vickers analyst:
Mervin SONG, CFA
•
Acquires Archer Daniels Midland Company's global cocoa business for EV of US$1.3bn (S$1.7bn)
•
Olam is now the third largest cocoa processor with exposure to growing US$16bn mid-stream market
•
11-15% accretion to FY16-18F core earnings
•
Maintain BUY, TP revised to S$3.15
Acquires ADM's cocoa business.
Olam announced the acquisition of Archer Daniels Midland Company's global cocoa business for US$1.3bn. This implies an EV/EBITDA multiple of 9.5x (based on 5 year average adj. EBITDA) and prospective EV/EBITDA of 6.5-7.2x (based on FY18 EBITDA after full integration).

The valuation compares favorably to the 14.3-23.5x EV/EBITDA multiple Petra Food achieved when it sold its cocoa ingredients business to Barry Callebaut in 2012. Olam is also acquiring the processing assets at a 24-39% discount to replacement cost.
Strategic expansion of cocoa platform.
Post this transaction, Olam will be among the top 3 global cocoa processors with a 16% global market share in the US$16bn processing market, where demand growth is expected to accelerate from 3% p.a. to 3.4-4.3% in the coming decade.

In addition, as a integrated player with substantial presence in the sourcing and now the processing segment of the cocoa value chain, Olam should derive higher profits through greater scale and better procurement. This should translate to 11-15% accretion to FY16-18F core profits, with an uplift in medium term cashflows and ROEs (0.8-1.3%) leading us to also revise our DCF-based TP to S$3.15 from S$3.10.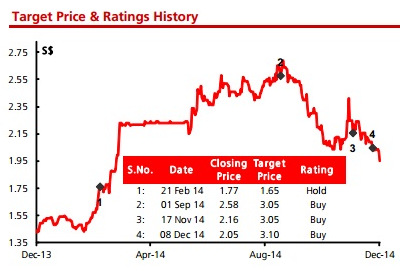 Source: DBSMaintain BUY. While we are positive on the transaction given the boost to earnings, ROE and cashflow in the medium term, we are disappointed over a short term spike in gearing and the delay in Olam achieving positive FCFF within a year due to the large investment.

Nevertheless, following the recent correction, these concerns have been priced in our view. With Olam trading at a 13% discount to Temasek's S$2.23 general offer and on a 12-month rolling forward PE multiple of 10x which is slightly below -1.5 SD PE of 10.4x, we believe Olam is undervalued based on its 30% 3-year earnings CAGR. Maintain BUY with a TP of S$3.15.