CHINA'S SLOWING economic momentum has been tough for companies with significant sales there: Only about 60% of such Singapore-listcos were profitable in the past 12 months, and a mere one third posted net income growth for their latest financial year.

The 3rd quarter of calendar year 2014 marked a 5-year low for China's GDP growth at 7.3%, the slowest since the last global financial crisis.

Meanwhile, National Development and Reform Commission (NDRC) State Information Center expects 4th quarter GDP growth to slow to 7%, even lower than the 7.2% forecast by the People's Bank of China.

In such a business environment, it is remarkable that leading tower crane manufacturer, Yongmao Holdings, was able to post a year-on-year gain of 90.7% in net profit for its first half of financial year 2015 (April to September 2014).

The Group may also reap a windfall through its 11.6% stake in Tat Hong Equipment (China), which SGX-listed parent Tat Hong Holdings intends list.

The Group's 1HFY2015 pretax profit was boosted by a Rmb 12.1 millon gain as a result of restructuring associated with Tat Hong Equipment (China), but even without this, pretax profit would have increased by an impressive 45% (instead of 77%).

"Being a capital intensive tower crane equipment rental business, it is only natural for Tat Hong Equipment (China) to raise monies for asset purchases through an IPO," said Executive Director Sun Tian at a media interview yesterday.
Export markets flying


China's property curbs have dried up construction demand for residential real estate projects (mitigated by PRC infrastructure projects), leading to a contraction in PRC sales contribution from 71.8% in 1HFY2014 to 53.5% in 1HFY2015.
The good news is: With an export network to over 70 countries, the Group had the flexibility of focusing on where growth is found around the world.
Its cranes are distributed by crane distributors and rental companies, as well as to construction companies with strong presence in the destination country of export.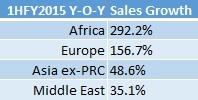 There was higher demand from numerous overseas markets (including Russia, Finland, Nigeria, the Middle East, Hong Kong Macau and Myanmar) for 1HFY2015.
Average gross margin expanded by a good 5.4 percentage points to reach 30.2%, thanks to better pricing commanded in overseas markets.
PRC customers tend to bargain harder to mitigate high development costs because many property projects are sited on land acquired during its property bubble.
Overseas customers, on the other hand, tend to go for higher-end cranes, which fetch better prices.
The Group has a pricing advantage – some of its high-tonnage customised tower cranes are more cost effective than European counterparts, at comparable quality.
A second advantage of overseas markets is that no credit terms are given: Customers pay a deposit of up to 30% on order placement.
Balance monies are collected as soon as the cranes are shipped.
Singapore and Hong Kong are exceptions, as Yongmao has established offices in these two locations and offers credit terms out of goodwill.
In Singapore where credit terms are given, Yongmao only sells to the larger construction players (such as Tiong Woon), and these companies use bank financing.
When a contract is bank financed, full payment is received only after the cranes are fully erected and verified to be functioning.
The internationalisation of the RMB has also lowered currency risk.
Increasingly, banks are allowed to set up RMB clearing facilities in overseas markets, making it easy for crane purchases to be settled in RMB.
For example, the Industrial and Commercial Bank of China's Singapore branch started clearing RMB in May last year.
In October this year, the Bank of Moscow signed a bilateral agreement with the Bank of China to clear trade in Ruble and Yuan.
Related story: YONGMAO: Why It Dominates Tower Crane Industry