Excerpts from analyst's report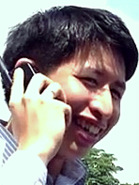 AmFraser analyst: Joel Ng (left)

We initiate coverage on Triyards Holdings ("Triyards") with a BUY rating and a fair value of S$0.92 based on 9x FY8/15F P/E.

Confidence boost by Ezion. The recent subscription of warrants by Ezion supports our investment thesis of Triyards' capabilities in building Self-elevating Units (SEUs or more commonly known as Liftboats). This will also provide a boost to its orderbook – potentially adding around US$150m to Triyards' orderbook, which would bring its orderbook to an all-time high of cUS$550m, giving visibility over the next two years.
Liftboat demand growth intact despite low oil prices. Triyards share price has fallen in line with the recent 30% drop in oil prices, which we think does not reflect the fundamentals of liftboat demand. Liftboat demand will mainly be driven by the increasing acceptance from operators and from offshore operational activities to maintain and extract additional oil and gas from existing shallow offshore platforms.
An order win for its proprietary jackup rig will boost confidence even further. Meanwhile, momentum is picking up for its liftboats orders and we are positive on more order wins over the next few months. Assuming the Ezion deal goes through, Triyards will just have to win 6 liftboat orders (cUS$55m/each) or just one jackup order (US$200m) to reach our 3 year forecasts. Key catalysts.
Initiate BUY with target of S$0.92, based on 9x FY8/15F P/E, a 20% discount to the average forward P/E of Keppel and SembCorp Marine and within range of small-mid cap O&G yards. Our fair value represents a 40% upside to current prices. The stock's valuation are undemanding at 6.4x/6.0x/5.6x FY15F/16F/17F.

Its 0.9x FY8/14 P/B is trading at more than 40% discount to its peers in the sector, which we think seriously undervalues the group given its track record of delivering ROEs of 14-42% over the last four years.

Worst case scenario still looks good. In our worst case scenario that the Ezion deal doesn't go through, its orderbook should still sustain it for another 1.5 years. That should give it ample time to secure more orders. We ascribe a larger 40% discount to its FY8/15F P/E to account for shortened visibility. That still translates to a fair value of S$0.79 based on 7x FY8/15F, still a 19% upside to current prices.