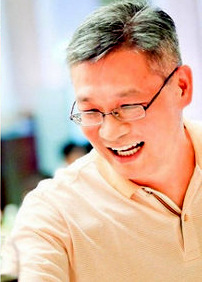 Arich Enterprise President Mr. Eric Chang.     Photo: ArichARICH ENTERPRISE Co Ltd (TW: 4173), Taiwan's top domestic pharmaceutical distributor, believes it has a prescription for success in the region.

Founded in 1960, Arich sells, markets and distributes pharmaceuticals as well as providing logistical services for the sector.

A full three-fifths of pharmaceuticals sold in Taiwan are handled by just three distributors: Zeullig and DKSH, both from Switzerland, as well as Taipei-based Arich.

However, this consolidated scenario is a relatively recent phenomenon on the island.

"In 1997, there were about 90 or so approved pharmaceutical suppliers in Taiwan, but now we're down to just three," said Arich President Mr. Eric Chang.

He told NextInsight that two of the key prescriptions for the pharmaceutical firm's success were its solid market share status and the wide range of drugs under Arich's distribution umbrella.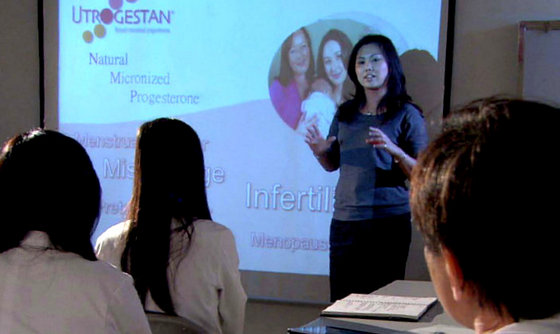 Fertility drugs are proving a growing market for Taiwan-listed Arich Enterprise.   Photo: ArichIt also enjoyed the benefit of a very complementary partnership with medical products and services play Excelsior, which bought a majority 51% stake in Arich in 2009.

"Excelsior's strength is in medical products and we're more focused on drugs, so it's a good marriage.

"Becoming one of its subsidiaries, we aggressively conduct profound integration with Excelsior-affiliated general hospitals, specialist hospitals, hemodialysis centers, long-term care centers, beauty clinics and dental clinics to form an even more competitive value chain," Mr. Chang said.


Arich has a 52-week range of 27.60-86.31 twd and is recently trading at around 73.04.Arich has accumulated many years of collaboration with multinational pharmaceutical corporations.

In its logistics services, Arich's principals include Bayer, Besins, Atlanta-based Center for Disease Control, Eisai, Ferring, Janssen-Cilag, Johnson & Johnson, Nang Kuang, Pfizer, Shionogi, Taiwan Tung Yang Biopharm and Takeda.

The first modernized cGMP-certificated logistics center in Taiwan, built by Arich, offers a thorough supply chain service from international bond, registration, hospital pricing services, warehouse management, transportation & distribution, accounts receivable management and information linkage to drug price submission.

Mr.. Chang said that having distribution relationships with some of the world's leading pharmaceutical giants covering a wide gamut of maladies also helped keep the sales revenue flowing in.

Arich's prescription drug distribution portfolio covers gynecology, obstetrics, urinary issues, dermatological and ophthalmology problems and preventative medicines.

"Excelsior also has its own hospitals and clinics with an established history in medical technology and devices, so we have a good cooperative relationship with them all up and down the industry chain," Mr. Chang added.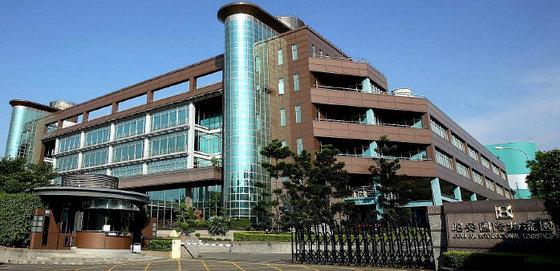 Arich Enterprise is a major player in Taiwan's pharmaceutical logistics sector with a Taoyuan facility pictured above.       Photo: Arich

And it wasn't just non-elective medical issues that were treatable with Arich-distributed products, but elective processes as well that were sometimes meant for cosmetic enhancements only.

These include remedies for issues that are increasingly being deemed curable if not treatable and reversible, such as hair loss treatments, digestive disorders and smoking cessation drugs as well as products for oral health, wellness and beauty enhancement.

Given Excelsior's hospital administration capacity, subsidiary Arich was able to benefit in a way no other pharmaceutical firm could.

"Excelsior is also able to share patient information with us," Mr. Chang said.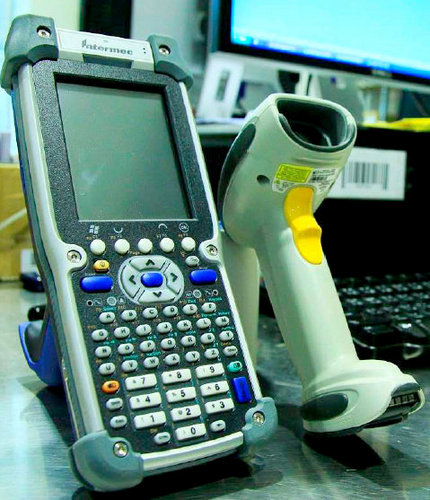 Keeping track of Taiwan's pharmaceutical trade is a big part of Arich Enterprise's business.    
  Photo: ArichBeing one of three distributors of pharmaceutical products in Taiwan – along with the two aforementioned Swiss plays – Arich also enjoyed benefits on the selling prices side of the business.

"Naturally, all hospitals like us to cut our selling prices, but our relationship with Excelsior helps put us in a more stable position on occasion on the pricing side."

Arich also provides distribution and logistics services for prescription drugs, cold chain drugs like vaccines, live cultures and some antibiotics and clinical trial drugs among others, thus firmly establishing its presence across the widest possible array of pharmacological fields.

Obstetrics and gynecology (OB/GYN) was becoming an increasingly fertile market for Arich's distributed drugs.

"We don't compete a lot with 'Big Pharma' in this sector in Taiwan so we don't butt heads much with our principal suppliers in this area.

"We invest a lot in OB/GNY and are No.2 for estrogen in Taiwan," Mr. Chang said.

On the cost control side of things, he said that Arich's top expense was staff salaries.

"Of our 241 total employees, around half are involved with sales and marketing with a quarter focused on logistics.

As for the firm's business structure, the bulk of its revenue was still derived from the relatively modest margin distribution business wherein Arich sold popular drugs from the multinational pharma giants.

However, this would likely be making a gradual shift to more profitable undertakings.

"Generally speaking, our distribution margins are relatively small while profit margins for our self-registered drugs are larger, but this latter business is still a small but growing part of our business.

"But we see it as having major future growth potential," Mr. Chang said.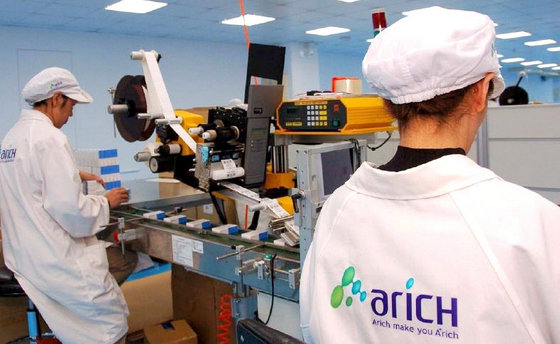 Just what the Doctor Ordered: Arich workers plying their trade.     Photo: Arich

Arich was not limited to sales in Taiwan alone, but was looking to expand elsewhere.

In 2001, Arich entered the PRC market via a joint venture with China National Pharmaceutical Group Corp to form Beijing-based Sinopharm Group Co Ltd in Beijing.

"Based on a long-term relationship, we will develop drug registration and clinical promotion in China in the near future," he said.

As for this year, while continuing to tend to the day-to-day running of the firm, Arich's president also had a lot more on his plate than usual.

"We're continuously making progress on the R&D front and are always on the lookout for new drugs in the global market to distribute.

"But this year, I am also heavily focused on our upcoming IPO," Mr. Chang said.

Arich is planning to upgrade to Taiwan's main board later this year, and the firm already had a good idea of what it planned to do with the proceeds.

"Following the listing, we will boost our cold chain capacity, expand our logistics and scour the globe for more pharmaceutical brands to distribute," he added.


---

See also:

ASIAMEDIC: How It Will Win Clients For Its Cord Blood Bank Business