SHENGLI PIPE doubles H1 top line

Shengli Oil & Gas Pipe Holdings Ltd (HK: 1080) saw first half revenue surge 117.3% year-on-year to 1.34 billion yuan on strong demand for its products serving China's booming oil and gas sector.

The interim gross profit margin stood at 3.0%, down 1.8 percentage points from year-earlier levels, while net profit slid 7.2% to 11.6 million yuan.

The weaker bottom line was partly due to soaring costs, including an inventory write down of nearly 2.5 million yuan.

"With a view to grasping the enormous opportunities arising from the 12th Five-Year Plan, Shengli Pipe has been making proactive efforts to pave a solid path for itself.

"Thus far, efforts have been made to expand the capacity of our main products—spiral submerged arc welded (SSAW) pipes and longitudinal submerged arc welded (LSAW) pipes," said Shengli Pipe Chairman Mr. Zhang Bizhuang.

Shengli Pipe's Hong Kong-listed shares resumed trading on July 8 after having been suspended since March due to a delayed annual report release.

Basic earnings per share for the January-June period stood at 0.47 yuan, down 6.0% year-on-year.

The Chairman added that in order to promptly react to cyclical fluctuations in the oil and gas pipeline industry, Shengli Pipe also stepped into new business lines such as metal commodities trading.

"With a well-diversified business development, we have undertaken a reorganization in June 2013 through the setup of Shengguan Group to improve the efficiency of corporate governance, ensure the full utilization of various resources and reinforce our time-to-market capabilities in offering customers high-quality steel pipelines."

The board of directors does not recommend the declaration of an interim dividend.

According to the 12th Five-Year Plan, Beijing plans to speed up the strategic channel construction for oil and gas imports in the northwest, northeast and southwest of China as well as offshore areas, and enhance the domestic oil and gas backbone pipeline network.

During the half-decade timeframe, the total length of oil and gas pipelines is expected to increase from 77,000 km at the end of 2010 to 150,000 km in 2015 and further increase to 210,000 km in 2020.

China National Petroleum Corp (CNPC) and China Petroleum Chemical Corp (Sinopec), being the two giants in the PRC's oil and gas industry, will build seven natural gas transmission pipelines in Xinjiang over the next few years.

CNPC plans five outbound pipelines from Xinjiang including the Fourth, Fifth, Sixth and Seventh West to East Transmission Pipelines, with total length of natural gas pipelines in Xinjiang to be 6,350 km, while Sinopec plans two pipelines including an 8,200-km Xinjiang-Guangdong-Zhejiang Pipeline and a 4,400-km Xinjiang-Shandong Pipeline.

"As one of the two pipe manufacturing contractors of Sinopec, we have been a major participant in the construction of national oil and gas pipelines, and also a major supplier of CNPC and Sinopec for their oil and gas transmission pipeline projects. To cater to robust demand, last year Shengli expanded SSAW production capacity and added LSAW production lines on a massive scale.

"Leveraging on the proven track record of its participation in large-scale pipeline projects, the Group is confident that it will continue to benefit from the immense growth potential embedded in the regional pipeline market, which will help us achieve a continuing growth in profit as a whole," Mr. Zhang said.

The Chairman added that Shengli Pipe has also been stepping up its marketing efforts on the international front in terms of expanding its sales team and competing for tenders of overseas pipeline projects.

"With progress that has been made, we look forward to our first contract for an international pipeline to be awarded solely to the Group in the near term."


---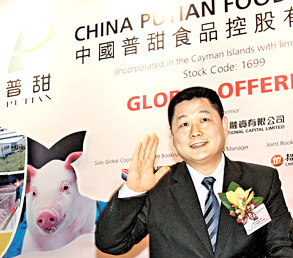 China Putian Chairman Mr. Cai Chenyang drums up support for the pork play's Hong Kong listing last year.     Photo: hketCHINA PUTIAN boosts interim revenue 6.2%

China Putian Food Holding Ltd (HK: 1699) boosted its H1 revenue 6.2% year-on-year to 286 million yuan on stable sales of pork.

China Putian, one of the largest vertically integrated pork suppliers in East China's Fujian Province, saw an interim net profit of 41.3 million yuan, down 2.3% due primarily due to higher administrative costs.

The firm mainly sells pork products under the "Putian" brand, and operates a comprehensive industry chain comprised of hog farming, slaughtering, processing and sales/distribution.

"We have been actively expanding our sales network after listing in Hong Kong last year.

"Moreover, our 'Putian' brand -- which has food safety as its top priority -- has become increasingly well-received by consumers," said China Putian Chairman Mr. Cai Chenyang.



China Putian continues to expand its pork sales network across Fujian Province.
Photos: China Putian

The company's production facilities in Putian City, Fujian include a hog farm in compliance with national standards, five large-scale contract farms and the only recognized 2-Star slaughterhouse in Putian City with a maximum annual slaughter capacity of two million hogs.

"While the price of pork experienced its cyclical peak, both pork retail and wholesale operations recorded growth, leading to an increase in revenue with gross profit margin improved to approximately 25% (30 June 2012: 21.7%)," the Chairman said.



China Putian's recent Hong Kong share performance.     Source: Yahoo Finance

The company's retail points of sales network expanded from 86 as at 31 December 2012 to 89 as at 30 June 2013.

"By means of implementing a stringent epidemic prevention system in hog farms and safety control measures in every production stage, we continue to maintain the health and safety of our farms to ensure the availability of nutritious and healthy pork products to consumers."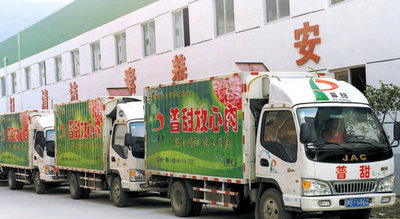 Bringing Home the Bacon:  China Putian trucks line up outside a Fujian Province pork processing plant.    Photo: CompanyFirst half retail sales revenue of pork rose 9% to 151.8 million yuan as China Putian continued to expand its sales network and enlarge its market share of pork retailing in Fujian Province.

"We maintained a close cooperation with the world's largest supermarket groups and domestic chain supermarkets with nationwide presence.

"Through internet advertising campaigns and customer recognition, Putian brand's products gradually gained awareness and recognition on the back of our reliable market positioning, Mr. Cai said.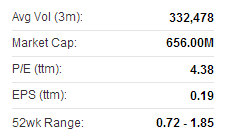 Putian recently 0.82 hkdHe added that demand was particularly strong from those who "pursue high living standards with consumption power."

Management expects retail pork turnover will continue to increase leveraging on the distribution networks throughout the province.

Meanwhile, interim wholesale pork revenue increased 3% to 134.4 million yuan primarily due to higher selling prices.


---

See also:

SHENGLI PIPE Trading Suspension Lifted

OCEANUS AGM: 'In Due Time, We Will Be Profitable Again'