Eric Chow (left) is the sole portfolio manager of the Value Partners Hedge Fund, the only fund nominated as the "Best Greater China Hedge Fund" for 2 consecutive years at the Eurekahedge Asian Hedge Fund Awards 2010 and 2011. In 2011, the Thomson Reuters Extel Asia Pacific Survey ranked Mr. Chow as one of the top three "Leading Buyside Individuals" in Asia for the second consecutive year.


Q: What else do you like?

Eric Chow: ARA Asset Managment is listed in Singapore but is a Pan-Asia property specialist. Half the assets are in private funds, with multiyear lockups, and listed REITS.

The largest investor in the unlisted funds is the California Publc Employees' Retirement System, which wants long-term assets, so Asian property is a natural part of the portfolio.

ARA has $23.5 billion under management, up from $9.5 billion at the IPO in 2007.

We like the visibility. They can easily calculate the fee revenue from REITS, and the private funds with a multiyear lockup are very stable.

It is not a capital-intensive business model. The ROE has stayed very high -- over 30% -- and globally their earnings have been growing very nicely.

In 1H, recurring revenue was up 18% and recurring net profit was up 17%. It's now trading at 15 times forward earnings, with a 3.3% dividend yield.

-- As quoted in the Oct 28 edition of The Edge Singapore


---
Liu Jinshu (left) is the lead analyst at Voyage Research. He graduated from Singapore Management University with double degrees in Accountancy and Business Management (Finance). Prior to joining SIAS Research, he was an associate with one of the "Big Four" audit firms.

Eratat Lifestyle disclosed that it has appointed 15 new distributors with each opening one to two stores across China and that these distributors will commence operations in Jan 2014.

We are encouraged by this development as we are starting to see distributorship growth following the opening of the Shanghai office this year.

The company is finalizing the locations for self-owned stores in Shanghai and about two to three stores are targeted to commence operations in 1Q 2014.

Expect Contribution from 2014:

We like the progress made by Eratat to add new distributors and to open self-owned stores. We may see greater financial contribution in 2Q 2014 from these initiatives when sales at both new distributors and the new self-owned stores start to ramp up.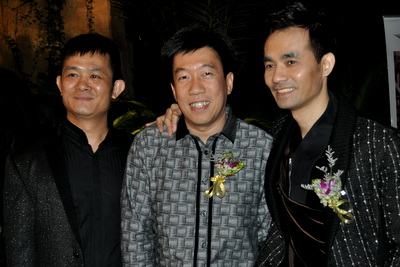 Eratat Lifestyle chairman and CEO Lin Jiancheng (extreme right) with Julian So (centre), MD, Head of Client Solutions, Sun Hung Kai Financial, and executive director Ye Sanzhi (extreme left), who sold his entire 6.77% stake in Eratat in Aug 2013. Julian So has been appointed non-executive director of Eratat. NextInsight file photo.We also noted that all new stores will operate on the relationship based sales model, which further represents execution of Eratat's previously articulated strategy.

We adjusted our FY13F forecasts to factor in the 9M results, but left FY14F forecasts in place as the company continues to execute its expansion strategy.

The net impact on valuation, maintained at S$0.280 per share, is minimal.

Recent story: ERATAT LIFESTYLE: from 'Made-in-China' to 'Milan in China'