BUYING SHIPS when there are more sellers than buyers is really no different from buying any asset, such as properties, when tough times persuade its owner to liquidate. For insights into the looming opportunities in the shipping industry, we spoke with Rajesh Unni, the founder and CEO of the Synergy Marine group of companies, at his office on the 12th floor of Great World City.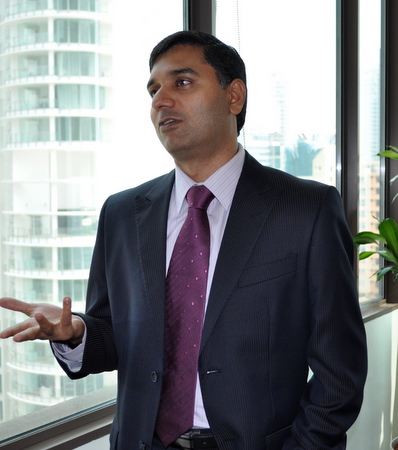 Rajesh Unni, CEO of Synergy Marine group of companies, has worked in Singapore for the past 5 years out of the 20 that he has spent in his career in the shipping industry.
Photo: Leong Chan Teik
THE TIME is nigh when a supply glut and weakening prices force an increasing number of bulk carriers, which carry cargo such as iron ore and coal, to be put up for re-sale, says Rajesh Unni, the founder and CEO of the Synergy Marine group of companies (www.synergymarine.sg).

And he wants to capitalize on such opportunities to expand his fleet.

He has already made a start: In 2010, his company made two purchases totaling US$36 million.

Firstly, it was a 10-year-old bulk carrier which is now sailing the high seas and generating US$8-9 million in profit a year and, secondly, a new bulk carrier that will be delivered from a Chinese shipyard in a matter of weeks.

These were purchased at good prices and there will be more such opportunities as asset prices are likely to correct, as Mr Unni explains.

The price trend will be dictated by charters running out, and a supply glut arising from the delivery of new shipbuildings that were ordered at high prices during the boom years.

Many of these new ships do not have charters to back them up, some were speculative newbuildings, says Mr Unni, who has seen ship prices industry go down after a financial crisis in the past.

"These ships will not be able to support their financing cost and operating cost. There are ships which are owned under SPVs – special purpose vehicles and the owners will be tempted to say 'Let me go bust','' says Mr Unni.

Anyone buying these ships will get a bargain but they must be able to find client-charterers with cargo commitments to keep the ships busy, and they have to put up with relatively low charter rates, says Mr Unni, who set up Synergy Marine after 15 years of being in key areas of the shipping industry.
Synergy is looking out for bulk carriers and medium-range product tankers, for which it has prospective client-charterers.

Mr Unni says the busy Asian trade lanes are where he wants the ships to ply, and his team at Synergy has the capability to develop business in this region, particularly India.

To fund the purchase of ships, Synergy is in talks with Singapore-based banks to refinance the two ships it owns and for which it has paid entirely in cash.

A refinancing of 70% or so of the value of these ships would enable Synergy to put down money to expand its fleet.

Looking further, Mr Unni says that when Synergy has a sizeable fleet in a few years' time, the fleet could be offered as part of an IPO, including the ship management business that Synergy currently operates with 25 ships - container vessels, oil tankers and bulk carriers.
---


Rajesh Unni - from his formative years in a top Indian school to leading a shipping business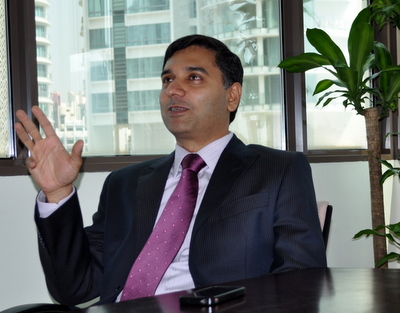 Rajesh Unni was school captain in a top school, Sainik School, in India. In his career, an exceptional achievement was being promoted to be captain at the age of 26, taking command of a chemical tanker. Photo by Leong Chan Teik
FOR THE PAST five years, Singapore has been home to Rajesh Unni, his wife Anjana and eight-year-old son Pranav.

As a shipping hub, Singapore also marked a milestone in his career – he was made head of a ship management company in Singapore, and a year later in 2006 he started his own ship management business, Synergy Marine.

He brings to the table vast experience from his career in Hong Kong, another shipping hub in Asia, and his sea-faring days being in command of vessels.

In Hong Kong, he was head of claims and business development for Fleet Management, a member of the Noble Group.

So adept was he at marketing that the number of vessels managed by Fleet Management surged from 28 when he joined the company to 140 just three years later in 2004. In 2004, Fleet Management was awarded the "Best Ship Manager of the Year" as part of The Lloyd's Maritime Asia Awards.

The different chapters of Mr Unni's career are closely intertwined. In Hong Kong, he made friends among ship owners who became his clients at Synergy subsequently.

Some became investors too, putting in millions to enable the Synergy group to commit in 2010 to buy two bulk carriers.

His work in Hong Kong enabled him to earn the trust of ship owners who now are poised to become clients - they have cargo commitments that would need ships that Synergy might buy in the near future.

Prior to Hong Kong, Mr Unni was sailing around the world, learning about the ins and outs of the shipping industry.

Captain at 26
He was just 26 years old when he achieved the rank of captain, taking command initially of a 12,300 dwt chemical tanker which called at key ports of Europe.

He was well ahead of his peers. Like the rest, he started off as a ship cadet, but he aced his exams and demonstrated his capabilities on board - and was promoted quickly to being second in command.

Such an accelerated career came as no surprise to those who knew him, as Mr Unni had stood out in the seven years he spent in a full-time boarding school, the Sainik School, in the Indian state of Kerala.

This was one of the Sainik Schools throughout the country which are under the purview of the respective state governments and India's Ministry of Defence. The students were chosen based on an entrance exam and they were groomed for possible advancement to become officers in India's armed forces.

Notably, among these exceptional students, Rajesh was made school captain in recognition of his leadership. His capabilities extended to the sports field: Among other things, he played hockey for India's junior national team. The early recognition of his capabilities and the leadership roles he was entrusted enabled him to hone the personal skills that would serve him well in his career later.

"Much of what I am today goes back to my schooling. I learnt teamwork, how to build up a team, keep people together, bring them along, know when to draw the line and when to let people be themselves, " recalls Mr Unni.

School, along with his upbringing at home, fostered in him the values that he continues to uphold in business - integrity, honesty and sincerity, for example.

Though he was eligible for medical school, he decided to venture off on a sea career at the age of 18, in part to relieve his parents of the burden of supporting him through medical school.

He now stands poised at the peak of his career as the founder of a ship management and ship owning group of companies that has expanded rapidly in the past few years. He is seeking to capitalise on opportunities that the current shipping cycle is throwing up and expand further the Synergy Marine group of companies.
In the works is a joint venture with the Kuok Group, one of Asia's most diversified and dynamic multinational conglomerates, to venture into port management, and offshore construction and exploration in the Indian sub-continent.