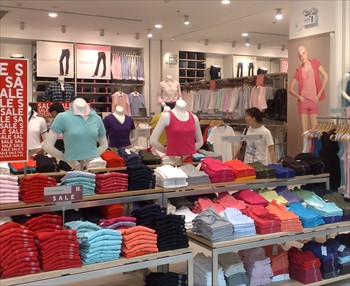 Uniqlo wear: Shenzhou derives 30% of its revenue from Uniqlo, which is listed in Japan. Photo by Kathy ZhangVALUE PARTNERS, one of the largest hedge funds in Asia, owns a 6% stake in Shenzhou International, which is listed on the main board of HK Exchange. Value Partners is the second largest shareholder after Shenzhou's (2313.HK) chairman, Ma Jian Rong (74.5%).

Shenzhou is an integrated high quality large-scale textile garment manufacturing in China.

It integrates processes from weaving, knitting, dyeing, cutting, sewing, post-treatment to packaging and delivery - all under one roof. It has 3 production bases in China, and one in Cambodia.

Shenzhou is the largest knitwear OEM supplier for Uniqlo and Nike in China.

For the financial year ended 31 December 2008, Shenzhou's revenue grew 31.9% to RMB4.823 billion and net profit jumped 71.9% to RMB 699 million. Net operating cash flow was RMB756 million.

The dividend payout was 32% or a 5% dividend yield at HK$4.04/share.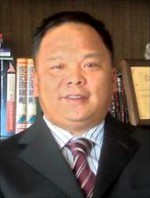 Shenzhou chairman Ma Jian Rong.ICBC International and CICC initiated coverage on Shenzhou recently with target prices of HK$6.2 to HK$6.73, or 8x FY2009 forecast earnings.

Shenzhou's listed peers are Texwinca (321 HK), Weiqiao Textile (2698 HK), Victory City (539 HK), Fountain Set (420 HK) and Pacific Textiles (1382 HK)

Aries Consulting was invited to visit Shenzhou's plant recently in the Economic Technological Development Zone of Ningbo, Zhejiang province of China, where the main production facilities of Shenzhou are located.

Five other parties went too, including the ICBC International analyst who recently initiated coverage with a target price of HK$6.20 when the share price traded at HK$3.50 on 30 June.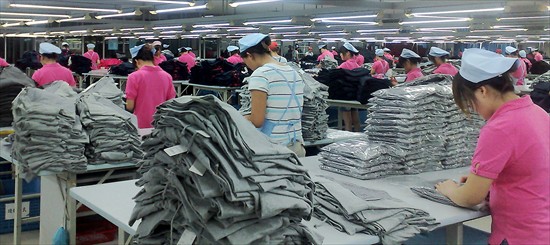 Shenzhou is the largest knitwear OEM supplier for Uniqlo and Nike in China.
Photo by Kathy Zhang


At the time of the visit, Shenzhou shares traded at HK$4.56. They closed at HK$5.21 on Thursday, 23 July, or 8x FY2008 earnings.
Aries Consulting met chairman Ma Jianrong, Deputy GM and ED Zheng Miaohui, Head of Finance Wang Cunbo, and Financial Controller Kenji Chan.

Key Takeaways:
I. Near to mid term earning drivers:
The biggest earning driver is Uniqlo Fast Retailing!
Uniqlo is currently the 6th largest fashion label and the fastest growing fashion label in the world. According to

www.kyodonews.com

on 9 July, Tokyo Stock Exchange-listed Uniqlo projected a consolidated operating profit of 108 billion yen, up 7 billion yen from its previous estimate in April, on sales of 682 billion yen, up from 660 billion yen, for the financial year ending August 2009.

Uniqlo had posted an operating profit of 87.5 billion yen for the business year to August 2008, up 34.7% from a year earlier, on sales of 586.45 billion yen!
Shenzhou is among the largest PRC knitwear OEM suppliers for Uniqlo.
As of December 2008, Uniqlo accounted for 30% of Shenzhou's revenue (RMB$4.823 billion), becoming the largest customer of Shenzhou.

Uniqlo outsources 15-20% of its garment from Shenzhou, making Shenzhou a strategic supplier of Uniqlo.
Besides Uniqlo, Shenzhou has successfully secured several new Japanese customers including Jusco, Daocun during 1H2009.
Key customers in the sportswear segment such as Nike, Adidas, Puma, Kappa, etc have also provided steadily growing orders during 1H2009.
II Earnings Visibility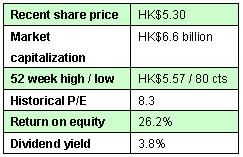 Source: BloombergShenzhou has an order visibility of 2 years, particularly from major customers Uniqlo and Nike.

Production capacity typically takes 8 to 12 months to build excluding training of labour, therefore major customers are mindful of this by providing 2 years advance indications of orders.

The actual order with specific style, size, quantity and pricing will typically be placed ayear in advance. As soon as Shenzhou receives confirmation of such orders, it will lock in the required quantity and price of major raw materials – cotton, which counts for 33% of cost of goods sold.

The actual order is typical within +/- 10-15% of the indicative order.

III Costs and margin sustainability

Shenzhou had a gross profit margin of 23.8% and net margin of 14.5% in FY2008, which is the highest among its peers on HKEX.

Due to an increase in export tax rebate from 11% last year to 16% this year, stable raw material and labour cost (22% of COGS), as well as an increase of ASP in 1H2009, Shenzhou is likely to report a higher gross profit margin in 1H.

Compared to the average selling price increment of 3-5% of PRC textile exports during 1H, ASP increase by Shenzhou exceeded the industry average, demonstrating the competitive edge of its production.

Shenzhou's new production facility in Anqing of Anhui is likely to enjoy a much lower labour insurance than that of Ningbo in addition to a 35% lower salary structure: RMB 1200/m in Anqing versus RMB 2000/m in Ningbo.

The tax rate will double from 7.5% to 15% in 2009; 18% in 2010 and 20% in 2011.

Shenzhen has spent over RMB 500 million per year on capex to purchase the latest equipment and expand production capacity since its listing in 2005. However, going forward, Shenzhou will reduce its annual capex by 50-40% to RMB250 to 300 million starting from 2009

Shenzhou is likely to maintain its net margin due to less depreciation and higher GP margin.


IV Key Competitive Edge



Shorter delivery time:

Shenzhou takes less than 65 days on average to deliver the garment while industry average is 90 days.

This shorter delivery time is a key competitive edge, as retailers nowadays tend to prefer just in time manufacturing with minimum inventory

The shorter delivery time is attributed to "lean" manufacturing, newer and more efficient machines, and the vertical integration that Shenzhou has developed.



It is worth noting that the entire production units for garments are air-conditioned.

Shenzhou employs newer and faster machines. It was the cleanest dyeing factory we had ever seen. Shenzhou has invested at least RMB 500 million for capex since its listing in 2005.



In the garment production unit, Shenzhou adopts lean manufacturing through industrial automation; it is able to improve production efficiency by 20-25%





Consistent high quality:

It is achieved by latest modern machinery and vertical integrated manufacturing process.



Large Production Scale:

Shenzhou has an annual capacity of 138 million pieces of garment, or 460,000 pieces a day (138 million divided by 300 days).

In June, Shenzhou has made a record production output of 650,000 pieces a day.

This capacity is expected to increase by 20% by 1Q2010





Competitive Cost Structure:

Two new production bases: Anqing in Anhui province and Quzhou in Zhejiang province are able to offer lower labour cost up to 35% per month

These two production bases are able to increase the group production capacity by 14%, with combined output of 90,000 pieces a day.



V Two-Year Geographic Contribution Plan





Shenzhou derived 75% revenue from Asia including 20% from China, 10% from Europe, 3-5% from North America in FY2008.

In the next 2 years, Shenzhou aims to derive 90% revenue from Asia, including 40-45% revenue from China





VI Key risks



One of the risks is a sudden hike in the price of a key raw material - cotton- and labour cost. Shenzhou can't pass on the sudden jump of raw materials and labour costs to customers during the 1-year order lock up period.

Another risk: the company's over-reliance on Uniqlo and Nike for business.


Recent exclusive interview by our China correspondent > SHENZHOU INT'L hopes to clear more hurdles with sportswear push