IT HAS been a rough few months for dry bulk shipping charterers as the industry grapples with a tight credit market and a slowdown in demand for commodities.

Freight rates have tumbled and the Baltic Dry Index (BDI), used as the global benchmark for the cost of shipping commodities, has plunged nearly 100 per cent since June.

Vessels which were commanding US$50,000 daily as recently as September are now scraping through at US$4,000 a day rates, according to one analyst.

But Indian bulk shipper Mercator Lines is not hitting the panic button as yet, and with good reason: 73 per cent of its 11 bulk carriers are running on long-term contracts – ranging from one to five years – and have fixed prices locked in. This in turn limits its exposure to the volatile BDI used as a benchmark on the spot market.

"We know that the market can be very volatile and in 2007, we bought four ships and were very happy that we chartered them out at US$35,000. But by the end of November, we were looking like fools as the market was US$90,000; today it looks fabulous because the market is at around US$6,000 and we're chartering it for US$35,000," says Shalabh Mittal, chief executive officer of Mercator Lines.

The company's prudent risk management strategy, which includes allocating at least 70 per cent of its fleet for long-term charters at fixed rates, has been vindicated in these challenging times.

For the first half of financial year 2009 (FY09) ended September 30, the group registered a 239 per cent increase in profits to US$48 million on the back of an 84 per cent rise in revenue to US$108 million.


Strong customer base

Mercator Lines specialises in the transportation of coal into India from Australia and Indonesia, as well as iron ore from India into China, Japan and South Korea. India accounts for roughly 25 per cent of the group's revenue, with its biggest customer being blue-chip power utility firm Tata Power.

In June, the two companies signed a contract worth US$320 million to transport three million tonnes of coal from Indonesia to India, which will require five Panamex vessels to be deployed over four years.

Tata is the major power plant that provides energy to Mumbai and its neighbouring suburbs.

Being a key customer, Tata contributed roughly 34 per cent to Mercator's earnings for financial year 2007 to 2008.

Coal is indeed a major source of energy to the Indian economy with over 54 per cent of domestic power generation coming from coal-fired power plants, according to India's Ministry of Coal.

Having already invested US$1.2 billion in two Indonesian mines in 2007, recent reports have suggest that Tata Power may be looking for more coal mine deals to increase its power-generating capacity.


DBS Group Research noted in a recent report that India's state and private utilities aim to almost double the nation's generation capacity from 141,000 megawatts to 250,000 megawatts by 2017.

It also added that the demand for dry bulk carriers for shipments of thermal coal into India and iron ore out of India should increase as the country's GDP grows.

Outside India, Mercator also has a well-diversified customer base which includes North China Lines Shipping and Siba Ships of Italy along with Arcelor Mittal, the world's largest steel producer by revenue.

"We tend to work with not only good names but also end-users type of customers. People like Tata and Arcelor, they're all power plants or steel plants themselves and they transport iron ore, they transport coal, they transport steel…even if their volume decreases, they still need these ships to move the cargo out," says Mr Mittal.

Possible headwinds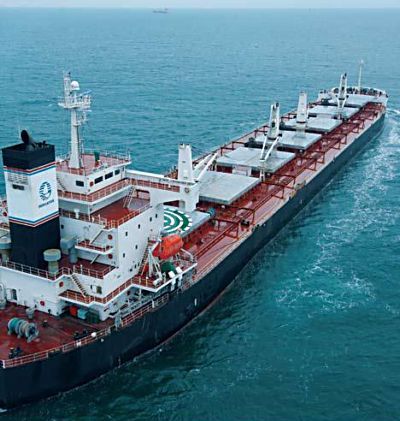 Mercator's ships are only bought against contracts already agreed upon.The global wheels of trade are beginning to show signs of creaking as worsening market conditions mean that banks are more reluctant to issue Letters of Credit to commodity traders, which is traditionally required to load cargoes for departure at ports.

Slower economic growth for the next year or so would also affect steel production and demand for iron ore. While recognising that demand in China and India would clearly dip, Mr Mittal still feels that the situation in these markets "would not be that bad."

The Asian Development Bank recently predicted that even if growth in China and India decelerate, both economies are still expected to expand by about 9.5 and 7 per cent, respectively, in 2009.

Mercator may be buffered from the weak charter rates on the spot market through its fixed cost long-term contracts, but it also means that its rates are at a massive premium compared to other industry players. Hence, isn't the company worried that its customers may renege on these contracts?

"Yes, but from our experience, we haven't seen such a thing happen before. You don't expect names such as Tata Power and Arecelor Mittal to come back and default on their contracts…but the risk will always hang there because the difference in the contract price and market price is dramatic," says Mr Mittal.

Staying on strategy

Having been fairly profitable in the first six months of FY09, the company is sitting on positive cash flows and has no refinancing obligations for the next five years.

Not surprisingly, Mercator is intent on staying consistent with its strategy. Aside from allocating at least 70 per cent of its ships for long-term fixed rate charters and selecting reputable end-user type customers, Mercator's ships are only bought against contracts already agreed upon.

"You need to have business in hand, customers in hand or you could have a ship and have nowhere to run it," says Mr Mittal. "In good times, it's very easy to run ships because the demand is very high. But these are testing times so you need your customer base, people who you have a relationship with. You understand their constraints and you can come up with solutions rather than just giving a ship on hire," he added.