GLOBAL ARIEL may seem like a sexy play on China's construction boom but it has been largely unnoticed since its shares began trading in June this year.

A US hedge fund, however, is betting on the company, which currently has a market capitalization of nearly $300 million and supplies ready-mixed concrete to the building industry.


On Oct 16, Global Ariel entered into an agreement
to offer up to 29.4 million shares in a private placement to D.B. Zwirn Mauritius Trading and D.B. Zwirn Special Opportunities Fund.


D.B. Zwirn Mauritius Trading is wholly-owned by D.B. Zwirn Special Opportunities Fund, L.P., a limited partnership managed by

D.B. Zwirn
& Co., L.P.,

a global alternative investments manager and merchant capital provider with over US$5 billion worth of assets under management.


They are the same sources of a $100-million financing facility for Oculus in August this year
to fund its expansion into renewable energy
businesses.


The funds will acquire Global Ariel's shares - representing 1.77% of the enlarged share capital of Global Ariel - at

17.01 cents

a share.


The net proceeds from the placement are estimated to be S$4.8 million, which will be used for the construction of
a multi-purpose development of mixed residential and commercial use in Suzhou.

The placement will be part of a series of fund raising exercises which the company intends to undertake to fund the development.
The project will have a built-up area of 446,693 sq m on a 170,267 sq m plot next to a light railway station currently being built. This marks a major move in Global Ariel's vertical integration of its business.



"Being the market leader of ready-mixed concrete in

Suzhou gives us a strong competitive advantage over the cost of building

materials, which forms a significant proportion of the costs for property

development.

"We will expect the synergies generated from the progression to property development and the additional revenue streams to have a

positive

impact on our earnings

in the coming years," said Executive Chairman of Global Ariel, Mr Sun Jianming.



$115-million reverse takeover
In its previous incarnation, Global Ariel was Ho Wah Genting International, a company incorporated in Singapore 34 years ago as Horiguchi Engineering.


A series of events, including a business downturn, caused the company to become insolvent. It sought a suspension of the trading of its shares and that took effect in July 2001.


Ariel Singapore, a private investment company, undertook a white knight rescue of Ho Wah Genting International in March 2004 through an injection of funds. The company changed its name to Global Ariel in March 2005.

The move towards a reverse takeover of the China ready-mixed concrete business started in Feb 2006, when Global Ariel entered into an agreement to acquire Assetgold Finance, the investment holding company of 8 PRC subsidiaries in Jiangsu province. They are in the business of producing ready-mixed concrete.

The group is said to be the second largest supplier in Jiangsu.


Global Ariel completed the acquisition in June this year by issuing 1.15 billion new shares at 10 cents a share to Ever Universe Investments, which became the largest shareholder of Global Ariel with a 69% stake.


The vendors have given a dividend guarantee of 50 per cent of the net profit of the group this year, or $5 million, whichever is greater.
The executive chairman of Global Ariel is Sun Jianming, 38, while his father, Sun Jinnan, 60, is the managing director. They have a combined 34.2 % stake in Ever Universe.
| | | | | |
| --- | --- | --- | --- | --- |
| | FY 2004 | FY2005 | FY2006 | 1H 2007 |
| Revenue (RMB '000) | 814,641 | 594,476 | 609,664 | 303,957 |
| Net profit (RMB '000) | 151,477 | 49,244 | 12,680 | 16,364 |
| EPS (RMB cents) | 9.2 | 3.0 | 0.8 | 1.07 |
The group's sales and profits slipped in FY 2005 and FY 2006 largely due to measures that the Chinese government took to curb speculation in the property sector.


Highlights of its 1H 2007 (period ended June 30) results:

* Revenue increased 13.53% (or RMB 37.3 m) as a result of a 5.6% increase in output and 10.2% rise in average selling price.
* Gross profit margin was 16% versus 14.3% previously.
* Profit attributable to shareholders crept up 1.8% to RMB 16.3 million.

* Net asset value as at June 30 this year was 24 RMB cents.
The group's sales are primarily of ready-mixed concrete, which has a shelf-life of about four hours after it is mixed and poured into the mixer truck for delivery.


As a result, the group's customers are located within 50 km of its concrete-mixing plants. The business is largely dependent on the building and construction industry in Jiangsu, a province whose better-known destinations include Suzhou city.

The city has a network of rivers, which serve Global Ariel well.
All of the Group's concrete-mixing plants are located near rivers, and raw materials such as coarse aggregate, sand and
cement are transported to the plants on barges.

Growth drivers from Suzhou development


Global Ariel's
management is of the view that Suzhou's growing economy and increase in capital investment will lead to an increase in infrastructure and construction projects that will result in increased demand for ready-mixed concrete. Suzhou's GDP is currently ranked

fifth
among PRC cities.
In February 2007, the PRC government approved the construction of an

underground light railway

system - the Suzhou Metro - through the city of
Suzhou. It is the first prefecture level city in China to gain approval for such a major project.



Light railway systems have already been completed in provincial-level cities such as Shanghai, Beijing and Guangzhou.


Cons

truction of the first railway line is expected to start by the end of 2007 and be completed by 2011. This first line,
starting from Suzhou National New & Hi-Tech Industrial Development Zone and ending at Suzhou Industrial Estate,
stretches over 26.1km with 23 stations.

The total investment involved for the first line is estimated to be around RMB9.7 billion. Based on the construction of Guangzhou Metro Line 2 (
23.3 km with 20 stations) which requires a total of 1.14 million cubic metres of concrete, the amount of concrete needed for the entire
Suzhou Metro Project is estimated to be around 6.8 million cubic metres.

Another key driver for infrastructure growth will come from the Suzhou City Master Development Plans (2007-2020) under which the planned city centre will have a total built-up area of 599.2 sq km, close to 3 times the built-up area in 2005.

The government also targets to increase the population in the city centre from the existing 2.3 million to 3.6 million by 2020, representing a CAGR of 3.2% over the next 13 years.

The urbanization and population increase in Suzhou will further boost demand for infrastructure and property development projects over the next ten years. This will also involve the extension of Suzhou's internal railway system to link up with the neighbouring cities.

Among the top 5 in China

Global Ariel is currently the largest ready-mixed concrete producer in Suzhou and among the top 5 in China. Besides ShanghaiConstruction Co, Global Ariel is the only listed player among the top 5 ready-mix concrete producers.

Given its market leading position (approximately 25% market share in Suzhou), some observers figure that Global Ariel is well-positioned to leverage on the booming construction growth in China and likely to be involved on a major scale for the upcoming infrastructure projects in Suzhou.

As of June 2007, Global Ariel has signed contracts to supply ready-mixed concrete to 162 projects of various sizes. Some of the more significant projects include the relocation of the railway station in Suzhou.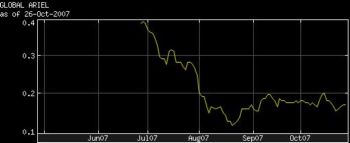 Global Ariel stock traded as high as 45 cents and as low as 12 cents.Foreign investors have placed bets on cement makers. Recently, Goldman Sachs bought a 25% stake in Hongshi Group, the second largest cement maker in Zhejiang province, for RMB600 million.

MS Asia Investment, a private equity unit of Morgan Stanley and International Finance Corp, agreed in April last year to pay RMB1.27 billion for a 14.3% stake in Anhui Conch Cement, the largest cement maker in China.


Dave Tan, an engineer by training, is a consultant with Financial PR
.