Asiatravel.com's losses have deepened in the past 3 years. Will FY2014 be a turnaround year? Chart: FT.comASIATRAVEL.COM Holdings' shares attracted a "trade with caution" advisory from the Singapore Exchange just last week (20 March) after their trading volume and prices spiked up.

Asiatravel.com had earlier said it was not aware of any reason for the sudden trading activity. It said it had made recent announcements regarding 2 substantial shareholder transactions and its FY13 financial results.

The 2 substantial shareholder transactions are noteworthy, in particular the one of Beijing Toread Outdoor Sports raising its stake by 20 million shares in a married deal.
With that, Beijing Toread now owns a hefty 21.22% stake.

Its first and only prior purchase of Asiatravel.com shares was in October last year when it acquired 40 million new shares at 20 cents apiece.

Thus, Beijing Toread went from zero holding to 21.22% in just 4 months.

Beijing Toread was described by Asiatravel.com as having online and offline distribution networks and customer base in China which could help Asiatravel.com capture business from China's outbound travellers who book their travel arrangements online.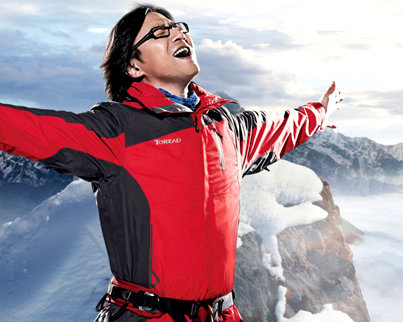 Beijing Toread spokesperson and rocker Wang Feng sings the praises of the adventure equipment firm. Photo: Beijing ToreadListed on the Shenzhen Stock Exchange, Beijing Toread develops and sells outdoor products including tents, hiking boots, all-weather jackets and protective gear.

Its customers are young and active and inclined to travel by booking arrangements online.

Beijing Toread's business model relies on third-party manufacturers to produce its products. But it directly manages some retail stores and mostly grows its retail network via franchising.

As of last year, it had 1,535 points of sales in China and close to 20 million retail customers. It also has a strong online presence with multiple brands. (See: BEIJING TOREAD: Outdoor Products Play Eyeing Higher Peaks)
It has achieved significant market presence. In 2012, Beijing Toread reported revenue of RMB 1.1 billion, a 46% growth over that of FY2011 and net profit of RMB 169 million, a 57% growth. Its market capitalization was recently RMB8.4 billion.

In its February announcement of its 1Q14 result, Asiatravel.com said it was formulating a "holistic China outbound strategy with our strategic shareholder to target the huge China outbound travel market."

Our guess is that Beijing Toread would help cross-sell Asiatravel.com to its customers.

Though it's an online operation, Asiatravel.com also has ground presence in five cities -- Guangzhou, Shanghai, Beijing, Chengdu and Nanjing -- catering to outbound travellers.
Asiatravel.com has achieved two consecutive quarters of revenue and room nights growth with 1QFY2014 reaching the level last seen in 1QFY2012. Asiatravel.com is optimistic that the recovering trend will drive its turnaround in profitability.


Up to the latest financial quarter, Oct-Dec 2013 (1QFY14), Asiatravel.com still had yet to recover its profitability, reporting a net loss attributable to the owners of the company of S$1.28 million, compared to S$0.92 million in 1QFY13.
But revenue did go up, by 10.1% y-o-y, to S$26.00 million, as did room nights (20% increase), reversing a trend that started in 1QFY11.

It didn't help that one of Asiatravel.com's top-selling hotels had closed for rebuilding, resulting in a $1.44 million decrease in revenue from its offline wholesale business.

Asiatravel.com is optimistic about a sustained recovery in its revenue in the coming quarters despite the industry having turned intensively competitive as more players muscle their way in.

The advertising and promotion budget is cash-draining: In its February announcement of its 1Q14 result, Asiatravel.com mentioned a S$20-m budget for A&P in FY2014. It's a massively huge sum compared to the S$2 million that it had spent annually on A&P in recent years.

It did not say how the 2014 A&P budget would be funded. The fact is, it had only S$11.1 million cash as at end-1Q14 and has been experiencing negative operating cashflow for the past year.
A key target of its spending is the recently launched brand – www.thehotels.com -- to spearhead its business in worldwide hotel reservation. "This site will be promoted heavily in the coming financial year."
Dr Ong Nai Pew became a substantial shareholder last Oct.Ex-CEO buys shares

Still, a former insider appears to hold an optimistic view of the company. In the other recent transaction involving a substantial shareholder, Dr Ong Nai Pew purchased 1,017,000 Asiatravel.com shares on 17 March for S$209,800, or 20.63 cents a share.

Dr Ong is currently MD of private equity firm Provident Capital. He was Asiatravel.com's CEO from March to December 2005 and its co-chairman from November 2004 to March 2005.

He now owns 17,973,637 shares, or a 6.3566% stake, of Asiatravel.com.

He had become a substantial shareholder (with a 5.5737% stake) only last October after buying 1,416,000 shares at 18.5 cents a share.

Asiatravel.com, at 24 cents currently, has a market cap of S$70m. If it were to trade at 10X PE for this year, the earnings would have to come in at S$7 million --- what a strong business turnaround it would be if this happened.

Similarly, if its FY2014 earnings turned out to be lower than S$7 million, then the stock is trading at a forward PE ratio that is higher than 10, and so on.