In mid-2018, Health Management International (HMI) took a

62.5%

stake (later raised to 70%) in a new
multi-disciplinary medical centre, StarMed Specialist Centre.

The acquisition marked HMI's first major investment in Singapore healthcare after many years of focusing on growing its two hospitals in Malaysia

(since 1998 in Malacca and since 2009 in Johor)

.



As it later turned out,

the next chapter in HMI's story would also star a young Singapore venture.

In Dec 2018, HMI entered into an agreement to acquire for S$4.2 million an initial 28% stake in a fast-growing chain of primary care clinics in Singapore. In 5 years, it had grown to 16 clinics.

HMI's CFO, Chin Wei Yao, said HMI's senior management had known the founders of the target company (Plus Medical Holdings) for some two years.


Stock price

57 c

52-week
range

52 – 68c

PE (ttm)

26

Market cap

S$461 m

Shares outstanding

837 m

Dividend
yield (ttm)

1.2%

1-year return

-11%

Source: Bloomberg
HMI saw the GP chain (whose clinics have not been disclosed for now for competitive reasons) as being complementary to StarMed as the former could, for example, refer patients to the latter.

For their part, the founders recognised that they could grow their chain of clinics a lot faster with the capital contribution and support of HMI.
(Of the $4.2 million for HMI's initial stake, $3 million is for expanding the chain. There are 4 more tranches of $3 million each in the years ahead which could enable the chain to expand to within shouting distance of the top players. The target number of new clinics and the pace of growth have not been disclosed.)

It looked like a good business match -- and then there is mutual attraction from shared values.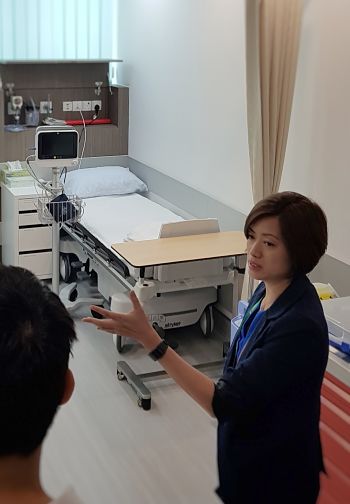 StarMed is at 12, Farrer Park Station Road. NextInsight file photo. According to HMI, affordable healthcare is a priority of the target GP chain, which pretty much echoes what HMI has said about StarMed -- that the latter's pricing is somewhere between government and private hospitals. (See: HEALTH MANAGEMENT INT'L: Ramping up operations at StarMed)

That (benign) pricing philosophy is, again, what HMI operates with in its hospitals in Malaysia (Mahkota and Regency).

Price increases, if any, are said to be incremental for its patients, who are middle-income mostly.

There's more at play, of course: Competition from other hospitals help keep a lid on every player's prices, and there's more competition emerging on the horizon in the form of new hospitals.


HMI presents its financial statement at various depths.


| | | | |
| --- | --- | --- | --- |
| (MYR'm) | 1HFY19 | 1HFY18 | Change |
| Profit after tax and minority interests (PATMI) | 21.1 | 29.5 | (25.8%) |
| Core PATMI (adjusted for non-operational and one-off items) | 31.3 | 30.97 | 1.0% |
| Core PATMI (excluding StarMed gestation costs) | 37.6 | 30.97 | 21.5% |
The bottomline is, of course, reported according to accounting requirements.

On the surface, it's looking gloomy with

profit after tax and minority interests in 1HFY19 down 25.8% y-o-y and down 28.4% in 2QFY19.



Instead of stopping there, HMI offers investors insights by stripping out the following: forex fluctuations, one-off items and the gestation costs of StarMed.

What you get to appreciate is that the ongoing business operations (ex-StarMed) are doing fine: Core profit after tax and minority interests was up 21.5% y-o-y in 1HFY19 and up 15.5% in 2QFY19.

On the ground, at its two hospitals:



♦ T

he number of patients rose 4% from 233.1 K in 1HFY18 to 242.5K in 1HFY19.



♦ Revenue rose 9% from RM224.2 million to RM244.4 million in the same period.




For the details, see HMI's Powerpoint presentation here.


UOB Kay Hian has a target price of 73 cents for the stock. See report.