Excerpts from CGS-CIMB report

Analyst: William Tng, CFA

AEM Holdings Ltd
On the march

■ We hosted AEM at our Virtual Tech & EV Conference on 7 Apr 2022.


AEM

Share price:
$4.82

Target:
$6.85
■ On 12 Apr 2022, AEM released its FY21 Annual Report (AR).

■ We reiterate our Add call and TP of S$6.85.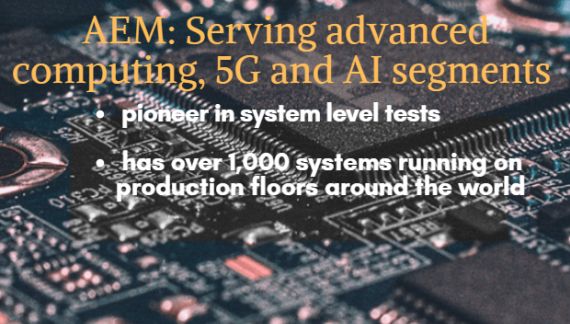 Key takeaways from our conference
The key takeaways from AEM's presentation at our 7 Apr conference were:

a) AEM thinks that its strength is in thermal management and the group is willing to respond quickly to customers' requirements as well as willing to offer customisation for its customers;

b) the company remains confident in its S$670m-720m revenue guidance for FY22;

c) for System Level tests (SLT), AEM is the sole Test Handler (TH) supplier to its key customer. AEM also owns the intellectual property for the SLT TH; and

d) the company is currently coping well with the raw material price increase/cost pressures.
AEM ready for the paradigm shift
In its AR, AEM noted that the current test paradigm (Test 1.0) is dominated by traditional "Big Iron" Automated Test Equipment (ATE) and that this traditional process, used for over 30 years, is now unable to cost-effectively provide adequate test coverage required by today's complex applications.

In AEM's view , a new test paradigm, which it dubs Test 2.0, that leverages big data, intelligent automation and application-specific instrumentation to test devices not only at the device level but at the system level is the solution for such needs.

AEM's Test 2.0-ready systems brings together elements of Burn-In, Final Test, and SLT into massively parallel platforms that ensures highly cost-effective test solutions.

Other key updates from AR
In FY21, AEM signed on a new automotive harness test supplier who has integrated AEM's RF tester Mixed Mode Multi-Port Netw ork Analyzer (MMVNA) into their system.

In 2021, AEM also revamped its Asynchronous Modular Parallel Systems (AMPS) platform. The resulting AMPS SLT+ solution offers a full-stack solution that encompasses high-speed device handling, seamless integration of test content, advanced thermal control, intelligent data tracking, and factory 4.0 automation readiness.

The solution is also highly configurable to be application-specific to meet each customer's unique requirements.

AEM sees opportunities for such systems in the Memory and Application Processor IC's SLT as well as high-power computer Burn-In testing. Other products are shown in Figures 1 and 2 overleaf.


Reiterate Add
We reiterate our Add call on AEM and TP, still based on 15.62x P/E on FY23F EPS of S$0.4384.

Potential re-rating catalysts for AEM are upw ard revisions to revenue guidance in the coming months and further new customer wins.

Downside risks are delivery delays due to lockdowns/movement restriction extensions, order pushback by customers and margin pressure arising from higher operating costs.

Full report here