Excerpts from UOB KH report

Analyst: Adrian Loh


Yangzijiang Shipbuilding (Holdings) (YZJSGD SP)

The Spin-off Journey Begins With A Single Step
Yangzijiang

Share price:
$1.30

Target:
$2.00
YZJ announced that it is exploring the possibility of spinning off its investments business into a separate entity which will then be listed.

While this process may take 6- 12 months, we view this move in a positive light as it should remove some of the discounts that investors had arguably placed on the company, given the size of this non-core business.

Maintain BUY. Target price: S$2.00.

WHAT'S NEW
• Some clarity given. After market closed on 29 Nov 21, Yangzijiang (YZJ) announced that it is "exploring the possibility of undertaking a plan to spin-off the group's investment segment via the transfer of existing investments to a newly-incorporated company (NewCo)". YZJ then intends to list NewCo, although no details were provided as to whether NewCo would follow YZJ and be listed on the Singapore Stock Exchange, or whether it would be listed in an exchange in China where its investments are.

• A cleaner business and shareholding structure. The announcement should not come as a surprise to the market given that management had stated previously that it was undertaking a strategic review of its debt investments business. With separate listed companies containing the shipbuilding business and the debt investments business, YZJ will look to deliver sharper operational focus, enable more targeted capital allocation, and have more strategic and financial flexibility to pursue its own growth opportunities.

• What is the debt investments business? This segment's key activities include microfinancing, debt investments at amortised cost, and other investments. More importantly, these investments have collateral backing the loans, with land comprising 43% of all collateral held by YZJ, and shares making up another 21% as at end-3Q21 (other forms of collateral include receivables, vessels and others). Historically, this segment has generated about 95% gross profit margins, non-performing loans of 1% or less, and as at end-3Q21 had a net balance of Rmb10.9b (S$2.34b) in investments.

• Market reaction should be positive, in our view. While the proposed spin-off is still at a preliminary stage, with targeted completion in 6-12 months, we believe that this news should be seen in a positive light by the market given the frequent prior criticism that has been levelled at the management regarding the lack of focus and excessive time taken up by a non-core business segment.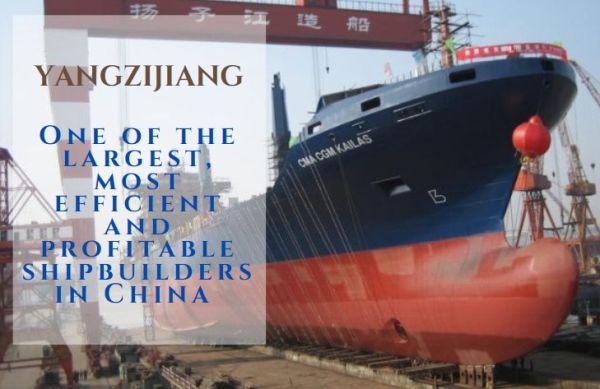 STOCK IMPACT
• Lacking details at the moment, but direction is positive. We were slightly disappointed that the announcement was not more concrete with potential valuation parameters and/or valuation ranges given; however, given the cross-border nature of this transaction, the tax implications for the major shareholders will likely be the main issue to contend with. Furthermore, there will also be the requisite approvals needed from various regulatory authorities as well as the board of directors and shareholders.

• Orderbook full until 2024. During its 1H21 results briefing, YZJ stated that any new orders will be delivered in 2025 but in spite of this, it is still receiving client enquiries for 2025. Ytd in 2021, the company has garnered order wins for 124 vessels worth US$7.41b. Recently in Oct 21, YZJ won orders for two 82,300dwt and four 45,000dwt bulk carriers with a total contract value of over US$200m. More notably, 2021 saw the company achieve a significant breakthrough in the signing of a contract to build a number of 40,000m3 liquefied petroleum gas (LPG) carriers and liquefied natural gas (LNG) dualfuel 7,000TEU containerships.

EARNINGS REVISION/RISK
• No changes to earnings.

VALUATION/RECOMMENDATION
• Maintain BUY and re-iterate our PE-based target price of S$2.00. We use a target PE multiple of 9.3x (+1SD above YZJ's 5-year average) which is applied to our 2022 EPS estimate.

At our target price, the company would trade at a P/B of 1x which we believe is fair.

YZJ remains inexpensive, after correcting about 13.9% in 2H21 to date vs the STI which has increased 1.8% over the same period.

We note however, that YZJ's Korean shipbuilding peers have fared even worse, with Samsung Heavy and Daewoo Shipbuilding down 15.7% and 19.3% respectively over the same period.


• Looking more inexpensive. We continue to believe that the stock remains inexpensive as it is trading at very low 2022 multiples of 5.8x PE and 0.6x P/B.

We highlight that end-1H21 potential net cash per share (ie net cash plus debt investments) is S$0.81 which equates to 62% of the company's share price.

We also highlight that the company has spent over S$24m in share buybacks in Nov 21 alone which, in our view, underlines management's belief that its business prospects are bright, and specifically that its lower-than-expected 3Q21 profit margins should head higher over the next few quarters.

SHARE PRICE CATALYST
• Evidence of margin expansion from 2H21 onwards.
• New orders in higher margin segments, eg dual-fuel containerships or LPG tankers.
• Potential demerger of its debt investments business from the core shipbuilding business.

Full report here.