UOB KAYHIAN

UOB KAYHIAN

Yangzijiang Shipbuilding (Holdings) (YZJSGD SP)

The Spin-off Journey Begins

With A Single Step YZJ announced that it is exploring the possibility of spinning off its investments business into a separate entity which will then be listed. While this process may take 6- 12 months, we view this move in a positive light as it should remove some of the discounts that investors had arguably placed on the company, given the size of this non-core business. Maintain BUY. Target price: S$2.00.

Hong Leong Bank (HLBK MK)

1QFY22: Solid Set Of Results

The group reported 1QFY22 results that came in in line. Earnings growth was robust aided by NIM expansion, above-industry loans growth and solid cost discipline fee. Bank of Chengdu also registered an impressive growth. Maintain BUY and target price of RM22.30 (1.48x FY22/23F P/B, 10.3% ROE). Among its peers, we believe HLBank may have the lowest provision risk given its relatively high mortgage portfolio which is well collateralised.

UOB KAYHIAN

LIM & TAN

Public Bank (PBK MK)

3Q21: Resilient Performance Despite Challenging Environment

Public Bank's 3Q21 earnings were marginally above estimates by strong unit trust income and solid operating cost discipline. The group continues to build up preemptive provisions, raising its loans loss coverage ratio to a robust 358%. Maintain BUY and target price of RM4.60 (1.70x 2022/23F P/B, ROE: 11.0%). The stock is trading at 1SD below its historical five-years P/B mean which we deem to be attractive given the group's superior asset quality and provision buffers.

Keppel REIT ($1.11, down 3 cents) announced that it has entered into an agreement to acquire a 100% interest in Blue & William, a freehold Grade A offi ce building currently under development in North Sydney. The total development consideraƟ on is A$327.7 million (approximately S$322.2 million).

Ms Shirley Ng, Deputy CEO and Head of Investment of the Manager, said, "In line with our acƟ ve porƞ olio opƟ misaƟ on strategy, this DPU-accreƟ ve investment brings an iniƟ al net property income yield of 4.5%, which will enhance Keppel REIT's overall porƞ olio returns. At the same Ɵ me, regular coupon will be received throughout the development phase, providing robust risk-adjusted returns. The investment will also see Keppel REIT expand strategically into North Sydney, a major commercial district with posiƟ ve leasing dynamics. Designed with tenant experience and wellness as a priority, Blue & William, which will include advanced green features and off er panoramic views of the Sydney Harbour Bridge, is set to be the preferred business address for corporates."

Keppel REIT's market cap stands at $4.1bln and currently trades at 23x forward PE and 0.85x P/B raƟ o, with a dividend yield of 5.4%. Consensus esƟ mates stands at S$1.23, represenƟ ng 11% upside from current share price. We maintain a "HOLD" raƟ ng on Keppel REIT.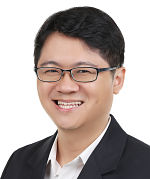 Check out our compilation of Target Prices