OCBC

MAYBANK KIM ENG

Singapore Press Holdings Ltd

Rating HOLD (as at 8 October 2021)
Last Close SGD 1.98
Fair Value SGD 1.92


Recovery in continuing operations
• Shareholders have given approval to transfer the media business to a not-for-profit company limited by guarantee at the recent EGM on 10th September.


• FY2021 PBT of continuing operations excluding fair value changes rose 62.8% to SGD258.4mn. Media business (discontinued operations) continued to see
losses of SGD38.7mn in FY2021.


• Final dividend of 3 cents/share was declared, bringing total dividend for FY21 to 6 cents/share.


• Next steps include an EGM to be scheduled to seek approval for the privatization offer by Keppel Corp
(expected around middle November), SPH will eventually delist and privatise under this plan.

Singapore Semicon Equipment

Plenty to look forward to

Sector fundamentals appear attractive We believe the recent correction in Singapore semicon equipment stocks provides a good opportunity to accumulate on dips. On the WFE front, SEMI have raised 2021-22 outlook, which we believe is corroborated by the outlook of the companies we cover, their customers and end-customers. AEM is our top pick due to i) new products and customer(s) in FY22 propelling a new earnings cycle, and ii) easier base-effects beginning 4Q21E.

CGS CIMB

CGS CIMB

Telco - Overall

ESG leaders for ASEAN telcos

■ Singtel/StarHub top our ASEAN telco ESG rankings, while NLT also did well overall. Areas of strength: a) data privacy/security, b) network, c) CG/ethics.

■ SG telcos are way ahead of their regional peers in cybersecurity as at endCY20 & are well-placed to capture strong future demand in SG/APAC.

■ We think the SG digital banking business may add 15 Scts/share to Singtel's SOP valuation, with a further 9 Scts/share accretion if it wins in Malaysia too

Q&M Dental Group

PCR waning, ART shining

■ PCR testing in Singapore is to be reserved for symptomatic Covid-19 patients and travellers requiring on-arrival and pre-departure tests.

■ Previously, PCR tests were required for ART-positive individuals (confirmatory) as well as patients exiting home quarantine.

■ Reduced demand for PCR tests could see FY22F/23F EPS dip by 7%/3% for Q&M. No change in our EPS estimates for now.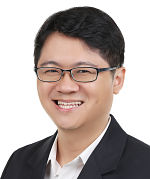 Check out our compilation of Target Prices