MAYBANK KIM ENG

UOB KAYHIAN

Q&M Dental Group (QNM SP)

The New Normal

Recent price weakness creates buying opportunity

Q&M has pulled back by >20% from recent peak post its 2Q21 results on profit taking, along with general market weakness. Given no change in earnings outlook, we see the current share price as a good entry level and provides a window of opportunity for those investors that missed the previous rally. Following the completion of 1:5 bonus issue, our TP has been adjusted to SGD0.85, still pegged at 22x FY22E (c.20% discount to peers' average). With 49% upside potential, maintain BUY

Frencken Group (FRKN SP)

Avimac Acquisition To Ramp Up Semiconductor Capacity, Exposure To Aerospace

Frencken made a relatively small acquisition for an aerospace and semiconductorfocused company, Avimac Pte Ltd, for S$14m. We believe the acquisition would help ramp up capacity expansion, particularly in the semiconductor segment, as well as to help the group gain access to new technologies and competencies. We are maintaining our BUY rating with a slight increase in target price to S$2.62 (from S$2.52) due to higher valuations of key clients.

CGS CIMB

CGS CIMB

Q&M Dental Group

Business is booming

■ Singapore has implemented enhanced testing measures given the increase in Covid-19 cases. We project a ramp-up in Q&M's 2H21F testing revenue.

■ Dental operations should remain strong in 2H21F due to continued tight border controls and seasonal strength.

■ Its recently completed bonus issuance should boost share liquidity. Reiterate Add with revised TP of S$0.89, now based on 22x FY22F P/E (from 20x).

MY E.G. Services

1-for-1 bonus issue goes ex

■ MyEG's one-for-one bonus issue went ex yesterday.

■ Our ex-bonus target price is RM1.25, still based on 26x CY22F P/E, +0.5 s.d. above its 5-year historical mean of 23x.

■ Higher take-up from health-tech services, extension in tax incentives and expansion of e-government digital services are potential re-rating catalysts.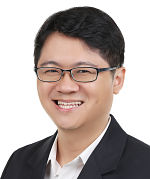 Check out our compilation of Target Prices