UOB KAYHIAN

UOB KAYHIAN

Sunpower Group (SPWG SP)

1H21: Strong Results, Fully Focused On Going Green

SPWG posted strong revenue and earnings for 1H21, led by robust growth in its principal GI business. 1H21 GI PATMI came in strongly at Rmb$91.8m (+37% yoy). The 37.0% yoy growth in GI PATMI was driven by the continued ramp-up of existing projects and strong contributions from new plants. Following the divestment of its M&S business, SPWG paid out two special dividends amounting to S$0.24/share in Jun 21 and Jul 21. We maintain BUY with a lower SOTP-based target price of S$1.03.



IOI Corporation (IOI MK)

Proactive Steps Taken

IOI has been proactively engaging with NGOs in ESG matters. One of its key clients will be appointing an ESG auditor for IOI and will supervise the entire process. IOI has also suspended its Indian recruitment agencies with the acknowledgement of illegal fees collected by unknown parties. Having said that, its production output might not be significantly affected as Indian workers accounted for only 3-4% of its total number of workers. Maintain HOLD. Target: RM3.65.

MAYBANK KIM ENG

CGS CIMB

Gamuda (GAM MK)

Normalising in the new normal

Maintain BUY with an unchanged TP Workforce capacity at all Gamuda's construction and property projects in Malaysia are back to almost full capacity, after being impacted by two plus months. Traffic recovery at its tolled highways are however slower but we expect the pace to pick up as more economic activities reopen. Our earnings estimates are marginally tweaked, having earlier incorporated a weak 4QFY21. Our RNAV-TP is unchanged at MYR4.05.

Japfa Ltd

Got milk?

■ Entered third sales and purchase agreement (SPA) in 10 days to divest of its stake in AustAsia Investment Holdings (AIH), its China raw milk business.

■ A milk supply agreement is tagged to each SPA, where AIH will supply raw milk to the new investors on a five-year rolling basis, renewable annually.

■ JAP will retain a 62.5% stake in AIH and continue to pursue its ambitions to become China's largest independent raw milk producer.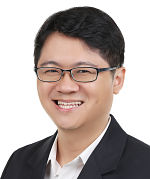 Check out our compilation of Target Prices