Excerpts from CGS-CIMB report

Analyst: Lim Siew Khee
■ YZJ has secured US$534m of new contracts, bringing YTD order wins to US$7.21bn and estimated order book to a record of US$9.18bn.


Yangzijiang

Share price:
$1.62

Target:
$1.91
■ Near-term catalyst is clarity in debt investment division spinoff structure.

■ Reiterate Add and SOP-based TP of S$1.91.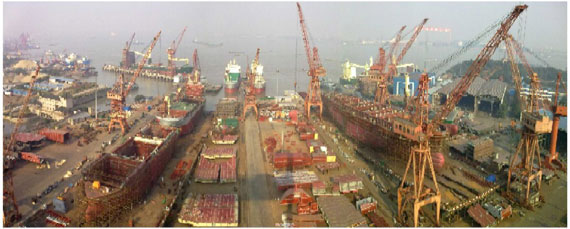 LOI declared effective, new order win
● YZJ announced that the letter of intent (LOI) for 5 additional units of dual-fuel 7,000TEU containerships (with US$500m) has been declared effective.

Recall that YZJ previously reported new order wins on 30 July 2021 for 10 LNG dual-fuel 7,000TEU containerships and the LOI for 5 identical vessels placed by repeat customer Seaspan Corporation. In addition, in August 2021, YZJ secured an order for the building and delivery of 1 unit of 82,000DWT, estimated to be worth US$34m.

● Deliveries are mainly scheduled for FY2022-2024. YTD, YZJ has secured 118 effective shipbuilding contracts. Order book stands at c.US$9.18bn.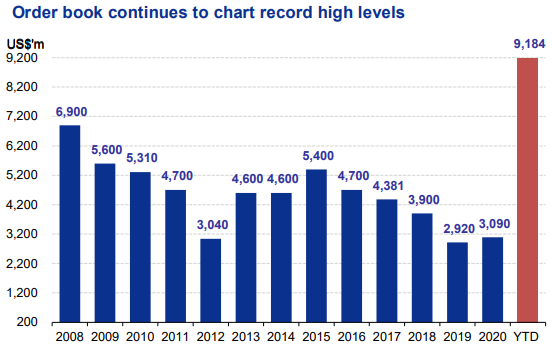 Slots are quite full; margins could be preserved if steel stabilises
● YZJ is currently operating at full capacity till 2024. Despite plans to reactivate the Changbo yard, YZJ remains selective in accepting only the highest bidders for new orders.

We believe YZJ holds the bargaining power as Clarksons records yet another peak of c.4,386 on the Shanghai Containerized Freight Index (SCFI).

● However, high steel prices and strengthening Rmb/US$ remain pertinent threats to YZJ's gross margin. Although the Chinese government has taken measures to curb rising steel prices, the pace of stabilisation could be slow.

From the peak in May 21, steel price has eased by c.17% to c. Rmb5,785/metric tonne. Our FY21 and FY22F core shipbuilding GM stands at c.15% and 17% (1H21: 13.5%), respectively. YZJ can still rely on the sale of second-hand bulk carriers to boost net profits.


Near-term catalyst: debt to securities spinoff
● We believe the potential listing of its debt to securities portfolio (50% of YZJ's gross profit) and clarity in the new corporate structure is a re-rating catalyst could attract a wider investor pool.

We see minimal earnings gap from the spinoff if YZJ retains a partial stake in the debt to securities portfolio while reaping the fruits of strong shipbuilding orders.

Reiterate Add and TP of S$1.91
● We believe YZJ's ability to secure high-value orders amidst soaring raw material prices, coupled with the impending spinoff of its debt investment division, will further strengthen investors' confidence and therefore drive the share price in the near term.

Key downside risks: spinoff of debt to securities falling through and sharp decline in freight rates.

Full report here.