Excerpts from KGI report

Analyst: Chen Guangzhi, CFA & Joel Ng
• Resources play. Golden Energy and Resources (GEAR) is a diversified mining and natural resources investment company. Having its roots as one of Indonesia's largest coal miner, the group has since branched out into precious metals over the past four years.


GOLDEN ENERGY

Share price:
27 c

Target:
64 c
GEAR will further diversify into base metals that will be utilised for clean energy uses such as copper, cobalt, zinc and nickel.

• Still growing. While other coal miners have plateaued or are reporting only single digit production growth, GEAR is expected to increase production by 30% over the next three years.

GEAR, through its 50% owned Ravenswood Gold (Ravenswood) gold mine, is estimated to produce around 200koz of gold per annum by 2022. Its ASX-listed company Stanmore Resources Limited (Stanmore) will ramp up production to 2.4mn tonnes per annum of metallurgical coal in 2H2021.

• We initiate with an Outperform recommendation and a DCF-backed target price of S$0.64.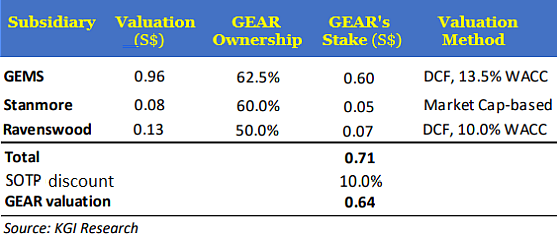 Double digit production growth over the next three years. We estimate GEAR's Indonesian thermal coal output to increase from 33.5mn tonnes in 2020 to 36mn tonnes in 2021, and surging another 30% to 47mn tonnes by 2024.

This is amid favourable coal prices that are providing a windfall for current coal producers. GEAR's Australian operations through 60% effectively owned Stanmore is targeted to produce 2.4mn tonnes of metallurgical coal per year in the second half of calendar year 2021.

GEAR's gold production in Australia is targeted to double from 100koz in 2021 to 200koz in 2022. All this points to a bright outlook for GEAR in the next couple of years.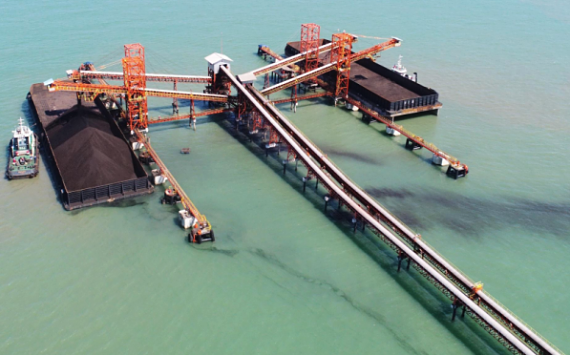 GEAR's coal being loaded onto barges which ferry it to mother ships out at sea.

Long life mine and low operating costs. GEAR benefits from assets that have long life of mines of between 10 to 15 years, which is an advantage as it provides visibility and gives longterm clients the confidence to enter into supply contracts with the group.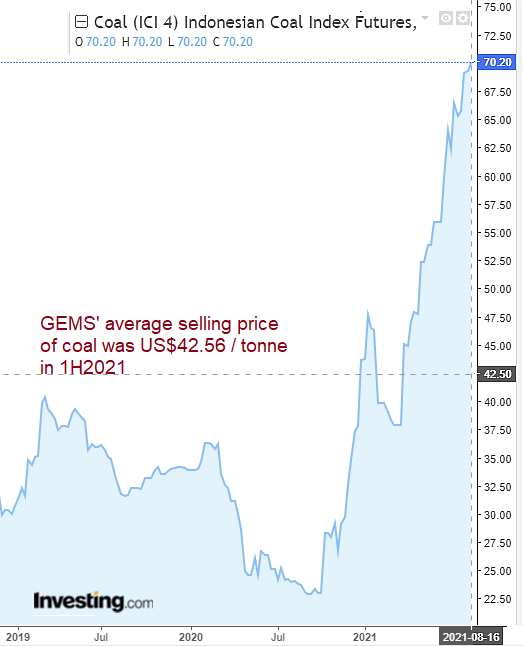 GEAR also has one of the largest reserves in Indonesia of more than 1bn tonnes of thermal coal. With one of the lowest stripping ratios of around 4.0 for large-scale coal operators, GEAR is able to withstand the cyclical impact of volatile coal prices.

The rise of Asia. It is consensus view that coal demand will decline in North America and Europe but will rise in Asia.

Coal is expected to remain a major part of China's electricity generation beyond 2030, alongside growing capacity for renewables. In 2020, coal still dominated China's energy mix at 59% of market share, and Platts Analytics expects the country's coal-fired power generation to only peak by 2027.

Therefore, coal demand in the world's largest coal consuming country will continue to grow from 2021 to until at least 2025.

Whether we like it or not, coal powered plants are still growing. Despite all the negative media coverage over coal use, there are still 354 coal-fired power plants under construction as of July 2021, and more than 600 plants have been announced or pre-permitted. We cannot deny the fact that coal is still the cheapest source of energy supply in the world, and this points to growing demand in Asia over the next decade.


Valuation & Action: We initiate with an Outperform recommendation and a TP of S$0.64, based on SOTP valuation of its two subsidiaries and one joint venture in Indonesia and Australia.

Risks: The direction of coal price is the biggest driving factor of profits. Asian demand represents the largest variable.However, we expect demand to remain resilient among developing Asian countries due to the favourable cost benefits.

Full 33-page report here.