Excerpts from CGS-CIMB report

Analyst: ONG Khang Chuen, CFA
Tailwinds subsiding
■ Riverstone Holdings' (RSTON) 2Q21 net profit came in at RM518m (-0.9% qoq), above expectations, as volume weakness was offset by ASP growth.


Riverstone

Share price:
$1.27

Target:
$1.40
■ Riverstone more resilient vs. peers amid 3Q headwinds, given pricing stability from cleanroom segment and limited production located in EMCO areas.

■ Back-loaded dividend payout for FY21F likely to be key support for share price. 50% DPR (dividend payout ratio) assumption points to 13.4% dividend yield.

Reiterate Add.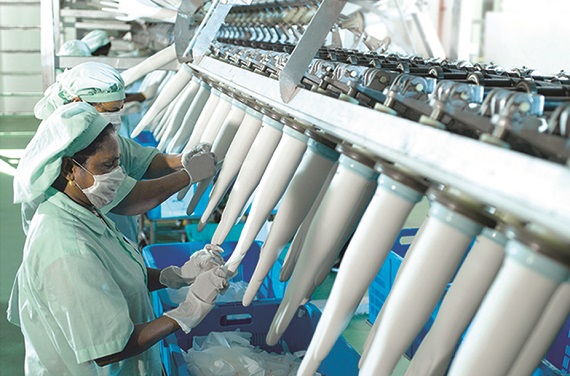 Riverstone continues to prioritise higher-margin cleanroom glove production as healthcare glove ASPS decline.

2Q21 a strong quarter
RSTON's 2Q21 net profit of RM518m (-0.9% qoq, +470% yoy) was above expectations; 1H21 net profit made up 78% of our previous FY21F forecast.

The slightly weaker sales sequentially (-4.4% qoq) was mainly attributable to a c.10% volume decline, partially offset by higher ASPs in both its healthcare and cleanroom segments.

Volume impact stemmed from:
1) a 60% manpower limit imposed since Jun as part of Covid-19 controls in Malaysia and
2) shipping delays.

A RM0.10 dividend/share was declared (+150% yoy).

Continued strength in cleanroom segment
Demand for cleanroom gloves remain robust, riding on growth in the tech manufacturing and pharmaceutical industries. We expect cleanroom ASP to remain flattish on a qoq basis for 3Q21F.

RSTON continues to prioritise cleanroom glove production under current capacity constraints — we expect this to bear fruit in the coming years as the segment typically contributes higher ASPs and GPMs, and pricing is more sticky as RSTON deals directly with end-customers.

Management plans to increase its volume mix from the cleanroom segment to 25% within the next 5 years (1H21: 22%); we believe this could lift the sustainable earnings profile of the company.

Healthcare glove ASPs on a downtrend
Meanwhile, healthcare glove ASPs have peaked; we expect 3Q21F ASP to fall c.40% qoq. We expect sequentially weaker results for the segment going forward, due to:
1) lower production volume (ongoing capacity constraints), and
2) lower ASP.

The steeper-than-expected healthcare ASP decline thus far has led us to lower year-end assumptions to US$40/US$26/US$25 for FY21F/22F/23F.

Nevertheless, management remains confident that it can uphold healthy sales volume due to strong product quality and ESG standards.


Reiterate Add; TP lowered to S$1.40
Reiterate Add. We switch to a P/E valuation methodology to account for near-term risks with ASP volatility.

Our lower TP of S$1.40 is based on 17x CY23F P/E (RSTON's 5-year mean P/E).



Back-loaded dividend payout for FY21F is likely to be key support for share price; we note that our 50% DPR assumption points to a 13.4% dividend yield.



Valuation is also supported by strong balance sheet with a net cash position of S$0.29/share (24% of market cap).

Downside risks include steeper pricing decline for healthcare gloves.