UOB KAYHIAN

UOB KAYHIAN

SIAEC's Strong Sequential Earnings From JV And Associate Bode Well For STE

SIAEC's results came in better than expected due to a steep sequential improvement in JV and associate earnings. This could be due to a pick-up in return to service engine checks. Consequently, we raised our earnings and upgraded SIAEC to HOLD, with a target price of S$2.25. We see a positive read-through on STE's aerospace business from this and Honeywell, which is STE's partner in the US, and has reported strong 2Q revenue growth from the aerospace division. Maintain MARKET WEIGHT.

Raffles Medical Group (RFMD SP)

1H21: Above Expectations; Boosted By Testing And Shots

RFMD reported 1H21 net profit of S$39.4m, up 129% from a low base. While the group benefitted from COVID-19-related services including vaccination centres and testing services, domestic operations were also impressively steady. The group continues to grow its China operations gradually with the opening of the Shanghai hospital, which we view favourably given its potential for higher billing intensity. Maintain BUY with a higher DCF-based target price of S$1.43.

UOB KAYHIAN

MAYBANK KIM ENG

RH Petrogas (RHP SP)

A Strong 1Q21 Paves Way For A Record Year, Backed By Favourable Oil Prices

1Q21 earnings of US$3.4m (+466% yoy) appear sustainable, driven by: a) a strong recovery in oil prices; b) reduced production cost since mid-20; and c) renewal of 20- year PSCs for oilfields in Indonesia, which raised RHP's effective stake from 54% to 58%. RHP's 20-year DCF valuation ranges from $0.29 to $0.40, assuming oil price of US$65-75 per barrel. RHP trades at 7x 2021F PE, annualising 1Q21 EPS. In 2Q21, Brent oil price continued to rally 13% qoq.

Singapore Banks

Push Release

The case for write-backs is becoming stronger The US banks are aggressively reversing 2020 provisions as economic growth takes off and COVID-related asset quality fears fail to materialize. Strengthening growth and good progress in vaccinations offer a supportive backdrop for Singapore banks to do the same. Fresh infections regionally makes timing hard to predict, but just matching the average US pace of write-backs could add 15-18% to 2021E earnings. Improved NIMs, stronger loan growth, rising non-interest income and falling provisions should set the sector for faster earnings momentum in 2Q21. We prefer OCBC and DBS for the strongest coupling to these drivers, while also offering the highest probability for earlier provision write-backs.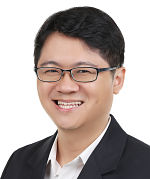 Check out our compilation of Target Prices