ISDN Holdings' net profit attributable to shareholders jumped 59% in 2020, a commendable result in itself and especially in a pandemic year.

The net profit of S$22.5 million, however, is not an

a

pples-to-apples comparison with FY2019 because ISDN had two write-downs and an unrealised forex loss in 2020 relating to non-core ventures.

In a results briefing last week, non-executive director Keith Toh pointed out the one-offs, as depicted in the graphic below: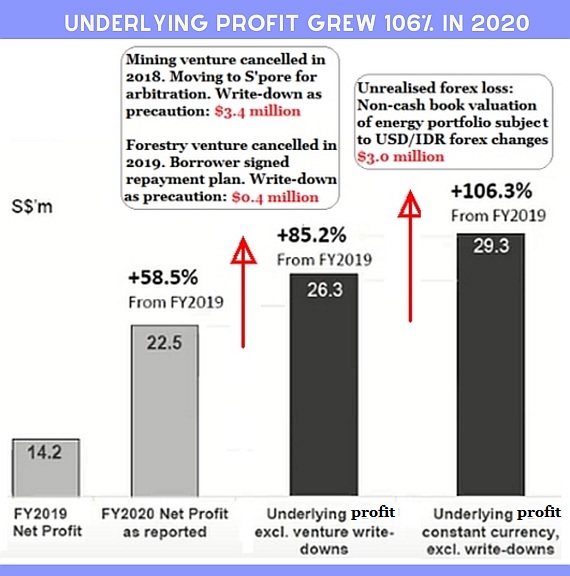 In December 2014, the Group provided debt venture funding of US$2.9 million (equivalent to S$3.9 million) to two companies (PT Bun Yan Hasanah and PT Gema Energy Indonesia) to explore a potential mining opportunity in Indonesia. The debt funding is secured by the unconditional personal guarantee of a principal shareholder of the Investees. For more, see ISDN's announcement here.

The write-downs related to non-core ventures (forestry and mining) while the forex loss is unrealised and pertains to ISDN's hydropower plants in Indonesia which are not yet operational.

In the absence of these one-offs, ISDN's 2020 net profit would have more than doubled, ie by 106.3%.


"We are

quite satisfied with the performance of

the management team at ISDN. It reflects

the agility with which ISDN in the

first half of 2020

girded down its operations to reduce opex

and then in the second half of 2020

successfully capitalized on the

great regional demand for I

ndustry 4.0 automation

and managed to do that without

a lot of addition to the cost structure. Which

is why you see

revenue went up about 24% year-on-year but earnings more than doubled on an underlying constant currency basis."



--Keith Toh (photo), partner, Novo Tellus; and non-executive director, ISDN Holdings.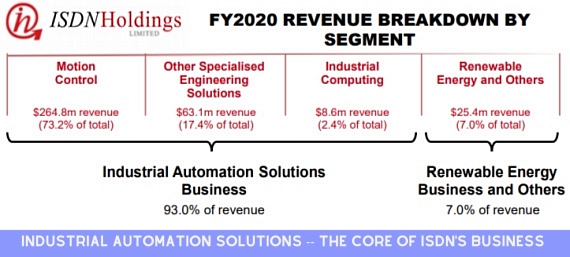 Using $29.3 million as the net profit, the EPS is 6.7 cents, translating into a PE ratio of 9 based on a recent stock price of 60 cents.

An interesting new industry that ISDN is targeting to offer its Industry 4.0 solutions is indoor farms, including vegetable and fish farms. (Industry 4.0 focuses heavily on interconnectivity, automation, machine learning, and real-time data.)



Managing Director CK Teo and CFO Christine Ho at the virtual FY2020 results briefing.ISDN's MD, Teo Cher Koon, said "We are offering the total solution - we do the racking layout design and implementation, and we integrate all the equipment together, the pumps, the sensors and the LED lights."

Bundled with its turnkey solution is a super wi-fi service, which can transmit data over as far as 10 km.

The super wi-fi is relatively low-cost, and easy to install, said Mr Teo.


Stock price

59.5 c

52-week range

14.8 – 82 c

PE (ttm)

17

Market cap

S$259 m

Shares outstanding

435.3 m

Dividend
yield (forward)

1.34%

One-year return

284%

Source: Yahoo!
While ISDN has an on-going indoor vertical vegetable farm project in Singapore, it is looking to sell its solutions in countries where winters or extremely hot weather preclude outdoor farming, at least during certain periods of the year.

Similarly, ISDN is developing new solutions that will improve the automation of work in another sector -- logistics, especially warehouses.

These are turnkey solutions that raise productivity, performance or precision in industrial output, and reduce dependence on labour.

All are the benefits of industrial automation -- the massive core of ISDN's business.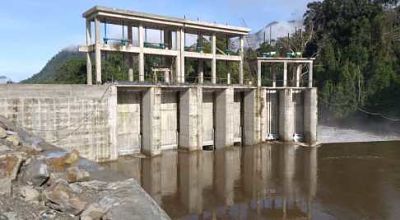 Renewable energy is a non-core segment but it will increase in significance when ISDN's three mini-hydropower projects in Indonesia start operating.

In an update, Mr Teo said two projects are close to 100% completed while the third, 51%. Two projects, thus, are expected to start commercialisation this year.

• ISDN's Powerpoint slides on its FY2020 results are here.
• CGS-CIMB's report on ISDN: Strong performance from core business, 72-c target