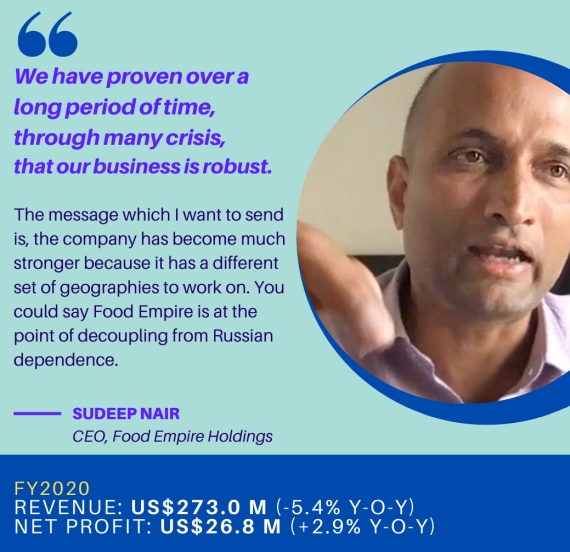 Food Empire Holdings reported a robust US$26.8 million net profit for FY20 in the face of business challenges due to Covid-19 and a devaluation of the Russian and Ukranian currencies.

In the absence of the latter, or US$2.3 million in forex loss, the net profit could have reached US$29 million.

Food Empire is a Singapore-listed global branding and manufacturing company in the food and beverage sector. Its products include instant beverage products, frozen convenience food and snack food.


| | | |
| --- | --- | --- |
| Year | Ordinary dividend | Special dividend |
| FY20 | 2.2 cents | - |
| FY19 | 1 cent | 1 cent |
| FY18 | 0.68 cent | - |
| FY17 | 0.6 cent | - |
| FY16 | 0.6 cent | - |
Food Empire surprised with its FY20 dividend payout, proposing 2.2 cents as a first and final ordinary dividend subject to shareholders' approval at the AGM.

The surprise was in its classification as an ordinary dividend.

In comparison, the FY19 ordinary dividend was 1 cent. But in that year there was also a special dividend of 1 cent.

Special dividends are, by definition, given under a set of circumstances not expected to repeat every year.

So does the "ordinary dividend" of 2.2 cents send a certain signal?

CEO Sudeep Nair said an investors' briefing: "We just want to convey our level of confidence in the transformation of the company. We are generating more and more robust cash every year so we want to signal we are confident that we can manage the business even in a crisis."

Operating cashflow was positive US$34.0 million in FY20 (FY19: US$39.3 million).

Revenue dipped 5.4% y-o-y owing to factors such as:

• Ruble devaluation (which was mitigated by selling price increases in Russia).

• Lower marketing activities (owing to lower footfall of customers in stores, etc).

This led to a 13.3% fall -- or US$5.5 million -- in sales and marketing expenses to US$36.0 million.
The US$273.0 million group revenue, once again, tells of Food Empire's successful diversification strategy over the past decade or so.

Of the US$273.0 million, about US$100 million was contributed by the Russian market.

This is virtually unchanged since 2010 when Food Empire Holdings had already emerged as the No.1 player in the 3-in-1 coffeemix market in Russia with sales of about US$100 million.

Below is a snapshot of where the business has taken root and progressed in FY20: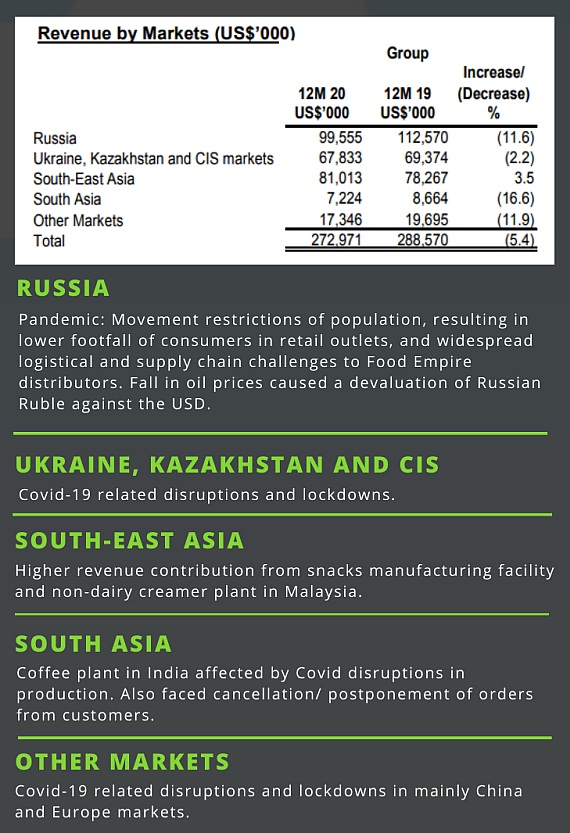 Factors currently in play
• Russian ruble: Currently hovering at 75 rubles for every US$1, the currency is still unfavourable to Food Empire relative to 1Q2020 when it was 62 rubles or so against US$1.

Rising oil prices could reflate the ruble in the near term.


Stock price

91 c

52-week range

41 c – S$1.00

Market cap

S$488 m

PE

13.7x

Dividend yield

2.4%

1-year return

42%

Shares outstanding

536.7 m

Source: Bloomberg
• Covid-19 impact: On a quarterly comparative basis, business in 1Q2021 is feeling more of the Covid-19 impact compared to 1Q2020 as Jan/Feb 2020 were "normal" times. The pandemic had wreaked havoc from March 2020.

By extension, the Covid-19 impact is likely to be massively milder in 2Q2021 compared to 2Q2020, which was likely the most severe quarter in many countries.

• Freight expenses: Food Empire, like countless businesses worldwide, is having to fork out more for container freight from its manufacturing points to distant markets such as Kazakhstan.

News reports point to a global shortage of containers in the past several months.

But it could be a temporary issue that will resolve in several months' time. (See CNBC report:
An 'aggressive' fight over containers is causing shipping costs to rocket by 300%) and a trade publication's "Where are all the containers? The global shortage explained)