CGS CIMB

MAYBANK KIM ENG

Jiutian Chemical Group Ltd

Near-term outlook remains positive

■ Jiutian's FY20 core net profit of Rmb155m was below our expectations (78% of our full-year forecast) mainly due to lower-than-expected GPM in 4Q20.

■ We remain positive as near-term ASP outlook remains strong. As of 18 Feb, DMF prices in Southern China stood at Rmb10,200 (+25% YTD, +82% yoy).

■ Maintain Add with a lower TP of S$0.135 (5.7x FY22F P/E).

OCBC Bank (OCBC SP)

On the path to recovery

Improving conditions, balance sheet can drive upside

OCBC's 2020 PAT came in strongly ahead of Street/MKE driven by lower provisions, better NII and a tax write back. The operating environment is improving with momentum set to return to loan growth, while asset quality is better than expected. We believe OCBC stands to benefit from North Asian recovery as well as North-South trade flows. Its incoming CEO's track record in China should also be complementary. Strong capital & provisioning buffers could provide upside surprise opportunities for write-backs, special dividends and/or higher payouts going forward, we believe. Maintain BUY with higher TP of SGD12.74.

CSG CIMB

CGS CIMB

OCBC

A careful approach going into FY21F

■ We think OCBC's 4Q20 NIM expansion could be short-lived due to stiff pricing competition. It guides for NIM of 1.5-1.55% in FY21F (FY20: 1.61%)

■ It sees FY21F credit cost trending towards the lower end of its 100-130bp guidance, implying c.S$700m impairment expenses (vs. S$2.0bn in FY20).

■ Reiterate Add and GGM-based TP of S$12.52. Management's optimism of a stronger recovery come 2H21F provides earnings upside from non-II growth.

CapitaLand

Looking at a better FY21F

■ FY20 net loss of 30.5 Scts/share was below our estimates but in line with market expectations.

■ Hoh recovery across its portfolio indicates a potentially better FY21F.

■ Maintain Add with an RNAV-based TP of S$3.42.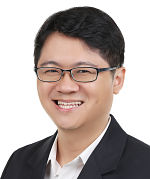 Check out our compilation of Target Prices