A business that saw strong sales during the Covid-19 pandemic, Sri Trang Agro has risen 23% this week -- from $1.34 to $1.65.

Stock price

S$1.65

52-week range

40 c – S$1.75

Market cap

S$2.6 b

PE

6x

Dividend yield

5.28%

1-year return

155%

Shares outstanding

1.54 b

Source: Yahoo!
Dual-listed on the Singapore Exchange and Stock Exchange of Thailand, t

he stock rose 12% to $1.65 in morning trade in Singapore today.
It has substantially more upside to the 61.20 baht (~S$2.70) target price of Citi analyst Megat Fais, CFA following the release of its FY20 results on 16 Feb.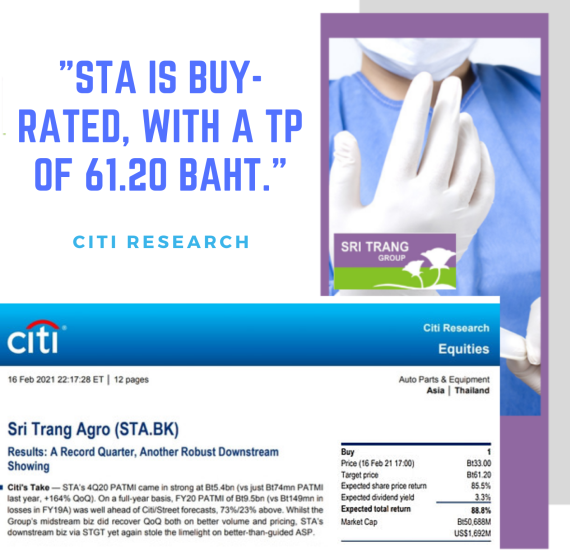 STA is a fully integrated natural rubber company, owning rubber plantations and processing facilities and producing gloves.

The latter business is Sri Trang Gloves (Thailand) which was spun off in July 2020 on the Stock Exchange of Thailand.

STA retained a 56% interest in Sri Trang Gloves, whose production capacity expanded from 27 billion gloves at end-2019 to 33 billion at end-2020.

Releasing its FY20 results on 16 Feb after market closed, STA said in FY2020, its glove business saw substantial growth in both sales volume and Average Selling Price( ASP.

Revenue came in at 75.5 billion baht (+25.2% YoY).

Net profit was 9.5 billion baht (FY19: 149 million baht net loss), with 12.6% in net profit margin.

"STA is Buy-rated, with a TP of 61.20 baht. Bulk of STA's value is still predominantly tied to its 56% stake in STGT, but the improving midstream biz is a welcome sight for investors to take a closer look at STA," according to Citi.

STA's stock re-rating could herald similar outcomes if several other businesses with Covid-19 related sales report better-than-expected results, including Medtecs International and Riverstone Holdings.

See STA's press release here.