Chasen Holdings' stock price rose 12% (or 0.7 cent) to 6.6 cents in early morning trade after it reported strong earnings.

Despite challenges posed by the pandemic, the diversified group's net profit for the 9 months ended 31 Dec 2020 (

9MFY2021)

jumped 205% to S$2.5 million, aided by:

• Fresh Specialist Relocation projects,
• Higher market share for Third-Party Logistics ("3PL") and
• Contract wins to support telcos and 5G components
Stock price

5.9 c

52-week
range

3.4 – 7.8 c

PE (ttm)

-

Market cap

S$22.8 m

Price-to- book

0.4

Dividend
yield (ttm)

6.78%

1-year return

- 19%
The Government's Jobs Support Scheme contributed as well.



The SGX Mainboard-listed group said its 9MFY2021 revenue rose 13% to S$93.2 million due to higher revenue from the 3PL and Specialist Relocation segments.

This was offset by lower contribution from the Technical & Engineering segment ("T&E").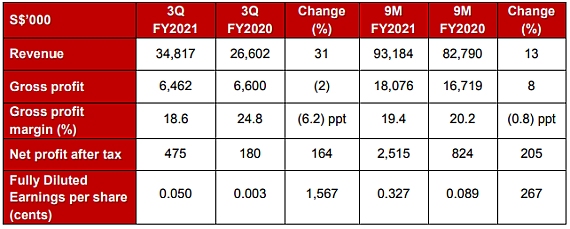 Gross profit and gross profit margin for 3QFY2021 declined 2% and 6.2 percentage points to S$6.5 million and 18.6% respectively, due to continuing safe management measures, changes in customers' plans in response to disruptions caused by the pandemic and higher marketing costs.

The Group's 3PL segment continues to outperform amongst the Group's business segments and grow its cross-border land freight transportation services capitalising on the on-going disruptions to air and sea freight due to border controls and delays caused by the pandemic.

Specialist Relocation projects saw a recovery in orders as businesses and regional economies gradually re-open and adapt to pandemic-related regulation, even as supply chains improve.

In the People's Republic of China ("PRC"), the Group has started to pool skilled workers into single location to support multiple TFT LCD customers to optimising manpower and reducing overtime.

Semiconductor, solar panel and TFT LCD sectors in the PRC economy remain resilient in the only major economy to have expanded in GDP terms in 2020 since the pandemic.

In December 2020, the Group announced S$8.2 million worth of fresh projects, of which S$6.6 million was from 3PL contracts to deliver electronic and semiconductor parts across Singapore, Malaysia and PRC for two US MNCs with manufacturing plants.

The remaining S$1.6 million mainly came from Specialist Relocation projects for the electronics sector.

The T&E segment enjoyed higher revenue from contract manufacturing activities in the PRC but this was offset by business from the Singapore construction market, which has yet to recover to pre-pandemic levels.

In the quarters ahead, the Group's outlook remains positive but anticipates continued uncertainties and challenges as uneven vaccine roll-outs in the region will impact border controls and economic activities.

The PRC economy is expected to grow by more than 8% in 2021 and the Group is taking a strategic review of the PRC market to capture new opportunities in industry sectors to augment the TFT LCD and semiconductor sectors.

The Group's 3PL and Pan-Asian cross-border land freight transportation service aims to target other key long-term customers to strengthen its revenue resilience in the months ahead while rationalising its customers' base to achieve cost efficiency and improve service quality.

In the T&E segment, a renewed thrust to align with Singapore Government-funded projects such as HDB's rooftop solar panel initiative, MRT and other rail projects, will underpin the segment's recovery in a difficult operating environment that is expected to last till at least the end of the third quarter of 2021.


Mr Low Weng Fatt (photo), Chasen's Managing Director and CEO, said, "The improvement in performance underscores the Group's ability to plan and execute during the pandemic, and we continue to see encouraging signs of recovery. We remain cautiously optimistic, and will continue to capture growth opportunities and expand our customer base amid the COVID-19 situation while also striving to improve internal efficiencies."