UOB KAYHIAN
PHILLIP SECURITIES

Plantation – Singapore

3Q20 Results Review: Better Earnings But Lower-than-expected FFB Production

Sector earnings improved qoq and yoy, mainly buoyed by higher selling prices in 3Q20. Companies had revised down their FFB production guidance again from flat to negative yoy for 2020F, but remain positive for 2021F. We expect downstream margins to be good in the near term, where refiners have started to factor in the new export levy when purchasing CPO but are still paying the current export levy for their end-products. Maintain MARKET WEIGHT.

StarHub Limited

Leaving behind the traditional model

SINGAPORE | TELECOMMUNICATIONS| INVESTOR DAY 20 November 2020

 StarHub held its Investors' Day 2020 on 18 November 2020.

 Discussions centred on pay TV, digitilisation, Ensign, 5G and cost-optimisation.

 Medium-term challenges are known and being addressed by the company: declines in use and pricing of traditional telco products(IDD, voice, SMS), new value-added services from 5G, new sources of revenue that complement telecommunications, finding a sustainable model for pay TV and leveraging digital solutions to cut costs and improve customer experiences.

 No change in our NEUTRAL recommendation and TP of S$1.24, based on 6x EV/EBITDA, the average of regional peers.

RHB

ESR REIT

ST Engineering (STE SP)

Strong Order Book, Reorganisation Is Positive; BUY

 Reiterate BUY with higher SGD4.40 TP from SGD3.90, 13% upside and c.4% yield. Despite the weak business environment, ST Engineering notched up strong order wins in 3Q20. Management remains committed to working towards cost optimisation. Its recent plans to reorganise its businesses to focus on key growth areas, is a positive. We continue to like STE for its defensive earnings quality and ability to sustain dividend payments. We expect strong earnings growth in 2021F, which STE's share price is yet to fully factor in.

ESR-REIT

Larger is better

■ We view the potential merger positively as it paves the way for long-term growth on larger market share, wider pool of capital and lower financing cost.

■ Minimal impact from Covid-19. We expect a stable outlook for EREIT.

■ Reiterate Add. The stock is trading at 7% yield and 0.91x P/BV.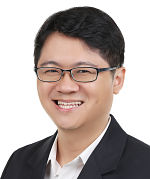 Check out our compilation of Target Prices