A sharp correction happened to the stock prices of glove manufacturers in the last few days on Russian vaccine news.
But a long Citi research report (62 pages, no less!) on the industry and its top players, published on 11 Aug, raised earnings forecasts and target prices for Asean glove makers.

"Even with a vaccine, a structural step-up in gloves usage is on the cards as the pandemic may well accelerate the narrowing of the gap between EM (emerging markets) and DM (developed markets) gloves consumption."
Considering continued surging demand versus planned capacity increases in the industry, Citi argued that average selling prices of gloves would continue to rise till 1Q CY21, before levelling off/normalizing.
"For some companies, net margins could rise to as high as c.50% (vs 10-15% pre-Covid)."
-- Citi report
"The emergence of spot orders (2-3x higher ASPs) is also pushing up blended ASPs; the impact on earnings and margins when costs are flattish/declining is being underappreciated by the Street, in our view."

On the Singapore Exchange, the glove stocks are Riverstone, UG Healthcare and Top Glove. And there is Sri Trang Agro.

Sri Trang Agro is lesser known among Singapore investors partly because there is no analyst coverage out of Singapore, and it's not a 100% glove business.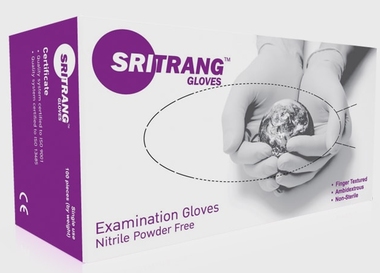 Sri Trang Gloves was spun off for a listing in Thailand in July 2020 and is now 56% owned by its parent, Sri Trang Agro.Instead, located in Thailand, its vast business spans the entire natural rubber supply chain from plantations to latex processing to glove manufacturing.

In July 2020, it spun off its glove manufacturing business on the Stock Exchange of Thailand, retaining a 56% interest in Sri Trang Gloves.

Sri Trang Agro, according to the Citi report, is "an inexpensive proxy to the world's third largest glove-maker" which has a production capacity of 33 billion gloves a year.

Year-to-date, Sri Trang Agro stock has risen from 44 cents to $1.18 for a market cap of S$1.7 billion.

The stock is also listed on the Bangkok Stock Exchange.


Sri Trang Agro

Share price:
S$1.18

Target:
S$3.14

Source: Citi
The Citi report authored by Megat Fais, CFA raised its Sum-of-the-Parts target price of Sri Trang Agro to Bt71.00 (from Bt39.80), or the equivalent of S$3.14.
Citi said this is mainly on higher valuation for

Sri Trang Agro

's 56%-owned Sri Trang Gloves after revising higher its ASP assumptions for Sri Trang Gloves.
At the Sri Trang Agro level, FY20-22E earnings are raised by 50-136%.

Citi forecasted 4.6 billion baht net profit for 2020 (EPS: 2.99 baht, 13 sgd cents).

Next year (2021) is expected to see a huge net profit: 9.3 billion baht (EPS: 6.06 baht, 27 sgd cents).
Citi said t
he bulk of Sri Trang Agro's TP is still derived from Sri Trang Gloves.

Citi ascribed a higher holding company discount of 30% (previously: 10%) as the "muted outlook" at the parent company's midstream businesses may see investors preferring to take a direct exposure to

Sri Trang Gloves

.