RHB

MAYBANK KIM ENG

CapitaLand Mall Trust (CT SP)

Walking a Tightrope

 Keep NEUTRAL and SGD2.03 TP, 1% upside. 1H20 results were broadly in line with market expectations. While shopper traffic pace has picked up post Phase 2 reopening, it remains far from normal and there are also clear signs of pressure on mall occupancy and rents. We expect the retail sector outlook to remain challenging in the mid- to long-term with COVID-19 accelerating structural headwinds. However CapitaLand Mall Trust's quality assets, strong sponsor backing and proposed merger should mitigate risks.

Mapletree Industrial Trust (MINT SP)

Growing Faster On Data

Results in line, maintain BUY

MINT's 1Q21 DPU was down 7.4% YoY as a further SGD7.1m in tax-exempt income from its JVs was withheld (after the SGD6.6m in 4Q20). We see additional rental relief in 2Q21 given mandated relief from the COVID-19 (temporary measures) Act, which management expects could result in a SGD20.0m total tenant assistance package. Our forecasts are further adjusted for new units from its recent SGD410.0m EFR and the remaining 60% interest in its US data centre deal, which lifts our FY22-23 DPUs by 3-4%. We continue to favour MINT's positive growth fundamentals and its more resilient portfolio - DPU visibility has been strengthened by its rising hi-tech asset investments and overseas diversification. Our DDMbased TP rises to SGD3.30 (COE: 5.9%, LTG: 2.0%). BUY.

UOB KAYHIAN

CGS CIMB

CapitaLand Mall Trust (CT SP)

2Q20: The Worst Is Over

Results were affected by rental waivers of S$76.5m granted to tenants affected by the COVID-19 pandemic. However, CMT released S$23.2m, or one-third of the taxable distribution of S$69.6m retained during 1Q20. Shopper traffic has recovered steadily since the transition to Phase 2 of reopening and tenant sales are gaining momentum. Recovery is slowly but surely taking root. Maintain BUY. Target price: S$2.55.

Mapletree Industrial Trust

Taking a prudent stance

■ MINT's 1QFY3/21 DPU of 2.87 Scts was slightly below expectations, at 23.5% of our FY21F.

■ The weaker Singapore portfolio performance was offset by higher US contribution.

■ We reiterate our Hold rating with a higher DDM-based TP of S$2.87.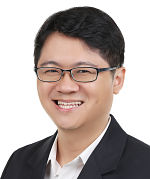 Check out our compilation of Target Prices