Excerpts from UOBKH report

Analysts: Llelleythan Tan & John Cheong
Expect Outperformance Due To Rising ASPs; Raise Target Price By 14.1%
Recently, we had a call with Riverstone's CEO to get a business update about the company's performance in 2Q20.

We highlight three points made by Riverstone's CEO:



b) positive surprise for ASP from new tier pricing; and

c) capacity expansion remains on track with the first production line commencing production in Jul 20.
a) demand for healthcare gloves remains robust;
We raise our 2020F EPS by 14% and PE-based target price by 14.1% to S$3.60 (based on an unchanged 23.1x 2020F PE). Maintain BUY.



WHAT'S NEW
• Demand for healthcare gloves remains strong as second wave of infections hit various countries. For 2Q20, Riverstone Holdings (Riverstone) management highlighted that ASPs for healthcare gloves have risen as global demand continues to outpace supply.


Riverstone

Share price:
$2.90

Target:
$3.60
As more countries start to experience second wave of Covid-19 infections, demand for healthcare gloves continues to increase and customers have offered to pay higher prices to secure inventories.

Healthcare glove ASP is expected to increase by around 10% every month up to Aug 20.

ASP has not been fixed for Sep 20 but management expects ASP to be at least the same as in Aug 20.

Also, the favourable ASP environment is expected to continue up to 1H21, based on customers' strong indicative demand.

• Positive surprise for ASP from new tier pricing. Besides the 10% monthly increase in ASPs, Riverstone's ASPs for healthcare gloves have been given a surprise boost by a new tier pricing for Riverstone's regular healthcare glove customers (RC).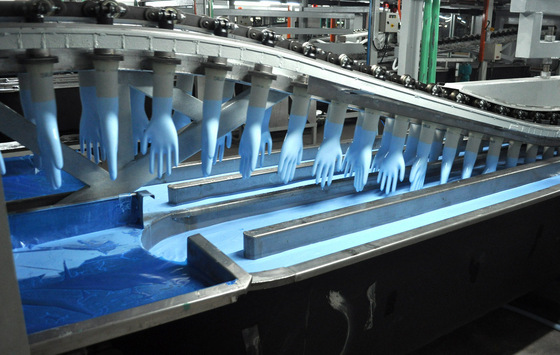 "Starting Jul 20, Riverstone has started using a new tier pricing system for its regular customers whereby instead of paying a negotiated fixed price for a certain volume, regular customers would pay different tiered prices.

"For example, instead of paying US$25/'000 pcs for 100m pieces, regular customers would pay US$25/'000 for the first 40m pieces, US$27/'000 pcs for the next 40m pieces and spot prices (US$60-70) for the remaining pieces."



-- UOB KH report
This new tier system was proposed by regular customers and not Riverstone.

As most of Riverstone's regular customers are glove distributors with hospitals as end-clients, we believe this shows the growing unmet demand for healthcare gloves if regular customers are willing to pay spot prices to ensure they have stock.

• Capacity expansion remains on track. The new capacity of 1.4b pieces remains on track with one single line starting production in Jul 20 and a double line being commissioned every month from August to Dec 20. Also, new capacity from the new lines would be allocated to regular customers that pay spot prices.

• Raw material prices remain muted. With oil prices recovering from its Mar-Apr 20 collapse, butadiene prices have however remained at all-time lows.

As nitrile gloves are largely made from butadiene, we believe butadiene prices will stay constant till end-20, helping to boost margins as ASP rises.

However, management said that there may be a shortage in raw materials from 1Q21 as more glove makers are expanding capacity and ramping up production.

However, we believe this would be insignificant as ASPs would have risen a lot higher than any rise in raw material prices.

Also, the shortage of raw materials will only be limited to new capacity as Riverstone has enough supply for existing capacity

EARNINGS REVISION/RISK
• Raise our 2020-22 EPS forecasts, backed by favourable tailwinds. We reckon the uptrend in ASPs along with new upcoming capacity would start contributing strongly from 3Q20.

We raise our revenue forecasts to RM1,666.2m (+10.6%), RM1,853.4m (+16.3%) and RM1,659.1m (+2.2%) for 2020-22 respectively. Our net profit forecasts are RM354.1m (+14.0%), RM387.3m (+20.6%) and RM347.1m (+6.6%) respectively.

• The significant increase to our net profit forecasts is due to our higher gross margin assumptions at 29.1% (+0.7ppt), 27.6% (+1.0ppt) and 27.5% (+1.1ppt) for 2020-22 respectively, same sales volume assumptions but led by higher ASP.


VALUATION/RECOMMENDATION


• Maintain BUY with a higher PE-based target price of S$3.60 (from S$3.15), pegged to the same 23.1x 2020F PE. This is based on +1SD of Kossan's 3-year forward PE band.

Although share price is at its all-time high, Riverstone is trading at only 18.9x 2020F PE, well below the sector's 32.0x 2020F PE (excluding Hartalega).

• Our valuation is justified as Riverstone commands higher EBITDA margins and the highest net cash than most of its peers (comparable to Hartalega's).

We believe the valuation gap is primarily due to its listing outside of its home market of Malaysia. Malaysia-listed glove makers are more closely tracked and better understood due to their combined market size and clout.

SHARE PRICE CATALYST
• Second wave of COVID-19 infections.
• Better-than-expected ASP hike and operating leverage.

Full report here.