Excerpts from KGI report

Analyst: Chen Guangzhi, CFA
Less than expected negative impact due to Covid-19.
The
lockdown of cities and restriction of human traffic that
resulted in nearly nationwide shutdown of the economy
lasted for 1.5 to 2 months (late January to early/mid-March)
in China.


Sunpower

Share price:
43 c

Target:
91 c
Consequently, 1Q20 GDP growth contracted by 6.8%
YoY, and the secondary industry was hit the most with a 9.6%
YoY plunge in growth.

However, Sunpower buffered the
impact well as the GI segment still generated revenue during
the lockdown period.
Coming out of worst time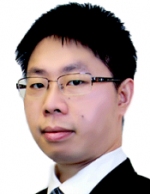 "PATMI was 15.6% lower YoY because finance costs was up 28% YoY due to the expansion of GI projects.

"Generally, the mid-teens drop in 1Q20 top and bottom line is better than expected, which helps Sunpower to regain investors' confidence as the company has gone through the worst period."

-- Chen Guangzhi, CFA (photo),
Analyst, KGI Securities


Xinyuan plant (around 10% of the annualised full-year revenue) and Xintai Zhengda (old) plant operated throughout the whole 1Q20, and the rest of the plants resumed operation gradually by the end of March.

Moreover, there was one more plant (Suyuan) under operation (total 8 plants vs 7 plants in 1Q19) in 1Q20.

In other words, even though Suyuan plant was closed for upgrades in February, there was one more plant's contribution in January, offsetting the impact after the outbreak of COVID-19.

The GPM improved by 1.9pts to 23% due mainly to lower material costs such as coal prices.

Valuation & Action:
We maintain our OUTPERFORM
recommendation with an unchanged target price of $$0.91,
based on sum-of-the-part methods adding up each project's
discounted cash flows.

These projects own 20 to 30 years of
concession. Therefore, lower than expected cash flows in one
or two quarters do not have significant impact on the overall
valuation.

Risks:
Currently, China is leading the world in terms of reopening its economy. Though there are reports ofs cattered COVID-19 cases, overall production and economic activities have largely normalised.

However, we cannot rule out the probability that of a second wave of outbreak due to imported infections, even though the odds are small.

Subsequently, the resumption of nationwide lockdown would be a blow to the rebuilding of business confidence. Meanwhile, trade tensions seem to be escalating again, which could disrupt the recovery of overall economic growth in 2H20.

Our valuation forecast and outlook are based on the assumption of a V-shape rebound of the economy. If macro environment deteriorates again in 2H20, then the impact for FY20 will be substantial.

Surprising growth of new orders amid headwinds. The net book order unexpectedly increased to RMB2.8bn from RMB2.5bn a quarter ago. Given RMB414mn of sales were recognised during the period, the new orders taken amounted to RMB700mn.

These 70% of new orders were from the existing clients, and 95% out of which is domestic.

Though the overall M&S segment capacity is full when net order book reached RMB2.5bn. Management believes they are capable of completing the new orders since these projects have larger size but less workloads.

Furthermore, Sunpower will apply more premium materials with higher prices in the projects, hence, margins will be lifted.

As of 1Q20, there was no order cancellation except one Netherland project which was delayed.

Management remains optimistic to achieve the FY20 profit target and outlook.

» Firstly, the overall financial conditions of
the diversified clients who the GI segment supplies steam and
heat remained healthy in 1Q20 but only those which dealt
with exports suffered as the demand from US and Europe
declined.

Domestic industrial production has been recovering
since April in China.



»

Secondly, management sees ongoing
margin improvements in M&S segment and is prone to accept
orders with higher margins.

» Lastly, Suyuan plant will at least
contribute 9M earnings to the group, and two plants, Xintai
Zhengda (new) and Shantou Phase I will commence operation
in 2H20.


Therefore, the abovementioned factors should enable the group to achieve RMB370mn of earnings this year.