Excerpts from UOB Kay Hian report

Analyst: John Cheong

4Q19: Strong Finish To 2019, Backed By Robust Growth In GI Segment
Sunpower posted strong revenue and earnings for 2019, led by robust growth in the GI segment. 2019 net profit came in at Rmb352.2m, exceeding our expectations and forming 120% of our full-year forecasts.


Sunpower

Share price:
40 c

Target:
88 c
The +38.9% yoy growth in net profit was driven by the strong performance in the GI segment.

Continued ramp-up of existing projects for the GI segment will continue to drive revenue and earnings growth in 2020 and beyond.

We maintain BUY with a SOTP target price of S$0.88.

RESULTS
• 2019 results exceeded our expectations, driven by Green Investments (GI) segment. For 2019, Sunpower Group (SPWG) posted robust annual revenue and net profit at Rmb3,604m (+10.5% yoy) and Rmb352.2m (+38.9% yoy) respectively.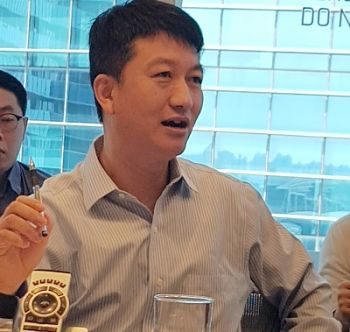 Executive director Frank Ma.
NextInsight file photo2019 net profit exceeded our expectations, forming 120% of our full-year forecast. The strong growth in earnings was led by the GI segment's rapid ramp-up of projects and strong contributions from new projects.

• 2020 set to see new revenue drivers from GI segment. The GI segment posted stellar revenue growth of 57% yoy in 2019.

This was led by the continued ramp-up of existing projects, portfolio expansion and enhancement initiatives on acquired projects.

Sunpower is on target to make equity investments of Rmb2.5b in GI assets by 2021.

Furthermore, projects such as the Xintai Zhengda facility is is nearing completion, expected to start trial production in 1H20 and contribute to 2020 revenue.

• Expanding orderbook. Manufacturing and Services (M&S) segment's orderbook sustained at Rmb2.5b as of Jan 20.

Sunpower continues to have a highly diversified base of high-end customers across the globe, of which 70% are repeat customers.

STOCK IMPACT

• COVID-19 has little impact on Sunpower
Due to the ongoing COVID-19 epidemic, some of Sunpower's factories were closed for an extended period before only opening in late February.

However, we have learnt that for provinces Sunpower's factories are located in, the provinces were reporting less than 40 new cases a day.

Also, some factories like the Xinyuan plant were fully operational throughout the epidemic.

As 1Q19 is a seasonally weak quarter, we opine that the coronavirus epidemic would have little impact on Sunpower's 1Q20 and overall 2020 earnings.

• Expect a strong 2020 from strong contributions of GI plants and continued ramp-up of existing projects. Management has earmarked the GI segment as the key driver for the group.

We expect the

a) full-year contributions from newly-acquired GI plants,
b) anticipated additional contributions from Shantou Phase 1 and Xintai Zhengda's new plant,
c) continuous connection of new customers following mandatory closures of small dirty boilers and/or mandatory relocation into industrial parks; and
d) strong M&S order book of Rmb2.5b
to help drive earnings for 2020 and beyond.

EARNINGS REVISION/RISK
• We revise our EPS forecasts slightly while adding our 2022 forecasts.

• Risks include: a) higher leverage from expansion; b) project execution risk; and c) forex.


VALUATION/RECOMMENDATION


• Maintain BUY and a higher SOTP-based target price of S$0.88 (previously: S$0.85).



SHARE PRICE CATALYST


• Faster-than-expected ramp-up of GI projects.

• Higher-than-expected project wins for M&S segment.

• More EPS-accretive acquisitions.

Full report here.