Following the release of FY19 results of Eagle Hospitality Trust, two analysts have provided quite varying price targets (70 c versus 51 c). But when it comes to DPU, their forecast yields are not so far apart, at 10.3% and 9.4%, respectively, based on 52-cent stock price.
Jefferies analyst Krishna Guha:



Cut ests, lower PT, Maintain Buy

-- We lower our FY20 and 21 gross revenue, NPI and DPU estimates by 11-13%.


Eagle Hospitality

Share price


52 c

Target

70 c

Upside scenario

80 c

Downside scenario

40 c
For 2019, portfolio RevPAR is tracking c.16% below forecast.

Further, management guidance that lodging activity is slowing down due to reduced corporate spend in an election year, ongoing trade issues and potential fallout from spread of coronavirus.


2020 New

2020
Old

Gross revenue

81.5

91.1

Net Property Income

67.7

77.0

Mgmt fees & trust expenses

(6.0)

(7.6)

Net finance costs

(21.1)

(21.1)

Profit after tax

42.8

69.5

Distributable amount

47.0

54.1

DPU (US cents)

5.33

6.14

Source: Jefferies estimates
Impact on PT (derived from DDM) is mitigated by lowering of risk free rate to 1.55% from 2%.

The stock trades at 40% discount to NAV and offer c.11% yield.

The Queen Mary accounts for 13% of the portfolio value. Excluding the asset, the counter trades at 30% discount to NAV which we think sufficiently discounts for a GFC-kind of situation wherein RevPAR declined by more than 20%.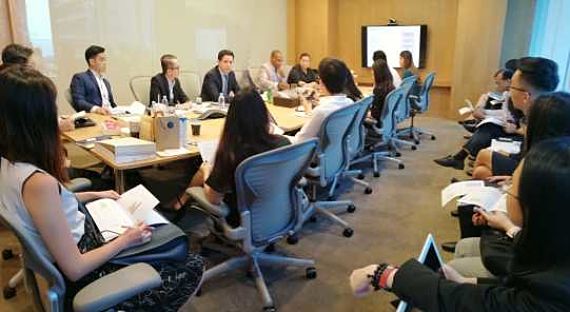 Eagle Hospital results briefing. File photo
KGI Securities analyst Amirah Yusoff:

• We downgrade to NEUTRAL with TP of US$0.51. Listing-to-date results missed our estimates by an average of 18%.
Eagle Hospitality

Share price


52 c

Target

51 c

2020 forecast DPU

4.9 US c

Source: KGI
4Q19 DPU missed EHT's own forecasts by 24.4%. Given 2019's weak performance and a lack of near term catalysts, we revise our estimates and 12M TP down to US$0.51.

• Not directly affected by Covid-19, but we see overall demand softening in the face of trade tensions and upcoming elections. While EHT hotels are c.90% backed by domestic demand and are not affected by the seeming halt of international and Chinese travellers, we expect the ongoing US-China trade tensions in addition to impending year-end elections to weigh on consumer and business sentiments in the coming year.

• Assets see downward revaluations despite active asset management initiatives. Property valuations dipped by 0.6% YoY for the year, despite substantial capital expenditures, revenue management and profit initiatives.

On a positive note, EHT's RevPAR Index outperformed peers by 3.7% on a full 12-months basis. Queen Mary Long Beach's valuations increased 5.6% YoY to USD 168.3mn, providing some solace to our forecasts.