Eagle Hospitality Trust will pay a maiden dividend of 3.478 US cents per unit for the period since its 24 May 2019 listing till end of 2019.
Stock price

52.5 US c

Dividend

3.478 US c

Record date

Tues, 25 Feb 2020

Payment date

30 March 2020

Annualised dividend
yield

10.9%
The dividend translates into an annualised yield of 10.9% based on a recent stock price of 52.5 US cents, likely the highest yield among Singapore-listed REITs currently.

The IPO price was 78 US cents, which means those who bought at this price will be getting an annualised yield of 7.3% (although they would be sitting on a capital loss).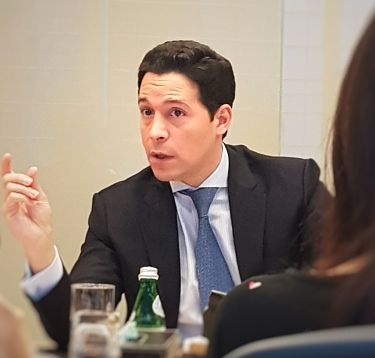 Salvatore Takoushian, CEO of Eagle Hospitality Trust's manager. NextInsight file photoThe 3.478 US cents DPU is 10.2% lower than forecast in its IPO prospectus and, not surprisingly, tracks the 10.1% lower-than-forecast revenue.

That fall in revenue, according to the FY19 results announcement, was mainly due to:

• "less favourable US lodging market fundamentals" (ie, revenue per available room -- or RevPAR -- in US hospitality industry has been softening. Independent market research revised down US RevPAR estimates throughout the year; 2019 RevPAR growth estimate as of 1Q 2019 was 2.0% and has since been reduced to 0.8%);



• "

roof repairs at its largest asset, Holiday Inn Resort Orlando Suites" (ie, nearly 20% of its rooms -- or 140 rooms -- were not available during 4Q peak holiday season owing to repairs to damage caused by a hurricane);



• "

impact by the ramp from the construction delays" (ie, there were delays in completion of renovation of 5 hotels; this was completed by end-3Q, following which the hotels started marketing contracts to corporates).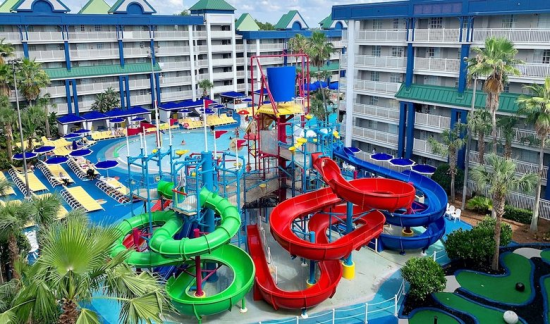 777-room Holiday Inn Resort Orlando Suites:

What happened, the fallout, and what if ....
• 3Q19: Warnings of Category 5 hurricane brought about a deluge of room cancellations.
• 3Q19 hotel's revenue about US$600,000 lower than forecast. (See: EAGLE HOSPITALITY: What a monster hurricane has to do with 3Q DPS)

• Repairs to the roof (from a miss by the hurricane) translates into 4Q rent loss of about US$340,000.



•

Repairs to be completed by March 2020 but non-availability of some rooms will have minimal impact on 1Q20 revenue as it is a low season.



•

Adjusting for Orlando's situation, Eagle Hospitality's portfolio would have outperformed the competition by 11.3% in the RevPar Index instead of just 3.7%.

This would have reflected a progressive quarterly increase in market penetration from 109.0% in 3Q.

What the RevPar Index is => Compares Eagle Hospitality's asset-level RevPAR to the RevPAR average of each asset's respective competitive set. A figure above 100 indicates greater-than-average market penetration relative to each asset's competitive set.

Lumpy quarterly property tax:

It's accounting!
There was a noticeable disconnect in the movement of the DPU relative to revenue in quarterly results.

In 4QFY19, revenue was down 13% against forecast but the DPU was down 24% against forecast.

At the FY19 results briefing, management said a key reason was the timing of the property tax recognition in accordance to IFRS accounting rules (ie, recognise the tax only when invoiced).

That is why in 4Q19, property tax amounted to US$4.4 million while it was only US$100,000 in 3Q19.

The lower property tax in 3Q19 enabled the DPU to stay steady (-1.3% against forecast) when 3Q revenue fell 10.6% against forecast.

Notably, Eagle Hospitality Trust has signed revised Master Lease Agreements across the portfolio with the Sponsor.

"This amendment will allow EH-REIT to receive more rent from any outperforming properties that produce excess cash flow.
"80% of the excess cash flow from outperforming properties is to be applied to the shortfalls in rent of any underperforming properties.

"This amendment is non-prejudicial to stapled securityholders and could only result in additional rent for EH-REIT."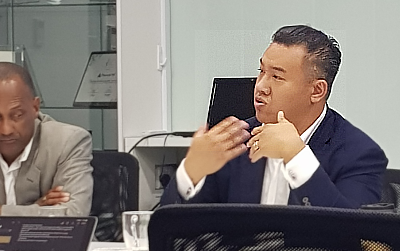 Howard Wu, co-owner and principal of Urban Commons LLC, the Sponsor of Eagle Hospitality Trust. He is also non-executive, non-independent chairman of Eagle Hospitality Trust. NextInsight file photo.The revision to the agreements took effect retrospectively, ie from the 24 May 2019 listing date, according to management.

Aside from that, there are on-going pro-active asset management initiatives that will be positive for Eagle Hospitality going forward.

Details of these are found on Page 13 of the result briefing Powerpoint material. Click here.

Details of changes in the valuation of the 18 portfolio assets done by HVS, a global hospitality consulting organization, are included in the Powerpoint content.

Bottomline: The portfolio was valued at US$1.2606 billion as at end-Dec 2019, down 0.6% from a year earlier.

And the Net Asset Value per unit is US$0.89, which means the stock is trading at 0.6 times NAV.