Fortress Minerals is the only iron ore miner listed on the SGX. It was listed in March 2019.

Its mine is located in the Malaysian state of Terengganu and all its output of high-grade iron ore is supplied to 2 steel mills nearby.

The company's recently-announced 3QFY20 (ie Sept-Nov 2019) revenue was US$4.1 million (+24% y-o-y) and net profit, US$751,151 (3QFY19: loss of US$147,282).


Five things to note about its latest quarterly results:

1. Rain impact: The monsoon season came early and hindered production for almost the entire month of November.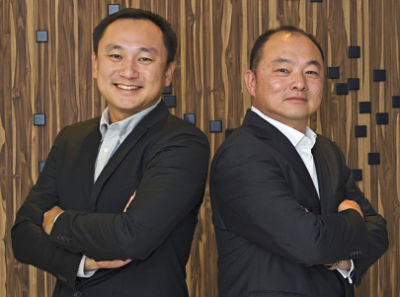 L-R: Fortress Minerals COO Ng Mun Fey | Executive chairman Dato' Sri Ivan Chee. NextInsight file photoThat, coupled with production stoppage for maintenance in Sept, resulted in the sales volume in 3QFY20 being only 48,121 dry metric tonnes (DMT).

That was down significantly from the 76,334 DMT achieved in June-Aug 2020 (2QFY20).

But it is still 31% higher y-o-y, largely due to expanded capacity that kicked in from Aug 2019.

Perhaps it was just as well that the monsoon came early -- since iron ore price fell in those three months (see chart).

The average realised selling price was US$84.65 per DMT, compared to US$98.17 for 9MFY20.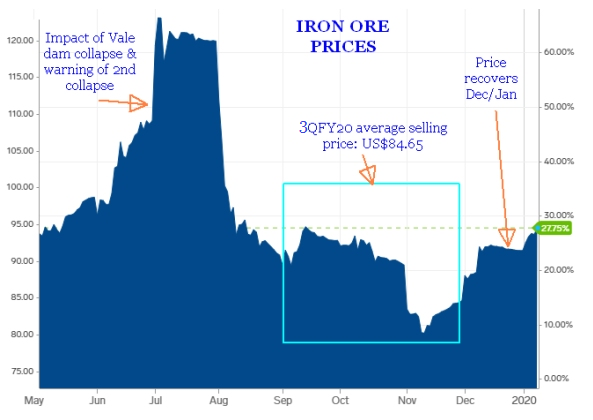 Main chart: markets.businessinsider.com

2. Sunny Dec 2020: It was sunnier than normal, which bodes well for Fortress Minerals' 4QFY2020 results.

With production volumes already normalising, 4QFY2020 is also getting a boost from strongly recovering iron ore prices (see chart).

Typically, iron ore prices rise ahead of Chinese New Year on strong demand from China, among other factors.

While prices normally subside in 2Q of the calendar year, things may be different this year.

That is when, some industry observers note, new demand for iron ore will arise from Delong's recently-completed massive steel production in Morowali, Indonesia.

3. Gross profit margins: Margins held up nicely at 57.7% in 3QFY20 for Fortress Minerals.

It was 66.4% for 9MFY20 while net margin was 31.2% (adjusted for IPO expenses). Remarkable margins for any business.

4. Dividends: Fortress Minerals has paid two interim dividends in FY2020: 0.16 cent and 0.20 cent.

This reflects its positive cashflow: Operating cashflow was US$9.2 million in 9MFY20.

Net cash flow used in investing activities amounted to US$5.8 million, mainly for plant and equipment to expand production capacity, and for exploration.

5. Acquisitions/JVs: Fortress Minerals has been actively looking to grow inorganically in Malaysia and elsewhere in the region.

It has US$12.5 million cash and can raise funds from the market if an acquisition or joint venture requires substantial investment.


For the 1HFY2020 Powerpoint materials, click here.