As the long Labour Day (Sept 2) weekend in the US approached, the Holiday Inn Resort Orlando Suites -- Waterpark saw its rooms effectively sold out at premium rates.


Then came a huge dampener: Warnings emerged that Hurricane Dorian, which does not show up every year in Orlando or with any ferocity, would make landfall there.


Eagle Hospitality Trust

No. of hotels
in US

18

No. of hotel rooms

5,420

Total assets

US$1.36 billion

NAV per unit

US$0.90

Unit price

US$0.49

Borrowings

US$506.9 million

All-in cost of debt

4.0%

Debt headroom

US$190 million

Source: Eagle Hospitality Trust
A spate of room cancellations turned into a deluge of cancellations: Who would want to risk his life with a Category 5 hurricane bringing winds of more than 350 kmh?
Occupancy rate at the 777-room hotel -- the largest asset in Eagle Hospitality Trust's portfolio of 18 hotels -- plummeted to as low as 27%, said management at the 3Q19 results briefing this morning.

The hurricane, fortunately, swerved and gave Orlando a miss.

Under those circumstances, the hotel cannot claim insurance for business disruption, and had to count its loss of revenue.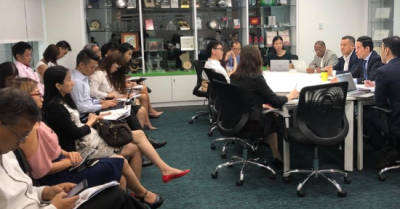 3Q18 results briefing of Eagle Hospitality Trust.
Photo by Liew Jia MinFor 3Q, it was about US$600,000 lower than forecast, which was:

• 17.9% lower than forecast for that hotel,

• 4.2% of the total 3Q forecasted distributable income of Eagle Hospitality Trust of US$14.5 million.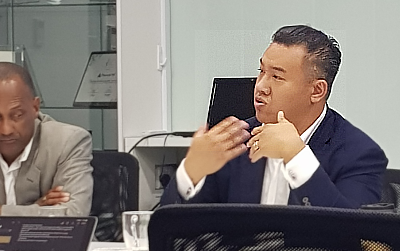 "The Sponsor affirms that we have no intention of monetizing our stake upon the expiration of the IPO moratorium."

-- Howard Wu, 36, co-owner and principal of Urban Commons LLC, the Sponsor of Eagle Hospitality Trust. He is also non-executive, non-independent chairman of Eagle Hospitality Trust. Howard and Taylor Woods are co-founders of the Sponsor and each own 50% of the Sponsor.
NextInsight photo.
It was inevitable that the forecast distribution per stapled security (DPS) would not be met.

But instead of a 4.2% fall in DPS, the shortfall was only 1.3%, thanks to positives such as property tax and interest expense savings.

The shortfall was only 0.6% compared to the forecast DPS for the period since listing date in May 2019.

Interest rate swap arrangements became effective in July, resulting in US$1.36 million per annum savings -- or US$340,000 per quarter -- and 93% fixed rate borrowings.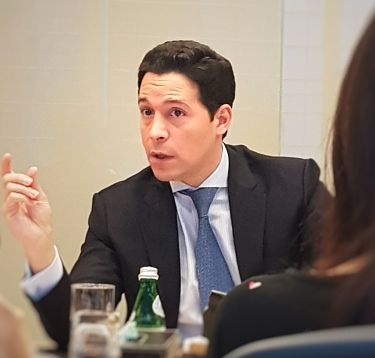 "We remain encouraged by the outperformance and continued market share gains of EHT's portfolio, driven by continued ramp-up following significant recent renovations."

-- REIT manager: President & CEO Salvatore Takoushian, 38.
NextInsight file photo
What if Hurricane Dorian didn't impact the hotel's bookings?

Then the 3Q DPS of Eagle Hospitality Trust would be 3.22% higher than forecast, according to management.

The 3Q DPS was 1.649 US cents, which translates into a 13.3% annualised yield based on the closing price of 49 US cents today (14 Nov).

The stock has had a severe meltdown from its IPO price of 78 US cents, after a series of media articles were published relating to an asset, The Queen Mary ship.

For details, see 3Q19 Powerpoint presentation material here.