Eagle Hospitality Trust has been majorly sold down recently (from its IPO price of 78 US cents in May 2019 to 45.5 US cents yesterday, Friday).
No REIT listed on SGX has suffered such a severe selldown so early in its life as a listed entity.
In the past two weeks or so, negativity spiked up in the investing community over The Queen Mary ship saga. Indeed some things don't seem right.

But investor "Silence" has penned a cool-headed analysis on InvestingNote.com. Excerpts:
• Who is ASAP?

"The irony is that at this current level, EHT is trading at close to levels that ASAP looks for when it hunts for distressed properties: below replacement cost, close to 15% cash on cash returns etc."
ASAP is the largest Chinese owned Private Equity firm that focuses on acquiring Hospitality and Commercial Real Estate with Asset Management throughout the entire U.S.A.

To put it simply, ASAP buys distressed property, stabilizes the portfolio before executing an exit strategy. The value that is created from turning a distressed property into a functioning one is captured by ASAP and its investors. ASAP is currently available only to AIs (accredited investors).


• Is the REIT a dumping ground?

There are grouses that properties are being injected into the REIT which have a low cost base and some people speculate that the REIT is being used as a dumping ground for low quality or overvalued assets.
I think that this line of thinking is not necessarily true because it is precisely the nature of this PE to buy distressed property at a firesale price and sell it at normal pricing once the property is stabilised. The price that the property is bought and the price that is being injected to the REIT is not necessarily indicative of any dumping as long as the transaction is at arm's length. It represents the different value being captured at different parts of the value chain.

The premium that one can get from an exit strategy through a SG Reit vs other US exit strategy is also not necessarily indicative of dumping overvalued assets. Because of different tax considerations as well as structuring arrangements, it is conceivable that an exit strategy through a SG Reit can yield a legitimate premium over other US exit strategies.

To be honest, it actually seems to be a very clever way of structuring the whole deal.
Furthermore, it is in the sponsor's interest to ensure the REIT does reasonably well so they can continue to use it to recycle capital. Based on how the master lease and management incentives are structured as well as the improvements done before IPO, it does appear that the sponsor is looking to make this a success.

• Does EHT provide good value at today's prices?
Well… your guess is as good as mine.
I would say that the drastic fall in share price does provide some margin of safety, given that the operational performance of EHT seems to be stable. In fact the first earnings report was arguably slightly better than forecast and we will learn more in the next report due soon.

Ultimately, the points discussed above relate to what happened in the past and may not be so relevant to EHT's operational performance going forward which would be the key driver of the share price.
In fact, what has been demonstrated is that ASAP (and by extension UC) appear to be shrewed operators with a proven track record. EHT now looks like they have got '2 backers' which is not necessarily a bad thing in view of the pedigree of ASAP. Given that they can turn multiple distressed properties into functioning and stabilised income generating assets, you probably want them on your side of the team to be involved in managing the properties

As master lessee, the sponsor also has an incentive to run the properties well given that there is additional upside for themselves if the properties do well.

Look at how the master lease is structured with fixed and variable rent components. EHT has stability in performance due to the fixed rent portion but it also means that relatively speaking, the master lessee has more upside from the properties doing well.

The management fees of the managers are also structured to incentivise the managers to provide investors with stable and growing distributions.

So it appears that the incentives for unitholders and the managers are aligned. And as mentioned above, there is an added incentive on the sponsors to prove that this model works so that they can continue to use this as a vehicle to recycle capital.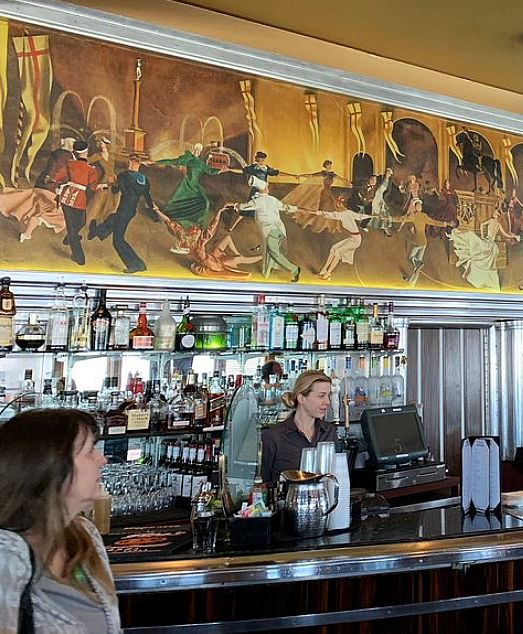 On board The Queen Mary: The fixed rent for the entire ship is US$10.4 million per annum payable to Eagle Reit in Forecast Period 2019 with a rental escalation of 2.0% per annum from Year 2020 and onwards. The variable rent is 8% of Gross Operating Profit.
Photo: TripAdvisor
P.S.

Insider sales without any 'known reason' is likely driving uncertainty over the share price. Understanding the context of the entire situation provides plausible reasons why this could be so and it could purely be for an innocuous reason like recycling capital.

Buying in by substantial shareholders or insiders could be a strong sign that the bottom has been reached.

It is also interesting to note that so far, the lowest price that substantial shareholders have been selling appears to be at US0.55.

Anyone recognise the 30% discount from IPO price corresponding to the ~30% value premium from a SG REIT exit.

The irony is that at this current level, EHT is trading at close to levels that ASAP looks for when it hunts for distressed properties: below replacement cost, close to 15% cash on cash returns etc.