Excerpts from KGI report

Analysts: Geraldine Wong & Amirah Yusoff

Rock bottom valuations; Bound to soar
• Ripe for growth. Eagle Hospitality Trust's (EHT) IPO portfolio ticks many boxes; well-positioned in prime submarkets, recently refurbished, actively managed, and diversified for revenue resilience.


Eagle Hospitality

Share price:
67 USc

Target:
84 USc
• A favourable balance between stability and growth. We like that the 100% master lease arrangement fixes majority (66%) of rents through a revenue floor, while allowing variable upside should assets outperform.

• Double digit dividend yield play. We initiate coverage on EHT with an Outperform recommendation and 12m target price of 84 US cts.

Investment Thesis
Primarily freehold hotels located in prime submarkets. EHT holds a portfolio of 18 full-service U.S. hotels with a total valuation of US$1.27bn spread across 5,420 rooms. The portfolio is primarily freehold, except for the Queen Mary Ship which is under a residual lease tenure of c.63 years.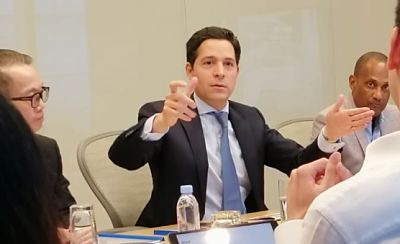 REIT manager: President & CEO Salvatore Takoushian. NextInsight file photo12 out of 18 assets held by EHT are located within the top 10 states in the U.S. by percentage contribution to GDP (2018 ranking), with 7 assets located within California, the single largest state in the U.S.

All hotels were renewed under a master lease arrangement at IPO listing (23 May 19), with an initial term of 20 years and option to extend for another 14 - 20 years, ensuring long residual lease tenures across EHT's entire portfolio.

Revenue diversification with in-built stability. Under the master lease arrangement, the fixed portion of rent income is expected to be 75% and 66% for FY19F/FY20F.

The portfolio also enjoys diversification across: (1) revenue segments, (2) hotel branding, and (3) end user groups.

As a characteristic of full-service hotels, EHT derives non-room revenue (34% of FY20F rev) from services and amenities, diversifying risk away from room revenue (66% of FY20F rev).

Hotel branding is also diversified across the top three global hotel franchisors, with a shared loyalty base of 302mn members worldwide, adding assurance to the quality and comfort of rooms.

Individual assets are positioned to target a spectrum of end user groups, specifically corporate demand (47.5% of rooms), leisure (39.5% of rooms) and airport travellers (13.0% of rooms).

Rental upside from refurbishment and rebranding initiatives. The US$174mn capex spent on asset enhancement works since 2013 is expected to translate to higher average daily room rates (FY18: US$133  FY20F: US$149) and support forward RevPAR (FY18: US$101  FY20F: US$117).

Management also remains flexible in mitigating the impact of seasonality on occupancy rates through securing airline contracts for EHT's airport hotels and an events contract with Golden Voice to increase the number of concerts held onshore parallel to the Queen Mary Ship amongst other initiatives.

Valuation & Action

"From a dividend yield perspective, EHT's forward annualised 10.3% dividend yield looks attractive from a risk-to-reward perspective, and is ranked the highest amongst all S-REITs (average 6.2%)."

-- KGI Securities
We initiate coverage on EHT with an outperform recommendation and a target price of 84 US cts, representing an upside of 25.9%, inclusive of FY19F's annualised dividend yield of 10.3%.

We used the dividend discount valuation model with a cost of equity of 9.3% and terminal growth rate of 1.5%.

EHT (YTD: -13.5%) continues to trade below its IPO price and is currently at a 20% discount to its book value (FY19F P/B: 0.8x), as opposed to the industry average of 1.0x FY19F P/B for hospitality S-REITs.


Key Risks


Key risks include the finalisation of U.S. tax regulation (Section 267A) anticipated at year end, recession worries and foreign exchange risk.

On the operational front, we see disruption to the 6 assets identified for further AEI as a risk, alongside, declining RevPAR and occupancy numbers in line with macro forecasts.

Full report here.