Excerpts from Lim & Tan Securities report:

Avi-tech's market cap is $46.2 million, with $34.5 million in cash,
representing 75% of its market cap.

Final dividend of 1 cent, interim
dividend of 0.8 cents and special dividend of 0.5 cents amounts to 2.3
cents and pay-out ratio of 85% and yield of 8.5%.

PE is 10x while price to
book just under 1x.

Valuations look attractive enough to upgrade to BUY.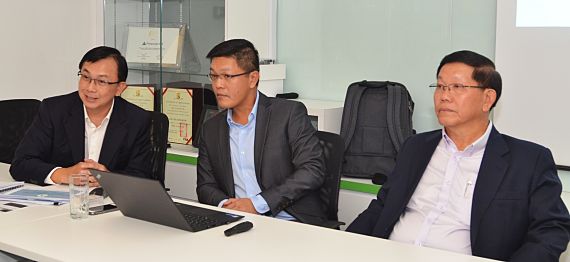 Avi-Tech CFO Joseph Wang | COO Alvin Lim | CEO Lim Eng Hong.
NextInsight file photo.

Avi-Tech Electronics Limited ($0.27, unchanged), a total solutions provider for burn-in services, burn-in board manufacturing and PCBA services and engineering services for the semiconductor, electronics and life sciences industries, announced its financial results for the fourth quarter ("4Q2019") and full year ("FY2019") ended 30 June 2019.


The Group
delivered a respectable set of financial results with revenue of S$33.6
million and net profit of S$4.6 million for FY2019, in spite of the prevailing
weak semiconductor industry and challenging economic environment
amidst global trade disputes and rising geopolitical tensions.
The Burn-In Services business segment revenue improved by 5.0% to S$10.6 million in FY2019, riding on demand for burn-in services from the automotive semiconductor segment.

The Manufacturing and PCBA Services business segment, while registering a marginal 1.1% decrease in revenue of S$18.8 million, augmented the Group's performance with improved profit contribution.

The Engineering Services business segment continued to be impacted by the slowdown in the electronics manufacturing sector and a cyclical downturn in the semiconductor industry, with a resultant loss arising from a 35.6% decline in revenue to S$4.2 million.

The Group achieved FY2019 gross profit of S$10.5 million, a 6.0% increase despite the revenue decline. The Group's higher gross profit was attributed to higher weighted average sales in the Burn-In Services and Manufacturing and PCBA Services business segments as compared to the Engineering Services business segment.

The Group's gross profit margin also increased from 27.9% in FY2018 to 31.4% in FY2019. Net profit in FY2019 was S$4.6 million, with a S$0.4 million impairment loss of bond investment issued under Hyflux Ltd's Medium Term Note Programme, a decrease of 4.5% from S$4.9 million in the corresponding period last year.

Overall, the Group achieved a creditable performance while maintaining a strong balance sheet with a positive working capital of S$38.4 million as at 30 June 2019. Net asset value per share was 28.97 cents. Net cash generated from operations was S$6.1 million, primarily due to the profit generated for the year.

The Group's cash position stood at S$34.5 million compared to S$33.2 million in the previous financial period.


Visit to Avi-Tech at Serangoon North Ave 5.